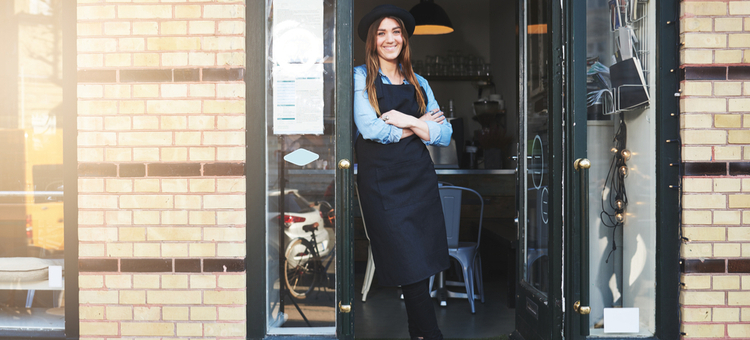 Having your own restaurant or bar. Maybe it's been a lifelong dream. Or, maybe you're a hardcore foodie wondering if you have what it takes to open your own place. Whatever brought you to this point, we're glad you're here! To help you on your journey to restaurant or bar ownership, we asked owners and other industry pros to share their best words of wisdom. Here's what they said…
"Stay positive, hustle, and heed advice for new restaurant owners from those who've found success in this biz."
-The Buzztime Business Team
The first piece of advice for new restaurant owners is to, well, ignore the haters. People just love to share that "90% of new bars and restaurants fail" or some other equally nightmarish statistic.
However, research shows that the odds are in your favor: only 17% won't make it. That means 83% will. So our advice for the new restaurant owner is this: stay positive, hustle, and heed the wisdom of the following folks who have found success in the "biz."
"Use a restaurant or bar management and inventory system."
-Steve Baskinger, owner of 2 bars and restaurants in Little Falls, New Jersey
Steve's advice for new restaurant owners? Turn to software and systems that help you do your job…better. "I have been using Bevinco for almost 9 years now. The reason? It keeps my mind at ease. Less stress. I have 2 bars and restaurants and use Bevinco once a week for both places. It keeps me on my game with my ordering and knowing where my liquor is. I would recommend it to every new bar or even older bars…it's never too late."
We wholeheartedly agree with Steve's advice for new restaurant owners. After all, food and beverage purchases account for about 30% of the average venue's costs (the other 30% typically go to labor, and the remaining 40% cover fixed costs like equipment plus rent or mortgage). Get a handle on your inventory using Bevinco, or check out these reviews of 10 inventory software platforms.
"Happy staff = happy customers."
-Krystl S., a longtime bar owner
Krystl explained that this advice for new restaurant and bar owners "is just as simple as that equation. If your staff isn't happy, the negative vibe will be seen by customers. Instead, keep your team happy and motivated."
"You need a good plan in place to help your operations and marketing efforts align."
-Jeremy Wells, CMO and Partner at Longitude Design in Springfield, Missouri
Jeremy's advice for new restaurant owners is to be strategic in everything you do, especially when it comes to your marketing. Here's what he has to say…
"Here at Longitude Design, we work with a lot of restaurants, bar, brewery, cafe, and coffee shop, and other hospitality food entrepreneurs. The #1 biggest mistake we see is there is no real strategy in place. Often times people may think they have a strategy in their mind, but when we begin asking questions – it's clear that is not the case.
Our advice for new restaurant owners – and bar owners, too – is to focus on creating a strong brand that you can then carry through to your marketing, advertising, signage, etc.
There is loads of research and evidence out there that shows the importance of branding for businesses – specifically in the restaurant and bar industry. Without a solid strategy, you are really doing yourself a major disservice.
We've seen far too many people ignore our branding and marketing advice for new restaurant owners, and then go on to fail 1-3 years later. It's unfortunate, and we hate to see it happen. But in the restaurant/food industry the odds can be against you, and you need a good plan in place to help your operations and marketing efforts align."
"Run a promotion 7 nights a week."
-Mike Matsinger, founder of Bar Shift
When it comes to advice for new restaurant owners, Mike suggests you "always give customers an 'excuse' to come out and drink and dine at your venue."
However, Mike isn't suggesting you run big discounts every day. Rather it's all about turning an average day or night into an occasion with entertainment and fun. Mike continued:
"As I always say, a special only needs to sound special. My advice for new restaurant owners is to get customers in the door with music, trivia, poker, pool, bar bingo (if it's legal in your state), 2 for Tuesdays, Fiesta Fridays, etc. Your event calendar defines who you are as a bar and the audience you will attract."
Mike's advice for new restaurant owners is on point here: be strategic in lining up events that will appeal to your target audience. For example, if you're opening a sports bar, you could mirror the spirit of friendly competition by hosting your own bar games like cornhole tournaments or dart leagues.
The next section includes 5 pieces of excellent advice for new restaurant owners from J. Marie Sheppard, who opened the iconic 87 Main Street Spirits bar and restaurant 3 years ago after racking up nearly 2 decades in the education field. Yes, J. Marie went from teaching high schoolers to running a bustling spot right on Cocoa Beach. Here's what she learned along the way…
"Focus on the details, because your customers do."
J. Marie Sheppard, owner and founder of 87 Main Street Spirits in Cocoa Beach, Florida
J.Marie's first piece of advice for new restaurant owners is her belief that little details add up to making a big impression on her customers:
"We focus on a lot of details in an effort to create a casual relaxed vibe here at 87 Main Street Spirits. It's all about the right lighting (not too bright, not too dim), greeting every customer that walks through the door, and being committed to cleanliness."
J. Marie also shares this crucial advice for new restaurant owners: your bathrooms must be spotless and 100% squeaky clean, because that's how customers rate the cleanliness of your entire operation. For proof that this advice for new restaurant owners holds true, you can check out the reviews of 87 Main Street Spirits…many of which mention how clean and comfortable the space is.
"Maximize your space and create multiple experiences in one place."
The space at 87 Main Street Spirits isn't large. However, J. Marie has compartmentalized the space to give customers different experiences throughout the venue. Her advice for new restaurant owners is to offer "something for everyone."
At 87 Main Street, that means indoor seating at the bar, tabletops, or in the "living room" area complete with couches and coffee tables. Outside, there's both an upstairs patio where smoking is allowed (smoking is still legal at bars and restaurants in Florida), and downstairs is a large, inviting patio where dogs are welcome.
"Have enough working capital when you start."
J. Marie's first year in business wasn't easy, and her advice for new restaurant owners is to come up with as much capital as you can before opening your doors – because you may not be profitable right away.
So how did J. Marie get through that first year?
"One thing we did was rent the entire venue out for birthdays, corporate events, even weddings. We also created a sense of community by running events. With my education background, I started a series of weekly tequila 'lessons' that were really popular and drew a crowd. My advice for new restaurant owners is to become known for great events. For example, we're known for having great, live music."
[fl_builder_insert_layout slug="whitepaper-signup-module-run-a-promotion-max-roi"]
"Never stop learning. The minute you think you know everything, you're done."
This just might be the very best advice for new restaurant owners.
"Treat your employees right: pay them well, empower them, and have fun along the way!"
J. Marie pays her key employees a salary, not an hourly wage. She's also proud to pay above the minimum wage to those who are hourly. Her advice for new restaurant owners is to treat your team like gold – and focus on retaining your high performers. Wise advice since according to a recent Cornell Hospitality Report, the average cost of replacing one hourly employee is $5,864.
For proof of her philosophy, most of her staff that started with her 3 years ago is still there today.
So, how does J. Marie keep her team engaged, happy, and motivated? She shares this advice for new restaurant owners:
"I'm big on collaboration. I hold regular meetings with my staff, and always ask for their thoughts on a new initiative before I move ahead. I respect my people and want them to feel empowered and like they're a part of every process. My advice for new restaurant owners is to run a democracy, not a dictatorship."
"It's also important to have fun with your employees! Build relationships around events and team building events. For example, every 3 months I take my staff out for the day: we go out on the Florida rivers to 'hoot and holler' or visit a water park."
Need inspiration and advice for new restaurant owners as to how to run these events? See this list of 9 teambuilding ideas – just for bars and restaurants.
"It's a FUN business…but you have to put in your sweat equity."
-Marcia Pearson Schumacher, owner of Big V's Bar & Grill in Dalton, Nebraska
Marcia is the proud owner of a dive bar in Nebraska that's beloved by locals and visitors alike. She provides this advice for new restaurant owners:
"It's easier to add to your menu and activities list after you get your 'routine'  figured out, and get the 'bugs' worked out."
Marcia explains that while challenging, this industry is ultimately a "FUN business where we have met many interesting people. But you have to do your sweat equity. If you, as an owner, completely leave the running of your business to a manager, you open the door for losses. It's important to be hands on."
"Watch for losses."
So, what sort of losses is Marcia referring to? Consider this cautionary advice for new restaurant owners…
According to Digital Dining POS, 75% of employees steal from their workplace at least once. (You've also got to worry about customers stealing these very random 10 things). Marcia isn't talking about obvious theft, like someone stealing cash…but it can be just as harmful to your business:
"Many employees and managers just don't see comped drinks, extra shots, or giving away food as stealing. It could also be carelessness. I was in bar where I picked out a t-shirt, told the bartender to put it on my tab, and then looked at the receipt later and saw it wasn't there. While you can never control it all, my advice for new restaurant owners is to at least put checks and balances in place wherever you can!"
At the end of the day, the best advice for new restaurant owners is to sponge up as much wisdom as you can from those who have proven successful in one of the toughest – yet most rewarding – industries you can be in…the bar and restaurant world.