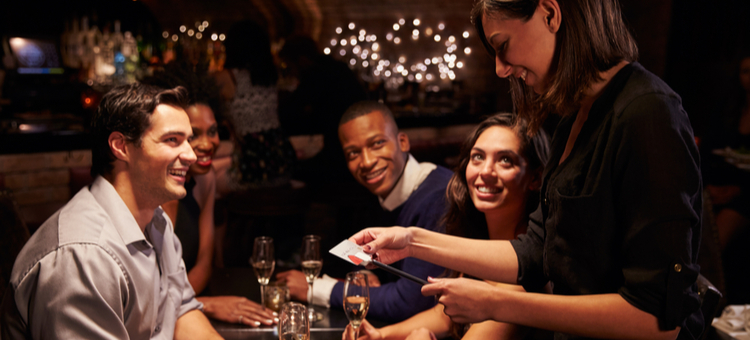 Coupons or nah? This may be one of the most polarizing topics in the restaurant biz. So, of course we had to tackle it in our Straight Up Advice series.
We asked owners and managers for their take on offering restaurant deals, discounts, and even freebies. Is it the secret to building a loyal customer base? Or, cheap and tacky?
The majority of restaurateurs and consultants (7 out of 11) that we talked to said "yes" to offering restaurant deals – with caveats. Most said they only run discounts or offers that align with a strategy such as: acquiring first time customers, driving a second visit, or incentivizing customers to share their email address.
Now, let's take a closer look at the great restaurant deal debate – starting with the anti-coupon crowd.
"Bars and restaurants seem to forget…you can't make money, if you're giving it all away."
-Marcia Pearson Schumacher, owner of Big V's Bar & Grill in Dalton, NE
In one sentence, Marcia Pearson Schumacher summed up the sentiment of restaurant owners who rarely dabble in deals. John M. who owns a restaurant in Virginia Beach echoed Marcia's opinion with his own thoughts on just saying "no" to offers and coupons:
"Restaurant deals are a big nope for me. They bring in a budget-focused crowd that only returns because of the next coupon. Seldom does this deliver an ROI."
Both Marcia and John manage successful restaurants, so if they can get by without offering restaurant deals, we say more power to them! However, in our unofficial poll of restaurant owners and consultants, they're in the minority.
What we found interesting in our research is that even though some operators dislike the idea of offering coupons, they realize discounts are a necessary evil of competing in today's restaurant biz. Brian lamented that he had to jump on the coupon bandwagon a few years ago…
"Everyone else was offering restaurant deals, so it's forced me to as well."
-Brian W., restaurant manager at (anonymous) in Philadelphia, PA
Located near a university in Philadelphia, Brian noticed that almost every restaurant had started putting coupons on Facebook, in the student newspaper, and on flyers around campus. At the same time, his customer traffic began to dip.
"I felt like I had no choice but to offer restaurant deals. It was like a discount or die situation. I did a 'fifty percent off' Fridays coupon, giving customers 50% off a second entrée or appetizer. Our Friday crowd tends to purchase more alcohol than food, so this offer encouraged them to explore our menu. We also felt it was a strong enough restaurant deal that we could pull customers away from the competition," said Brian.
Did it work? Brian said he saw immediate results in the form of new faces on Fridays.
Brian's uptick in new customers underscores a recent Technomic study about the effectiveness of restaurant deals. According to Technomic, 67% of consumers can be enticed to try an unfamiliar restaurant instead of an "old favorite" – if a coupon is available.
But this is a Catch-22. Restaurant deals from your competitors can lure away even the most loyal of customers. So, what can you do?
"Do everything you can to build loyalty with customers when they're with you. The discount may bring them in, but hopefully you can win them over by having the best food and service in town," concluded Brian.
[fl_builder_insert_layout slug="whitepaper-signup-module-33-customer-loyalty"]
"A brand position built on cheap prices alone isn't sustainable."
-Jeremy Wells, CMO and Partner at Longitude Design in Springfield, Missouri
Brian's approach is the opposite of Jeremy's take on restaurant deals…
Whenever we touch on a marketing topic in our Straight Up Advice series, we reach out to Jeremy at Longitude Design. Jeremy and his team provide strategic branding services restaurants, bars, cafes, breweries, and coffee shops nationwide. Here's what he had to say about restaurant deals:
"In general, my thoughts on coupons is that they are often just a crutch for restaurants and bars. Usually, these are band-aids for a deeper problem related to lack of strategy for attracting new customers, or retaining loyal customers.
You don't want customers to only visit your restaurant because you have cheap food. A brand position built on cheap prices and restaurant deals alone isn't sustainable. Yet, this is the problem for 80%+ of restaurants we work with…before collaborating with them, they were only equipped to compete on price alone!"
Coupons can be used, but only in very strategic ways that ensure it's not harming your brand, or attracting an audience of deal-seekers."
Jeremy went on to share 4 examples of strategic restaurant deals designed to foster loyalty and build a relationship with your audience. A lot of his suggestions come down to timing:
1. Coupons for the customer's birthday
2. Coupons celebrating special events or holidays
3. Coupons used when promoting a new menu item
4. Coupons used alongside menu engineering tactics to increase profitability
"The problem with coupons is when you're handing them out solely to get more customers, and it becomes your biggest marketing effort. Coupons aren't inherently bad, but when they are your only effective marketing effort… you have bigger issues that need to be addressed," Jeremy cautioned.
" I'll share my secret. Yes, we offer restaurant deals, but they're reallllllly small."
-Lesley S., owner of two restaurants in the New York Hudson Valley region
"You'd be surprised who uses coupons….lots of people with higher than average incomes! Maybe that's how they got so wealthy? Making every penny count? Either way, our offers are microscopic and barely cut into our margin. But they work to bring bodies through the door on a regular basis," explained Lesley.
We found another study to support Lesley's restaurant deal strategy. Online coupon giant RetailMeNot surveyed over 1,000 customers and found that those who earn $150,000 or more are the most likely to cash in on restaurant deals – with 46% of them using coupons in the last 3 months.
What's interesting about the way Lesley uses coupons is that they're intended to drive repeat business. She has found success with a "10% off the purchase of two entrees" coupon that she runs 4 months out of the year.
Some months she has even offered a 5% off coupon. She actually emails these restaurant deals to her current customers, and she says it keeps them coming back year-round – even when there's no deal:
"I think it's because our customers appreciate the value and our eagerness to not just earn, but keep, their business."
"It's all about targeting your restaurant deals to the right people."
–Nicholas Joseph Ugo, 25 years of experience as a bartender, manager, server, and concierge and owner of Courtesy Consulting in Chicago, IL
Nicholas has built his consulting business around the belief that too many restaurant operators are focused solely on getting the next customer. Instead, Nicholas asks, "why not take impeccable care of who you have RIGHT NOW?"
That's what drives Nicholas' take on restaurant deals. Like Lesley in the Hudson Valley, Nicholas recommends targeting coupons and offers to your current customers. He suggests printing out a coupon at the bottom of every guest check that reads "keep this for 10% off your next visit." Nicholas explained that yes, this is a restaurant deal, but it's more than that:
"It's an immediate thank you and reward for your current customers while doubling as an incentive to return."
Nicholas is also big on simplicity – and visibility – when it comes to restaurant deals. He recalled a local sandwich shop which always featured a deal of the day on an A-frame sign on the sidewalk in front of the shop:
"They had a food and drink special for every day of the week set up on this sandwich board like a flip chart, turning it to whichever day of the week it was. It was so dummy-proof and easy, I thought it was genius."
So whether you love or loathe the idea of offering restaurant deals, one common theme emerged in our research: Focus on treating your customers right, and you'll increase the chances they come back again – and again.