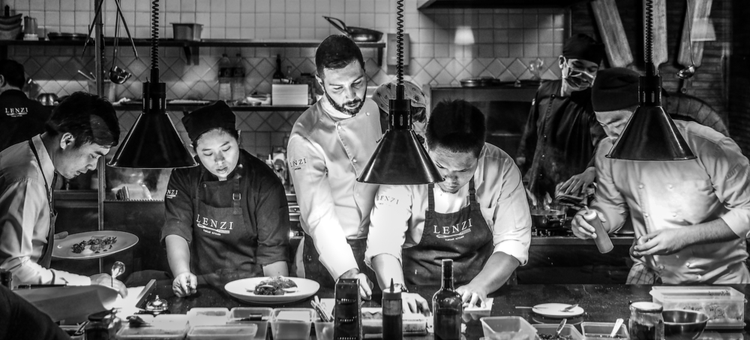 Restaurants are becoming inundated with technology, making it increasingly important to have a synergy between those technologies used in the front of house and back of house. This synergy is important to the not just the guests' experience, but also to your bottom line. There are a lot of applications and technologies on the market designed to optimize aspects of your restaurant, but can these technologies talk to each other?
In this article, we look at how you can use technology to produce a high quality guest experience and maintain margins in the front of house, the kitchen, and back office administration.
Front of House
The restaurant front of house uses a number of technologies to streamline the service and create an excellent dining experience. From mobile and online reservations to table and counter service steps to frictionless payments, there are many emerging technologies and applications that are transforming the restaurant guest experience.
Mobile and online reservations are nowadays table stakes for restaurants, and not only do they enable an additional stream of revenue, they can be helpful to determine table turn times, and even some platforms, like OpenTable, collect guest information to help you improve customer service. Tabletop tablets are emerging in restaurants as a way to facilitate an efficient ordering and payment process but on top that, it's used as a fun and interactive way to engage with customers.
A unique example of front of house technologies takes form in the Apple Watch. Danny Meyer's Union Square Hospitality Group plans to have managers wear the Apple Watches so they can receive real-time alerts on aspects of service from table turns, to VIPs walking in, to when a menu item needs to be 86'd.
Back of House
There are tools and technologies that enhance kitchen operations, from the way ingredients are handled all the way to when they are received and when they reach a customer's plate. Inventory management is essential to shrink waste, keep costs under control, and help make sure that your kitchen is optimally stocked, so you never have to turn a diner away.
The kitchen display system is another technology that increases efficiency when expediting by tracking how long it takes for menu items to be prepared. To streamline back of house flow, the kitchen display system sends digital tickets to the various kitchen stations and the bump capabilities feature prioritizes orders to optimize the queue.
An important part of the back of house ecosystem is business analytics and reporting. An intelligent reporting suite meticulously gathers data from every transaction, organizing it into detailed reports to help you analyze your business performance on any given day, month, or year.
Bridging the Gap
Communication
The first thing any restaurant owner needs to pay attention to is the communication between the kitchen staff and FOH staff. This is the most important link. Because if your staff isn't communicating customer needs like allergies, timing, and other order specifications, these important notes can get lost in the communication flow – resulting in unhappy customers, and a BOH slow down.
Restaurant owners need to foster an open and transparent environment that encourages staff to communicate with one another.
Open API
So how can your online reservations sync with your kitchen systems, or how can your reporting assist your front of house operations?
A comprehensive Point of Sale and Platform can integrate the functions of your front of house with your back of house. And by deploying an open API platform, you can ensure that your Point of Sale is customized to fit your business, enabling you to be both flexible and scalable. APIs are key to sharing data between different applications and aggregating data, meaning you can see your sales data in real-time, and push instantaneous menu changes or purchasing orders to optimize your FOH and BOH efficiency.
The connective technology allows you to streamline your services from accounting and eCommerce to CRM, workforce management, and reporting.
From Orders to the Kitchen
For example, when an order is entered at the Point of Sale, whether it be at a standard terminal or on a self-service kiosk, the order automatically gets sent to the kitchen and displayed on Kitchen Display tablets and integrates with kitchen printers. Here, your team will be able to manage orders more efficiently and eliminate any gaps with automatic syncing.
Leveraging Data to Streamline
The insights derived from your Point of Sale are key to both back of house and front of house operations. The front of house is all about customer interactions. To ensure a frictionless customer experience, it's important to tap into customer relationship management technology. Each integrated service can link together the customer journey: from capturing customer information and creating meaningful customer segments to deploying email marketing and mobile loyalty programs.
Your sales data informs your purchase orders decisions so you can optimize your inventory. And by tracking employee performance and sales data, you can tell when your busiest times are and what the optimal number of employees to have on the clock at any given time will be.
Conclusion
Today, deploying technology and fostering open communication within the restaurant is the connective force between the once disparate front of house and back of house.
About Author
Caitlin Stanley is Revel Systems Senior Communications Manager. Revel Systems is the POS and platform built to help businesses achieve their goals. Improving day-to-day operations and fueling merchant growth, Revel's streamlined ecosystem pairs an intuitive point of sale with powerful management tools, integrating inventory management, employee management, sales reporting, and more into a single platform.Revel is a leading member of the Apple Enterprise Mobility Program.
[fl_builder_insert_layout slug="whitepaper-signup-module-top-ten-pos"]