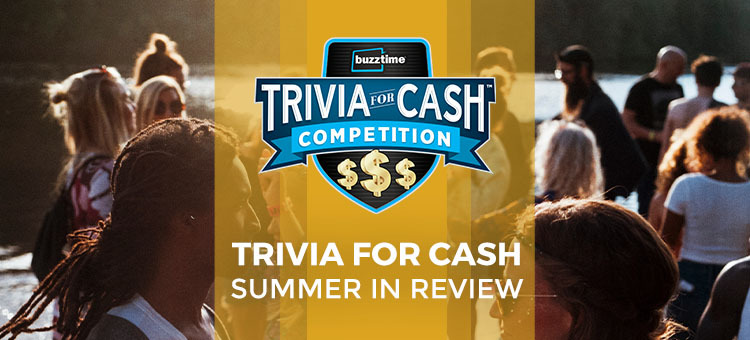 It's summertime, and the winning is easy for the best trivia players! Since May, hundreds of players have won their share of nearly $20,000 through our monthly Trivia for Cash competitions.
These competitions give players a reason to come in to businesses like yours on a repeat basis, while rewarding their loyalty with a chance to win cash. Here's a quick play-by-play of this summer's Trivia for Cash action…
June & July Trivia for Cash: Summer Games
Record-Breaking Gameplay and a $15,000 Giveaway
IMPORTANT! SCHEDULE UPDATE: Now that the Summer Games have concluded, the Buzztime game lineup returns to its regular schedule.
As summer started heating up, so did the Trivia for Cash gameplay. Over 16,800 qualifying games were played in the first 3 days of Trivia for Cash: Summer Games. And in just the first 2 weeks, the same number of games were played versus our previous strongest month of Trivia for Cash! Many of the 2,600 Buzztime venues reported an uptick in customer traffic, engagement, and dwell time – we hope you experienced the same benefits.
A key factor in the fast success of the Summer Games was the launch of the Buzztime Entertainment app. In addition to tablets, players had an additional way to compete for cash…on their own mobile devices.
The Summer Games incentivized both diehard players and Buzztime newbies to "play the field" at your business and find their favorite game from over 9 trivia titles. Games were just 15 to 30 minutes and covered topics from celeb gossip to sports headlines.
Every Friday through Monday evening, the high scorers in each game split a daily $450 cash prize for a total of $15,000 awarded to the best players.
May Trivia for Cash: Block Party
160 Players Won Their Share of $4,000 in Cash Prizes
To kick off summer, players were invited to join the nation's biggest trivia party. Every Saturday night in May, $1,000 in cash prizes were up for grabs during an hourlong block of trivia. The competition featured back-to-back games of History Trivia followed by Movie Night and Pop Culture. Games were just 15 minutes, and the 10 highest scorers in each game won cash.
As we head into August, we're excited by the "hype" these competitions are generating both for our players – and businesses like yours. See what's on deck for the remainder of 2019, including August's Smartest Bar…the most anticipated trivia event of the year!