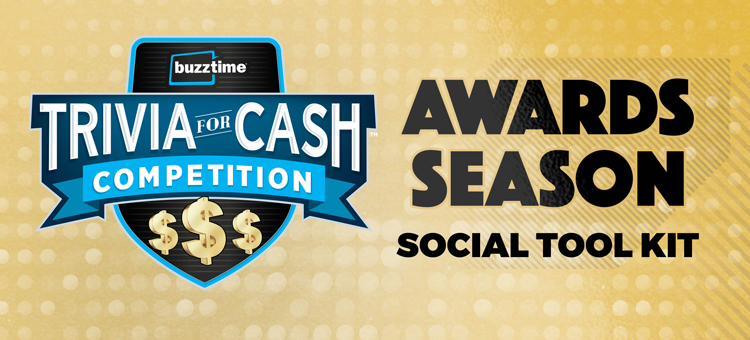 Lights, camera…trivia! Buzztime is helping you roll out the red carpet for customers with Trivia for Cash: Awards Season. Every Saturday in February, $2,000 in cash prizes are up for grabs. Registered Buzztime players can compete in up to four 15-minute games of Pop Culture and Movie Night trivia. Each game is worth $500. If there's a tie? Those with the highest score split the prize.
As always, the Buzztime team is alerting players about their chance to win trivia fame and fortune. We're sending out emails, running ads on TVs and Buzztime tablets, and promoting Trivia for Cash on social media. Join us and make some noise using these 6 tips and graphics.
1) Invite Customers to Get on Trivia's A-List! 
With $2,000 in cash prizes every Saturday night, the competition is a perfect opportunity to build your Buzztime player base. To compete, customers must first register to join the Buzztime Nation of over 10 million players. Get your team on board. Ask them to help players register: either on Buzztime tablets or by downloading the new Buzztime Entertainment app for Android and Apple devices. Registration is always free and fast.
2) Get Social with Us
When you use this toolkit to promote Trivia for Cash: Awards Season on social media, always tag Buzztime. It's a great way to align your business with this buzzworthy national competition. Here are our social media handles:
Facebook: @Buzztime
Twitter: @Buzztime
Instagram: @PlayBuzztime
You can also share our Trivia for Cash social media posts. Find a post to share by visiting Buzztime on Facebook, Twitter, and Instagram. Don't forget hashtags! Use #TriviaforCash #AwardsSeason and #Buzztime.
3) Create a Red-Carpet Experience (Literally)
Hire a local photographer or ask one of your staff members to take pictures of guests as they arrive to compete on Saturday nights. Better yet, invest in a step-and-repeat backdrop banner featuring your logo. You see these behind celebs on the red carpet – and a local print shop typically charges about $300-$400 for one. (Bonus points if you ask your distributor for a commercial-grade red carpet.)
4) Turn it into an Event
Set up a Facebook Event now for all 4 Saturdays in February. Then, encourage your customers to RSVP and share the event. By creating a Facebook Event, Facebook will automatically suggest your event to friends of those who have RSVPed.
Why not treat competitors like trivia VIPs by offering special "red carpet" deals? It could be two appetizers for the price of one (an awesome way to encourage big groups). Team up with a local movie theater to offer a "dinner and a movie" package deal. Or, use one of these 50 best bar and restaurant promotions.
5) Play Paparazzi
Even if you don't have a winner in Trivia for Cash: Awards Season, you can still make competitors feel like celebrities. You could give a gift card to the player with the highest score in Pop Culture or Movie Night trivia every Saturday during the competition.
Use your Buzztime digital signage package to shine the spotlight on the high-scorers by featuring their photo and a congrats message. While players are competing, take photos and videos to share on social media as well. (Just ask their permission first!)
6) If Someone Wins $500? Make Some Noise
If one of your players wins (or even splits) one of the 16 $500 prizes? Spread the word and give them their 15 minutes of trivia fame. After all, this is a nationwide competition so that's big news for the player…and your business.
Write up a 1-page press release to announce that you've had a winner in Trivia for Cash: Awards Season. Send the press release to local TV and radio stations, online and print newspapers, and local bloggers. Highlight your winner on social media, too.
When the curtains fall on Trivia for Cash: Awards Season, don't worry! Buzztime has an entire year of competitions and sweepstakes lined up. Stay tuned for March's big event. Hint: it will be a "slam dunk" of trivia madness….