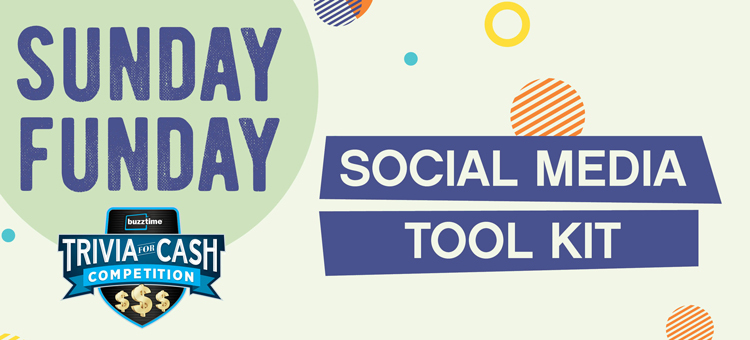 Buzztime is helping you kick off 2019 on a strong note! The fun and friendly competition of Trivia for Cash continues with "Sunday Funday."
Every Sunday evening in January, registered players can compete in a 30-minute round of Topix Trivia. The winner of each game scores $1,000. In the event of a tie, the prize is split among those with the highest score.
We kept December's "Trivia for Cash" format because it was proven successful in driving foot traffic and boosting engagement for 2,700 Buzztime locations like yours! In the first week of competition, the chance to win $1,000 increased gaming sessions by 30% (compared to the same time last year).
The Buzztime team is alerting players now about the Sunday Funday Trivia Competition. We're sending emails and displaying ads on social media plus your TVs and Buzztime tablets. Now, join us in spreading the word with these 7 tips!
1) Let's Get Social
Let your social media followers know you're aligned with this national trivia competition by tagging Buzztime.
Facebook: @Buzztime
Twitter: @Buzztime
Instagram: @PlayBuzztime
You can also share our Trivia for Cash: Sunday Funday social media posts! Just head to Buzztime on Facebook, Twitter, and Instagram and find a graphic to share. Don't forget hashtags when sharing the following graphics to your accounts! Use #TriviaforCash #SundayFunday and #Buzztime.
2) Set Yourself Up for Sunday Success
Pro football's biggest game falls on February 3rd. Sunday Funday in January is the perfect opportunity to remind customers why they should return to catch the bowl game! Can't forget the pro football playoffs and college basketball games held on Sundays. The chance to win $1,000 gives guests a reason to watch the games at your place instead of the competition!
3) Boost Player Registrations
Want to grow your Buzztime player base? Promote Sunday Funday! It's an exciting first time experience for Buzztime newbies.
To compete in Sunday Funday, customers must first register as a Buzztime player. Train your team to help patrons register – either on Buzztime tablets or by downloading the new Buzztime Entertainment app for Android and Apple devices. Remember, registration is free and fast!
4) Topix Practice Rounds
Topix Trivia games run on Thursday and Friday evenings. Invite customers in to practice their Topix skills before the special $1,000 rounds on Sundays. Ask seasoned Buzztime players to share their best Topix strategies with new players. It's a great way to create a community of players – right at your location.
5) Set Up a Facebook Event
Facebook Events can help you promote Trivia for Cash: Sunday Funday by exposing your event to even more people. Set up a Facebook Event for each of the 4 qualifying rounds of Topix Trivia in January – then invite your followers to RSVP. You can also "boost" the event just as you would a regular Facebook post.
Why not add a few food and drink specials to sweeten the deal and really make Sunday Funday an event? The new year is also a good time to update your menu – start by adding these 9 best bar snacks.
6) Show Love to Your Players
Give props to the smartest players! You can use Buzztime digital signage to congratulate the players with the highest scores in Trivia for Cash. Also, take photos of players competing and share 'em on social media (just ask their permission first).
7) Got a Sunday Funday Winner? Brag About It!  
If one of your players earns a top score and wins a cash prize, that's a major public relations opportunity! Create a 1-page press release and submit it to local media: TV stations, radio, online and print newspapers.
Definitely shout out the winning player on social media, and even ask other pages to share the news. Your winning player will feel like a VIP, and their social network will take notice of their accomplishment (and your venue).
Buzztime is on a mission to ensure you start 2019 on a high note…with a boost in Sunday business! We're excited to give your customers a chance to show off their trivia skills and win $1,000 in Trivia for Cash: Sunday Funday!