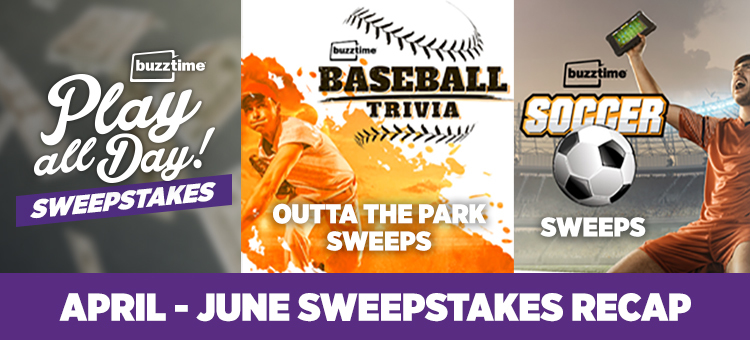 Buzztime went big with 3 high-stakes sweepstakes…and the crowds went wild. See how we kicked off summer and helped Buzztime venues score more business in April, May, and June.
July's $100-a-Day Sweepstakes
Yes, we're giving away $100 a day in July. Just for playing Countdown Trivia, players can earn their daily sweepstakes entry. Build a buzz for your business using our free $100-a-Day social media toolkit.
April: Play All Day Sweepstakes…Part Two!
In March, one Buzztime player had the luck of the Irish on their side…winning a $2,000 grand prize in the Play All Day Sweepstakes. Buzztime venues reported an uptick in guest visits and dwell time in March, so we kept the action going in April – and ran the Play All Day Sweepstakes again!
To earn their sweepstakes entry in April, guests just had to play a round of Lunchtime, Countdown, or Late Shift Trivia. The sweeps reminded players that Buzztime has their back with nationally scheduled trivia 7 days a week, 15 hours a day. If they wanted, players could actually stay and play all day. (And some took us up on the challenge!)
May: Outta the Park Sweepstakes
When May arrived, Buzztime hit another sweepstakes grand slam. Players stepped up to the plate for a round of new Baseball Trivia – and a chance to win $1,000.
Baseball Trivia runs daily in the early evening, so many venues used the sweepstakes to promote happy hour. It also helped locations position themselves as "baseball homebase." With the games on TV, and Baseball Trivia on tablets, fans immersed themselves in America's favorite pastime.
One player made the winning $1,000 catch. But thousands more tagged up at Buzztime locations for their fix of baseball and trivia.
June: Soccer Sweepstakes
In June, Buzztime switched it up with a sweepstakes focused on an arcade game: Buzztime Soccer. The goal? To give Buzztime locations an opportunity to capitalize on World Cup fever. Like Baseball Trivia, venues used the sweeps to promote their location as a great spot to watch the international soccer games.
As the new arcade game took the field, guests rushed in to play for a shot at $100. A total of 20 players scored $100 each! Buzztime Soccer is sticking around on tablets, even though the sweepstakes have ended.