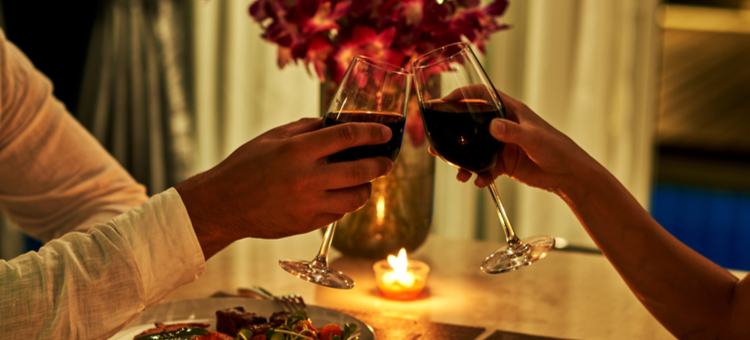 From new Tinder matches to married-for-decades couples, loved up duos are always looking for a new twist on date night. To woo parties of two to your place, get creative with these 13 restaurant date night ideas…
Game Night: Up the Ante on Restaurant Date Night
1. Fall in Love with Trivia
Fact: Couples can find love playing trivia. Just ask gamers Mike and Monica, who met playing Buzztime. After years of dating, Mike popped the question while competing in a round of Buzztime trivia during a restaurant date night.
Basically, every trivia game is a love story waiting to happen. Host a restaurant or bar trivia night where contestants partner up and play against other couples.
2. Newlywed Knowledge
They don't have to be newlyweds, but couples love testing how much they know about each other. Turn their special bond into a restaurant date night with a game show theme.
Ask each individual in a couple to answer the same questions. Then, see if they can guess how their partner responded. Your "game show host" (aka your most charismatic bartender or server) will reveal their responses and the couple with the most matching answers wins. Plan your restaurant date night game using these 120 newlywed question ideas.
3. Perfect Harmony
Add a little music to a casual restaurant date night with duet karaoke. Let couples pick their favorite songs to sing together and hold a mini-competition for best performance. You can even add categories like the best song, best dance moves, or even best costume (for those who dress up). Who knows? Your restaurant date night could discover the next Sonny and Cher…
4. Get Couples on Board with Games
With board game sales on the rise, more and more restaurants are kicking it old-school with popular board games as entertainment. Offer a variety of two-player games to keep couples busy during their next restaurant date night. From family favorites to newer games, a roll of the dice can turn a casual night out into some friendly competition.
The Perfect Pair: Couple Up for Best Results
5. Everyone Loves a Picnic
If you live in a particularly scenic town, couples may enjoy staying outside rather than dining in. Give them the option to take their restaurant date night on the go with a picnic package designed for two. Add some of your best menu items for travel (think sandwiches, salads, and antipasto platters) to a picnic basket that your guests can keep as a souvenir.
Include wine glasses if they decide to indulge and maybe even a blanket with your restaurant logo as an additional restaurant date night keepsake. Don't forget a list of local parks and attractions where they can enjoy their romantic picnic.
6. Dinner and a (Dine-In) Movie
Dinner and a movie. It's a traditional restaurant date night offering. Instead of feeding those lovebirds, then sending them off for a show, play a movie at your venue. To do this, you must first obtain proper licensing for the movie you'll show. Another option for a movie-focused restaurant date night is to contact Films on Tap, a company that helps businesses pair craft beers with independent films.
7. Find Your Local Business Soulmate
The best couples are stronger together – and that's true for your business, too. Find other local businesses that you think would pair well with a restaurant date night. For example, reach out to a nearby museum, live theater venue, or concert hall to set up a package deal that includes dinner for two at your restaurant and tickets to their next show or exhibit. As an added bonus, your business partner will help promote your restaurant!
Class is in Session: A Restaurant Date Night Fit for a School Crush
8. Grab Your Dancing Shoes
A restaurant date night isn't complete without dancing, right? So, bring the moves to your venue with dancing classes for couples. Hire a dance instructor and have couples sign up to learn anything from hip hop to the fox trot. You can even design a menu that complements the style of dance your sharing: empanadas with the Tango, Carolina coastal cuisine for the Shag, fresh salsa for Salsa. Just remember to keep your restaurant date night menu light – it's difficult to dance on a full stomach. Don't forget a great cocktail list for a little liquid courage…
9. Recipe for Love
Love is often cooked up in the kitchen, so share yours with paired-up patrons. Teaching couples how to whip up some of your signature menu items is a sure-fire way to make your restaurant date night stand out. And it's already catching on in several restaurants. Tapa Toro in Orlando, Florida, offers cooking classes that guide guests through some of their popular recipes, like Salmon En Papillote.
10. Share a Drink
Turn a restaurant date night into an opportunity to learn about the finer things – like appreciating a good a glass of wine. Ask your distributor if they can send in a wine rep to teach couples about the subtle notes and aromas of popular wines on your menu. If you run a more casual restaurant, you could take the same approach with craft beers.
BONUS: Restaurant Date Night for All the Single Ladies (and Gentlemen)
11. Menu Tasting Mixer
Looking to keep things casual? So are your patrons. Host a menu tasting with small sampling plates for singles in your area. They can mix and mingle while tasting some of your best dishes without having to commit to a full meal.
12. Speed Dating
It's like a restaurant date night in five minutes or less. Organize a round of speed dating at your venue where those looking for love can meet new people and possibly leave with a few numbers. There are speed dating services who will provide the details and materials so you can focus on what you're good at: providing a fun atmosphere and taking care of your guests.
13. Puppy Love
Instead of focusing on couples, host a restaurant date night allowing patrons to make their pet their plus one! If you have a dog-friendly patio or venue, set up a "pet play date" for pup-loving singles. They bring their pups and may find kindred spirits with fellow dog-owners. To add even more incentive for singles to attend your event, donate some of your profit to a local animal shelter. It not only helps our furry friends, but it can also help your business: 64% of consumers support businesses that show love to causes they care about.
From romantic and intimate, to casual and flirty, a good restaurant date night is about bringing couples closer together. Find the vibe that fits your business and score restaurant date night success. Cheers to that!
[fl_builder_insert_layout slug="whitepaper-signup-module-37-trending-happy-hour-menu-ideas"]