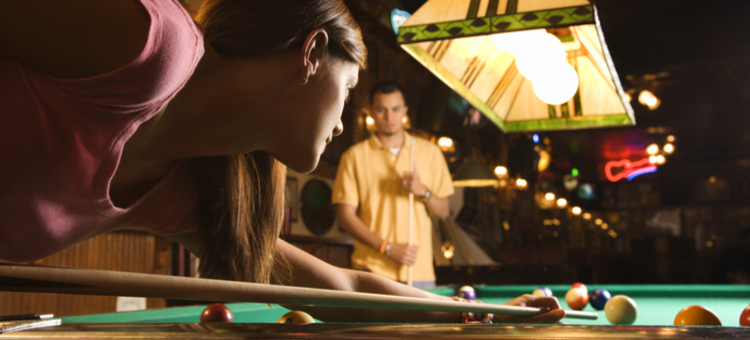 When it rains, guests can still pour through your doors. Just bring the fun, games, and good times…inside! Whether it's a nasty winter Nor'easter, or a scorching hot summer day, you can weather anything with these 15 insanely fun indoor bar games.
Let's Get Physical: Sporty Indoor Bar Games
1) Bean Bag Toss Up
Call it cornhole or sack toss. Either way, this backyard classic is one of the best indoor bar games. Individuals or partners compete against each other by aiming to toss a beanbag into a small hole in a wooden board. For cornhole indoor bar games, make the boards yourself – or purchase them online.
2) Trick Shot Contest
All you need is a mini basketball and small hoop (or an empty trash can will do). Clear an area to "hold court." Then invite contestants to perform their best trick shot. Let crowd applause determine the next LeBron.
3) How Low Can You Go?
Get retro with your indoor bar games. Hold a limbo contest. Of course, you'll need to play Flo Rida's Low to get everyone in the mood.
Bar Trivia: The Ultimate Indoor Bar Games
4) Blind Taste Trivia
Want an easy way to put fun on tap? Give everyone a taste of beer focused trivia. Patrons should form teams of 4-6 people. Serve everyone a flight of 10 very small pours of beer. Then, ask players to guess the beer: either the style (IPA or blonde ale?), the brand (Coors Light or some micro-brewery's take on an American Lager?), or whether it was from a bottle, can, or fresh from the tap. The possibilities are endless. After each taste, the host can share interesting beer-related trivia. You could do the same indoor bar games using wine as well.
5) Bar Trivia Night Done Right
Trivia night should definitely be on your list of indoor bar games. Today, thousands of bars are putting a twist on the traditional trivia night. Instead of the old-school method of pen and paper, players use bar trivia tablets to submit answers. It keeps the gameplay moving, since hosts don't need to hand-score answers.
Plus, when you use bar trivia tablets, you get access to a database of over 700,000 trivia questions – with new ones added daily. It's such an affordable, easy-to-use solution that most bars host trivia night themselves instead of hiring an outside host.
6) Townie Trivia
Want another way to make your trivia-focused indoor bar games stand out? Get local. Team up with your city's historical association or online newspaper to write bar trivia questions that cover the local scene: from famous residents to hometown teams, landmarks to "favorite things to complain about."
7) Trivia Tournaments for the Win
To keep the crowds coming back for more indoor bar games, run a multi-week bar trivia tournament. If you opt for bar trivia tablets, it's simple to set up and score an ongoing tournament. Otherwise, keeping track of team standings can get complicated fast.
Another variation on trivia tournaments is to pit local charities or businesses against each other in an all-out trivia battle. The winning non-profit could get a donation from your bar, or the champion business could win an all-expenses paid party at your bar.
[fl_builder_insert_layout slug="whitepaper-signup-module-26-bar-promotions-that-work"]
Take a Cue From the Kids…
8) Buzzed Spelling Bee
Spell the word for the white stuff that goes on a BLT. Yes, it's hard enough to spell certain words when you're sober. After a pint? Things get hilarious. Join bars nationwide – from Paddie O'Beers in Raleigh, NC to the 331 Club in Minneapolis, MN – that are running adult spelling bees.
9) Giant Fun with Indoor Bar Games
Build your own set of giant Jenga pieces or Scrabble tiles. Clear the floor, and let the indoor bar games begin…on a bigger scale.
10) DO Get it Twisted
Twister isn't just for middle school kids! Grownups can stttrrrretchhhhh it out and compete in a Twister tournament.
11) Snow Day, Yes Way
For whatever reason, onesie bar crawls are trending in 2019. But when it's storming like crazy, who wants to walk around? Instead, invite patrons to cozy up at your place for indoor bar games – played in their favorite pjs or adult onesie, of course. Serve spike hot cocoa and set out classic board games from Monopoly to Candyland.
Or, spice things up with the beloved millennial indoor bar games: Cards Against Humanity or What Do You Meme? Both are definitely for mature audiences only.
12) Picture a Great Time
All you need for these indoor bar games are a white board or a large pad of paper and some markers. Then use this Pictionary word generator to create a list of things players have to draw. Another trending variation is "piction-ades" – a mashup of Pictionary and charades. Players must act out the word. Sounds like fun, right?
Digital Indoor Bar Games
13) Today's Arcade is Tableside
The same tablets used for bar trivia give guests access to on-demand arcade games. From word challenges to realistic car racing, basketball shootouts to a "gopher smash" – it's all waiting on these bar trivia and arcade tablets.
14) Guests Go All in For Poker
Up the ante on fun with your indoor bar games: consider a poker tourney. While laws prohibit actual gambling in bars, most states allow bars to run "just for fun" poker games (check with your state to be sure). Yes, those same bar trivia tablets come into play again. They can be used to run a poker tournament. The tablets and your own TVs turn into virtual poker tables for high-stakes entertainment.
15) eSports Meetup
Video games have gone mainstream, thanks to the rise in popularity of titles like Fortnite and Overwatch. And bars have taken notice. Some bars have built their entire concept around eSports. Consider letting players bring in their video game equipment to run their own indoor bar games.
Now that you've got 15 creative ideas for indoor bar games – from bar trivia to retro-cool limbo contests – the next step is to spread the word. Set up Facebook events, create posters, and use digital signage. You'll see crowds coming in for fun…weather or not.