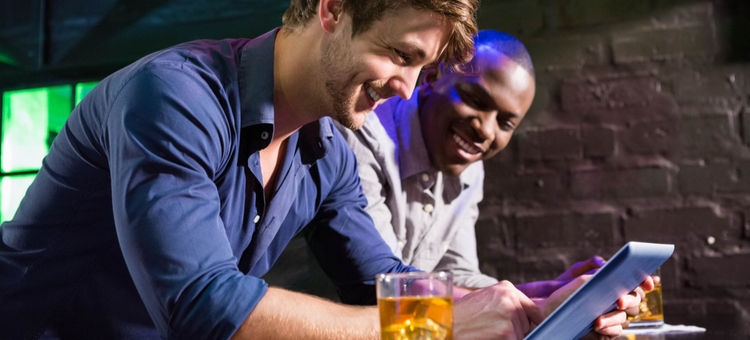 Alongside trendy sour beers and crushable IPAs, something new is on tap at thousands of bars and breweries nationwide. Today, you'll find customers with a pint in one hand…and a bar tablet in the other. Look closer, and you'll see patrons browsing the menu, playing trivia, and even enrolling in loyalty programs – all on these handheld bar tablets.
So, What Exactly are Bar Tablets?
The most popular type of bar tablet on the market today is wireless, handheld, and features a touchscreen interface. Bars provide them to guests in lieu of printed menus. Patrons can scroll through this digital menu, and in some cases, even place orders and pay in a few taps. In a way, this bar tablet technology functions as a guest-facing POS system (that automatically syncs with your main POS).
Today, customers can't wait to get their hands on these mobile POS systems. According to a recent study by TSYS, 79% of patrons want restaurants and bars to offer tableside payment. But there's much more that these tablets can handle…
As you shop around for bar tablets, look for companies that include a digital signage package. That's where the magic happens. You can then run display ads on the tablets – and even your TVs. Be sure the company includes customizable templates, so you can upload menu promotions and event alerts in just a few clicks.
Tablets can even double as gaming devices, giving guests on-demand access to a nationwide trivia network. If you're trying to up your marketing game, imagine promoting the fact that guests can come in, grab a tablet, and compete for thousands of dollars.So, bar tablets can touch almost every aspect of your operation – from ordering to payment. Now, let's dive deeper into how they can improve your marketing…
7 Marketing Benefits of Bar Tablets
1) Upsell on Autopilot with Menus on Bar Tablets
Ever heard the saying that menus are "silent sellers"? With bar tablets, menus become super sellers, helping you market and upsell at every step. Here's how:
Tell the Whole Story: Unless you want to hand guests magazine-sized printed menus, you can't include all the details of every food and drink item. However, tablet menus let you get wordy – and that's a good thing. Samsung Insights reported that venues using menu bar tablets increased premium wine sales by 15-20% in part because customers could read about tasting notes, terroir, and other juicy details to justify their splurge.
Suggestive Selling: Many bar tablets come equipped with upselling engines. For example, if a guest selects a gin and tonic, a prompt would run such as "Treat yourself to top shelf! Switch to Hendrick's Gin for just $3 extra." Prompts can also be programmed to suggest food pairings as well. So, how effective is automate upselling? Modern Restaurant Management found that when guests used digital ordering on tablets or kiosks, their average check size was 30% larger.
2) Spark More Sales
The ultimate goal of your marketing efforts is to boost sales, right? Bar tablets can definitely help.
A Nielson study revealed that when digital signage is used at the point of sale (so when guests are in your venue), sales of featured items increased by up to 33%.
Most venues that use digital signage like bar tablets and TVs will showcase ads for high-margin menu items to drive impulse buys. The best digital signage software includes beautifully designed templates you can customize in a few clicks. Then, you can preprogram when these ads run for maximum ROI. It could be a closeup shot of a refreshing margarita on a hot summer day. Or, maybe it's spotlighting your juicy, saucy wings during happy hour.
You can also use bar tablets to run "flash sales" highlighting a very limited time offer, like half price pitchers for one hour only. You could build your happy hour around the "mystery" deal of the day. Customers would have to come in, check out your TVs and bar tablets, and see what deal is on deck.
[fl_builder_insert_layout slug="whitepaper-signup-module-29-tactics-busiest-bars"]
3) Draw a Crowd with Live Trivia  
Noticed that more bars and restaurants are hosting events lately? Marketing a special event gives customers a reason to come into your venue, instead of the competition. One of the trendiest in-venue events for bars is live trivia. But the old school "pen and paper" trivia is falling out of fashion.
Today, guests prefer using bar tablets and even their own smartphones to play along. Tablet-based trivia is so easy to run, most bars don't bother hiring an (often over-priced) trivia host. Instead, they let charismatic staff member rock the mic and bond with guests.
Want proof that live trivia using bar tablets works to draw a crowd? Beef O'Brady's in Apollo Beach, Florida ran a recurring live trivia night and saw a 40% lift in customer traffic (along with a 200% boost in pitcher sales). You can read the full case study to learn more about how they accomplished those impressive stats.
4) Promote Your Events
Make guests feel like VIPs by promoting and marketing upcoming events on bar tablets and TVs before announcing them to the public. If you sell tickets, drive sales while guests are with you by giving an advance sale discount. Include language like "limited tickets available…buy now and save!"
5) Sign 'Em Up!
To encourage guests to sign up for your email list, show a picture of an indulgent appetizer on your TVs and bar tablets. Include the message "sign up for our emails now, this yummy appetizer is on us…right now!"
Then, use email management software to create a welcome email that is triggered immediately upon sign up. This tactic appeals to instant gratification.
6) Show Love to Loyal Guests
Every bar marketing plan should include these 9 ways to reward loyal customers. Again, bar tablets come to the rescue! Show love to regulars by putting their name – and photo – in lights on your bar tablets and TV screens with digital signage. (Of course, you'll want to get their permission first.)
Create a customer-of-the-month or -week program that includes a $10-$25 card to go along with their starring role on your screens.
7) Help Others Market to Your Customers
Marketing on bar tablets and TVs is so effective, many bars resell ad space to nearby businesses – and even national brands. This offsets the costs for the digital signage software, and adds an additional revenue stream.
Here are a few ideas for reselling your ad space:
Talk to your distributor: They represent hundreds of brands, many of whom would love to be featured on your bar tablets and TVs.
Got local booze on tap? See if the brewery would discount your keg orders if you promote their brewery.
Look nearby: From car dealerships to jewelry stores, salons to theaters, these businesses would benefit from being seen by your customers.
To resell ads on your bar tablets and TVs, be professional. Come up with a "rate card" that lists ad packages and prices. If you offer free ad design, that's a big perk.
Also, be sure to really market your audience to these other businesses. Use your customer relationship management (CRM) system or POS system to pull data on approximately how many customers you serve – and who they are. This will help potential advertisers decide if digital signage is a good investment for them. (Spoiler alert: it is definitely a good investment.)
And here's one bonus idea for digital signage…Use it to bring attention to local non-profits. You're doing a good thing for the community – and your business. An Edelman Good Purpose study revealed that 72% of consumers recommend businesses that support charitable causes.
Ultimately, marketing on bar tablets and TVs can be a low-cost marketing strategy with a high return on investment. There's no need to turn your restaurant into Times Square. A little digital signage on tablets and TVs goes a long way – and can deliver an impressive return on your investment. So, what are you waiting for? Tap into those bar tablets already!