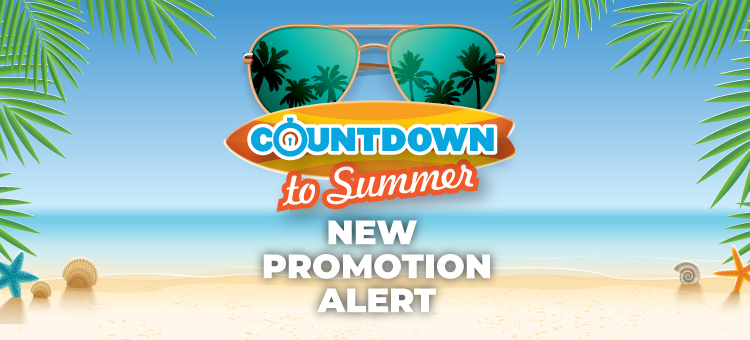 Your guests can count on twice the fun – and double the Players Plus Points this June…we're launching Countdown to Summer on June 1st! This month-long promotion celebrates summer's arrival and awards registered Buzztime players with Double Players Plus Points (after achieving a game score of 6,000) each time they play Countdown Trivia, one of our most popular trivia challenges. Countdown is available to play every day from 2p-10p (except during nationally scheduled trivia).
Countdown to Summer Rewards Your Guests  
Registered players are some of Buzztime's most loyal players – and likely some of your best customers! They get a thrill competing for glory, bragging rights, and a spot on the Buzztime leaderboard. Countdown to Summer incentivizes registered players to visit your venue even more with the promise of double points.
How to Launch Countdown to Summer at Your Place
All you need to do is talk up Countdown to Summer. Your guests will appreciate the head's up so they can plan to play Countdown more often in June. The Buzztime team is already in action, alerting the Buzztime Nation of 9 million registered players that the countdown is on through social media, an announcement email, plus ads that will run on your TVs and Buzztime Tablets.
Encourage Players Plus Signups
Another way to maximize Countdown to Summer? Invite guests to sign up for a Players Plus account – to start earning double points right away. They can create an account on their Buzztime Tablet or smartphone; it's fast and free. Once guests sign up, we keep them informed of special offers, events, and promotions like Countdown to Summer. It's just one way we bring players back to your bar or restaurant for the fun of Buzztime!