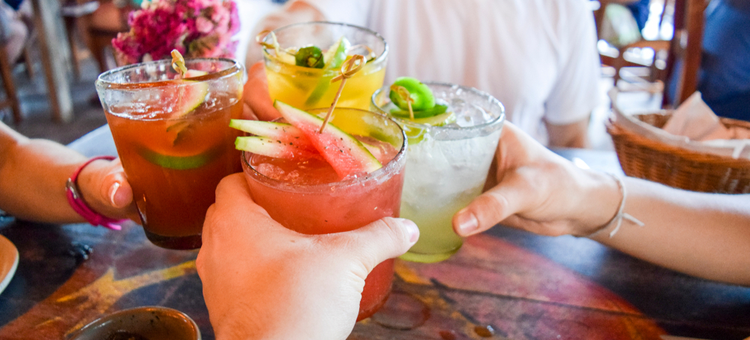 Salt? Check. Limes? Got 'em. July 24th is National Tequila Day so let the celebrations begin in 3 tequila, 2 tequila, 1 tequila…
But don't stop at shots – or margaritas for that matter. Up your game with 18 tequila cocktail recipes for 3 different varieties of tequila (plus bonus mezcal recipes.)
Tequila 101
Made from the blue agave plant, tequila is produced in 5 specific regions of Mexico: Michoacán, Guanajuato, Nayarit, Tamaulipas, and Jalisco.
The traditional process includes steaming the agave piñas inside brick ovens, then distilling the liquor in copper pots. The time the spirit ferments often determines its classification: blanco, reposado, or añejo. (Yes, we'll give you tequila cocktail recipes for all 3).
Blanco Tequila Cocktail Recipes
Also known as tequila silver or platinum, blanco tequila is a smooth, clear liquor that captures what many consider to be the purest form of Blue Agave.
Often unaged, blanco tequila can be bottled right after distillation, so drinkers get the natural taste and sweetness of agave. Its smooth flavor and lack of a harsh bite is why mixologists turn to the silver liquor for most tequila cocktail recipes.
Reposado Tequila Cocktail Recipes
Also referred to as "rested" or "aged" tequila, reposado is stored in wooden barrels for up to 11 months. Some distilling methods call for the use of barrels that held previous liquors, like wine, bourbon, or whiskey.
The longer distilling process gives the liquor a golden hue and a more complex flavor profile than its silver sister.
Añejo Tequila Cocktail Recipes
This amber-colored tequila is aged for the longest of the 3 tequila types. Stored for at least one year, añejo develops a robust, rich taste ideal for sipping. It's often served alone, like a good whiskey or bourbon. But it also pairs well with others. Here are some tequila cocktail recipes that even the most experienced tequila connoisseur could swear by:
Meet Mezcal: Tequila's BFF
Like tequila, mezcal is an agave-based liquor. While tequila specifically uses blue agave, mezcal may be made with other agave varieties.
There's also a big difference in the fermentation process. Unlike tequila, the agave is heated in pits lined with lava rocks and filled with wood and charcoal.
Then, the spirit is distilled in clay pots – not the steel ones often used to preserve the agave sweetness in tequila. This process gives mezcal the smoky flavor its famous for. When selecting tequila cocktail recipes, why not give mezcal a try instead?
Hibiscus and Cilantro Mezcal Cocktail: Dried hibiscus flowers and mezcal mix smoky and sweet flavors.
Ginger's Lost Island: Infused with Mexican, Asian, and Indian flavors, this ginger, cinnamon, and cardamom cocktail rivals most profiles found in traditional tequila cocktail recipes.
Esplanade Mezcal Swizzle: Mezcal and sherry come together in a splendid swizzler.
Top Brands for Tequila Cocktail Recipes
The best tequila cocktail recipes are made using the best brands of tequila, obviously. Here our top picks for up and coming tequilas to add to your bar menu:
Most Traditional: Fortaleza
Bring a little history to your tequila cocktail recipes. Produced on a hacienda in Tequila Valley (the Lowlands), this recipe hasn't changed since it was produced 125 years ago.
Best Value: Espolon
Described as smooth and a little spicy, Espolon is a versatile option for your tequila cocktail recipes. At about $30 per bottle, it's quickly building a reputation as an affordable yet high-quality tequila.
Most Environmentally Conscious: 123 Organic Reposado
Being an environmentally conscious restaurant or bar is kind of a big deal right now. So, bring some of that sustainability to your drink menu with tequila cocktail recipes using this USDA and EU certified organic spirit.
While the margarita isn't going anywhere, make room on your menu for these creative tequila cocktail recipes. Better yet, want to educate yourself on tequila's origin story? Check out The Buzz About Tequila to learn more about this popular spirit's rise to fame. This book explores everything from tequila's economic impact to its role as a cultural phenomenon (Spring Break, anyone?). Share what you learn with your customers – you'll have them impressed with your endless fun facts and craving a cocktail or two. Ayyyyyyy tequila!
[fl_builder_insert_layout slug="whitepaper-signup-module-37-trending-happy-hour-menu-ideas"]