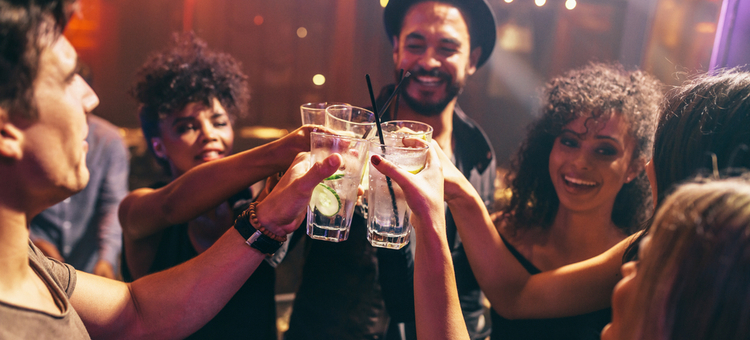 Whoever said you gotta spend money to make money never saw this list of the 23 best restaurant advertising ideas. Over half of these strategies won't cost you a dime, yet still deliver a crazy good ROI. Ready to take your marketing game to the next level? Put these 23 restaurant advertising ideas into play ASAP.
Social Media Restaurant Advertising Ideas
1) Free! Use Facebook Premiere
Dropping a new seasonal menu? Announcing a big event? Record a short video on your smartphone. Then use Facebook's new "video premiere" feature. It sends an alert to your followers that your video announcement will "go live" on a certain day and time (that you set).
2) Free! Go Face First
Foodies love beauty shots of food. But when it comes to restaurant advertising ideas, put a smiling face in the photo. On Instagram, photos with faces get 38% more likes according to a Georgia Tech study.
3) Free! #TuesdayTalk
Every Tuesday, pull a positive quote from your online reviews. Use one of these 15 picture quote apps to turn the glowing review into an image: then post it on social media. Just use the reviewer's first name and last initial.
Example: "Their burger is pure bliss. Honestly the best in town." – Jamal S.
Brainstorm other restaurant advertising ideas that highlight positive reviews. Could you record short video testimonials from happy customers on your smartphone?
4) Run a YouTube Ad
Social media restaurant advertising ideas often focus on Facebook and Instagram. But don't forget YouTube. It's the #1 most popular social media platform, used by 73% of all Americans (and 94% of those 18-24).
Use DIY video software like Animoto.com (it costs $22/month) to create a commercial from photos and short videos. Then, run it on YouTube!
To maximize these YouTube restaurant advertising ideas, "hyper-target" your commercial by customer age, location, and interests.
5) Free! Snap to It
Want more millennials in your restaurant? Use Snapchat, the selfie-sharing app beloved by the cool kids. After YouTube, it's the most-used social media app by those 24 and under, according to 2018 Pew Internet Research. Get started with this guide to Snapchat for restaurants.
Look Within! In-Venue Restaurant Advertising Ideas
6) All Signs Point to…Digital Signage
Here's one of the top restaurant advertising ideas. Ditch the table tents and posters. Switch to dynamic, eye-catching digital signage for restaurants! Simple, affordable software turns your TVs into customizable ads. Use digital signage to promote menu items, events…anything you want.
7) Free! Fishbowl 2.0
Dropping biz cards into a fishbowl? That's so 1990. Plus, not everyone carries business cards. To capture guest information for use in email campaigns, use digital signage to promote an email signup bonus – like a free dessert. Instruct servers to grab email addresses after meals, and reward those who collect the most with a gift card.
8) Coasters
Great restaurant advertising ideas are everywhere you look. Start at the bar. Swap out those beer company coasters with your own custom design.
Like digital signage, use coasters to promote deals or an email signup offer. Pricing starts at just 13 cents per coaster.
9) Selfie Station
Turn the selfie trend into one of your restaurant advertising ideas. Purchase a step and repeat banner with your logo (you see these banners behind celebs on the red carpet).
Set out fun selfie props aligned with your concept. Run a sports bar? Put out pom-poms and a football helmet. You can't go wrong with feather boas, giant sunglasses, and crazy hats.
Then invite guests to snap selfies to share with friends on social media. Tell them to use a specific hashtag like #RonsSportsBar. Once a week, pick a selfie to score a $10 gift card.
10) Free! Take it Outside
Ok, technically this tactic takes place outdoors. But the goal of these in-venue restaurant advertising ideas is to make the most of your real estate. Set up outdoor seating. It's like a living billboard to passing cars and pedestrians. Plus, outdoor seating increases sales up to 33% according to Fast Casual.
11) Bumper Stickers (and Cool Contest)
Got a great logo or slogan? Put it on a bumper sticker and set them out near the host stand. Create a promotion as one of your restaurant advertising ideas. Keep $5 off coupons with you. Whenever you see a car with your bumper sticker, put a $5 coupon on their windshield.
Radio: One of the Most Underutilized Restaurant Advertising Ideas
12) Commercials on Streaming Radio
Imagine local listeners hearing an ad for your restaurant on their Spotify playlist. It's more affordable than you think. Spotify radio campaigns start at $250 and allow you to target by DMA (designated market area) and day. iHeartRadio is another affordable streaming option.
13) Think Small with Adlets
Don't forget "traditional" AM/FM radio. It should top your list of restaurant advertising ideas for radio. The trick is to run shorter ads – 5 or 15 seconds long. They cost less and will get your message out more frequently. Run your ads at set times: late morning and afternoon, when listeners are hungry.
14) Free! Offer Insights
Restaurant advertising ideas require out-of-the-box thinking. Why not approach your local news talk radio show about doing a weekly "chef tip"? Your chef can call into the station and share a cooking tip of the week. It helps the station deliver great content to listeners. It helps YOU get the word out for your restaurant.
Restaurant Advertising Ideas That Use the Power of PR
15) Free! Become an Expert
Set up a listing at HARO (https://www.helpareporter.com/). When national and local media need an expert in the bar and restaurant biz to interview? They might call you. You'll receive 3 press opportunities via email each day, for free. See? Awesome restaurant advertising ideas don't have to break the bank.
16) Find the Foodies
Here's another one of the best new restaurant advertising ideas: influencer marketing. Chances are, there are a few foodies in town who run a blog or popular Instagram page. Find out who they are, then approach them about promoting your restaurant. Yes, you'll need to pay them (or offer trade). But it will cost much less than traditional media. To find influencers, use BuzzSumo.
17) Free for All
Dunkin' Donuts rocks free donut day – and gets tons of press coverage for it. Steal their concept for your own restaurant advertising ideas. Once a month, run a "Free FryDay" and give away orders of fries. You'll pull in crowds, and likely earn coverage in the local media.
18) Sponsor a Charity Event
Generate some positive press by showing love for a local charity event or sports team. You'll align your restaurant with a good cause, and get tons of exposure as your logo appears on team t-shirts or signs.
Digital Restaurant Advertising Ideas
19) Free! Get Listed
Before tackling restaurant advertising ideas, start with the basics. Have you claimed your free business listing on Google, Yahoo, Bing, Yelp, TripAdvisor, and Zomato? Make sure your hours, website, and address are correct. Add photos and a menu on Google. Start responding to reviews on Yelp. You get the picture.
20) Free! Digital Coupons for the Win
Think coupons will cheapen your brand? Think again. People love coupons – especially digital ones (posted on social media or sent in an email).
Research by RetailMeNot found that 9 in 10 people used online restaurant coupons in the last 3 months. You might be surprised to learn that higher income folks are the most likely to redeem them.
21) Free! Start a Blog
Hands down, blogs are one of the best restaurant advertising ideas if your goal is to increase traffic to your website – and get found online. Learn how to start a restaurant blog, here.
22) Run a Google Ads Campaign
No list of restaurant advertising ideas is complete without Google Ads (formerly known as Google AdWords). Basically, you pay for your business to show up when someone searches area restaurants. Expect to see calls and website click-throughs with as little as $50.
23) Free! Upgrade Your Birthday Offers
The best restaurant advertising ideas stand out from the competition. Every restaurant in town offers a free dessert or appetizer on a guest's birthday. Think bigger. Offer two appetizers or a small birthday cake if the guest makes a reservation for 8+.
The best restaurant advertising ideas may not cost much, but they require effort and careful planning. Take time to review your marketing goals. Which ideas will get you closer to your objectives? If you want to boost check averages, try digital signage or online coupons. Want foot traffic? Run that "Free Fryday" promotion. Cheers to conquering the competition, one restaurant advertising idea at a time.
[fl_builder_insert_layout slug="whitepaper-signup-module-supreme-guide-live-events"]