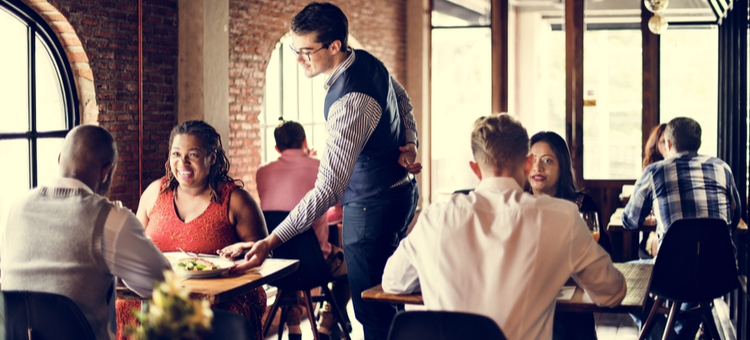 What do you get when two marketing geniuses walk into a bar? Expert advice on driving repeat business to your restaurant…
Meet the Experts
Getting first-time customers back for a second or third visit may seem challenging. But industry thought leader Jon Taffer breaks down a simple, three-step process that can help restaurant owners bring in repeat business.
He shared his strategy with global marketing expert Gary Vaynerchuk on a segment of The #AskGaryV Show, where the two discussed successful business tactics for the hospitality industry.
Gary also provided some bonus insights to take your repeat business strategy even further. (Spoiler Alert: It involves social media.)
The Game Plan for Repeat Business: The Power of Three
To get new customers through the door, you have to offer something big. In Jon's example for driving repeat business, he suggests a free rib dinner. But if your goal is to drive repeat business, you can't just stop at the first visit:
"You gotta make it to three visits, not one," Jon states. Because with each visit, the chances of your guests returning keep going up. "The third time they come, the statistical likelihood of a fourth visit is over 70%."
As soon as a new guest sits down in your restaurant, it's time to work your magic. "Identify them as a first-time customer," says John. "Connect with them and work to get them back a second time and a third time. Once they're there a third time, you own 'em."
It's interesting to note that many bar and restaurant gurus recommend giving away something big to earn that first business. Read about another thought leader's approach to attracting new customers – and then driving repeat business through his signature VRP approach.
Step One: Connect with First-Time Customers
Identify Your Guests
So, how can you tell when it's a guest's first time at your restaurant? Jon suggests letting the napkins do the talking.
When a server or bartender greets your guest, they should put down a red napkin instead of a white one in front of new customers. This signifies to managers and staff that it's the guest's first visit, and they should be treated accordingly.
Why It Works: In a fast-casual environment, a beverage nap in front of a customer signifies that they've been taken care of. And using a different color napkin is a subtle way to send a message to the rest of the staff that you're vying for that first-timer's repeat business.
Play the Discount Card
Obviously, all guests should be given the rock-star treatment. But Jon suggests going the extra mile for first-time customers, if you want their repeat business.
"I know he's a first-time customer, because he's got a red napkin," says Jon. And the red napkin is your manager's cue to check in with the new guest, and then up the ante. In this case, with a discount for their next visit.
Before your first-time guests leave, ask them about their meal. Once they give a glowing review, tell them they have to try your chicken. Write down "$5 Off Chicken" on the back of your business card and offer it to the guest.
"Now I'm prompting a second visit. Not with a printed coupon, but a hand-written card," says Jon.
Interested in other ways to cultivate repeat business? Check out these 13 clever ways that fun, games, and entertainment can earn you that second visit!
Why It Works: A manager checking in with guests adds to their experience and shows you care. Asking how much they enjoyed the food just emphasizes that they should come back to try more. And the personalized business card with a discount just adds incentive for their repeat business, with a personalized touch.
Likelihood of a Second Visit: 40%
Step Two: Hook Them with the Second Visit
Try the Cheesecake
When your guests come back for a second visit, it's another opportunity to shine. As always, you want to offer a flawless experience — it's what earns you that repeat business. But a second visit doesn't guarantee a third, so you need to set it up with another personalized discount card.
"Now he comes in for the second visit, drops the business card on the table, everybody knows this is the second visit," says Jon. "Second visit, [they] finish the meal, you go up, you say, "So, how was the chicken?
'It was frickin' great!'
'Are you full?'
'Totally stuffed.'
'Man, next time you gotta try my cheesecake.'"
Then you write it on another business card: Free piece of cheesecake.
Why It Works: You know what they say — if it ain't broke, don't fix it. And that's pretty much the mentality here to help drive repeat business. Your guests already showed that they are interested in coming in for another visit after your last setup. Now, this is your chance to entice them again with something new to try.
Likelihood of a Third Visit: 42%
Step Three: Keep the Momentum Going
If your guests made it back in for a third visit, then congratulations! You've officially earned their repeat business. And it was at a pretty low cost (but big payoff) to your bottom line.
According to Jon, "The rib dinner costs me five dollars. The chicken was a washout, 'cause it was a discount. The cheesecake was $1.35. For about six dollars, you got three visits out of him with a 70% likelihood of a fourth."
Likelihood of Another Visit: 70%
[fl_builder_insert_layout slug="whitepaper-signup-module-33-customer-loyalty"]
Driving Repeat Business with Social Media
Jon's three-step breakdown for driving repeat business is an effective marketing tactic for restaurant owners. But as Gary points out, these traditional marketing methods could ruffle some feathers with long-time loyal customers who see the new faces getting freebies.
His solution? Take things to social media for a little DIY influencer marketing…
Open up your Instagram account and enter a search for your area.
Take a look at the top nine results. Pick one or two posts from people who have a high amount of followers.
Send them a private message: "Hey, Abby! We see you're in the area! We love being part of the community. Here's a free chicken dinner, on us!"
As Gary points out, sending a private message means that only the original poster sees it. Now you were able to hook a potential new customer without upsetting any of your regulars. And with the power of social media, you may wind up getting more than just repeat business.
Gary notes that your new guest may post a picture of your food, creating word of mouth to their hundreds or thousands of followers:
"Now that five-dollar acquisition created no friction to loyal customers. And because she's on social media, she amplifies it, and you're getting an $80, $500, $4,000 media amplification, against your five f***in' dollars!"
It also helps if you create food, drinks, and an atmosphere that's highly "Instagrammable." For tips on how to do just that, turn to these effective strategies.
Bonus Tips to Drive Repeat Business to Your Restaurant
Now that you know the moves, it's time to make them your own. Here are some ways that you can implement Jon's and Gary's processes for repeat business at your restaurant (and keep the momentum going):
Get your own system in place.
In the scenario that Jon outlines, his fictional restaurant has a unique system to identify which part of the customer relationship cycle his guests are on. The red napkin indicates a first-time guest. A business card for $5 off chicken signifies a second visit. A free cheesecake card means it's the third. Create your own system to score repeat business using items that fit your restaurant's environment and menu.
Train your staff.
Those little signifiers only work if your staff knows what they mean. Make sure to get your team up to speed on what to do for the first-time, second-time, and third-time guests to gain their repeat business.
Show your guests a good time.
As Jon points out, it shouldn't just be the discounts that are driving repeat business. It should be the experience. So make sure guests are having a good time with every visit.
Run weekly promotions that will bring in repeat business. Train your staff to be friendly, hospitable, and efficient. You can even make wait times more enjoyable with games like digital trivia to entertain your guests..
Use a cheat sheet.
Repeat business means more opportunities to get to know your guests. But don't just let that information walk out the door with your customers. Use a customer relationship management  (CRM) system to capture details that you can use for future visits.
Review the data to see what your guests are ordering or how often they come in so you can anticipate their needs and customize their experience with each visit. Remembering little details like their favorite drink and their favorite table is what turns first-time customers into regulars.
As you can see, the power of three is real when it comes to driving repeat business for your restaurant. With each visit, your guests are more and more likely to keep coming back. And with a little help from Instagram, your repeat business strategy could be unstoppable.
As Jon stated, "That's the way you mark at a restaurant, within the four walls of it." We couldn't agree more…