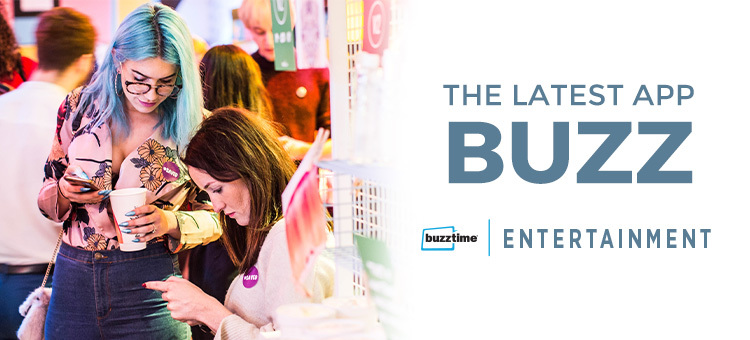 In May, we gave players what they wanted: the Buzztime Entertainment app that lets them compete in trivia games using their smartphone! A lot of exciting things have happened in less than 2 months since the app went live in beta mode…here's what you need to know:
1) Players Love the App! 84% Would Recommend the App to Friends
We launched a survey to take the pulse on player reactions to the new app. Feedback was overwhelmingly positive, with over 4 in 5 players stating they'd recommend the app to friends.
The app was launched in beta mode, with the goal of incorporating player feedback into ongoing app updates. Players also appreciated this approach and 80% of them plan to play even more as the app is updated. Speaking of updates…
2) The First App Updates Integrate Player Feedback
When the app went live, we ensured that the most popular Buzztime games – like Countdown and Lunchtime Trivia – were accessible to players. Within a few weeks, we performed an "over-the-air update." That meant that players didn't need to download an app update, yet our game development team made almost all of the 15- and 30-minute trivia games playable on the app.
In mid-July, we further enhanced the player experience by adding full questions and answers to the app platform. This required players to download an update to the app which unlocked this added functionality. It's just one more way we're enhancing the overall players experience!
Stay tuned as we further evolve and improve the Buzztime Entertainment app based on feedback from loyal players.
3) The App is Bringing More Players Into the Game…and Into Businesses Like Yours
According to a recent 2019 Nielsen study, 7 out of 10 people said they were more likely to choose a bar or restaurant that offered Buzztime. People are downloading the app, and then using the location finder to seek out businesses like yours that carry their favorite games and trivia. It's no wonder that many venues are seeing a lift in new customer traffic.
4) Maximize the App's Benefits for Your Biz
Follow these pro tips to encourage more of your customers to download the app!
Keep Your TVs On! Show everyone in your venue that you've got interactive games and trivia…just ensure at least one TV is always tuned to Buzztime. Plus, we're running ads across the Buzztime network, alerting your customers to download the app.
Train Your Team Empower your staff members to help customers download the app and show them the ropes. To get started, have your crew read over the Buzztime App FAQs
Get Things POPing Ask your account specialist for free point of purchase (POP) signage – like table tents, coasters, and posters – that show customers how to download the app.
Through our new app, we're excited to offer your customers another way to interact with Buzztime. We'll keep you posted as we continue to develop and expand what the app can do. If you have questions, just reach out to your Buzztime account specialist at any time.