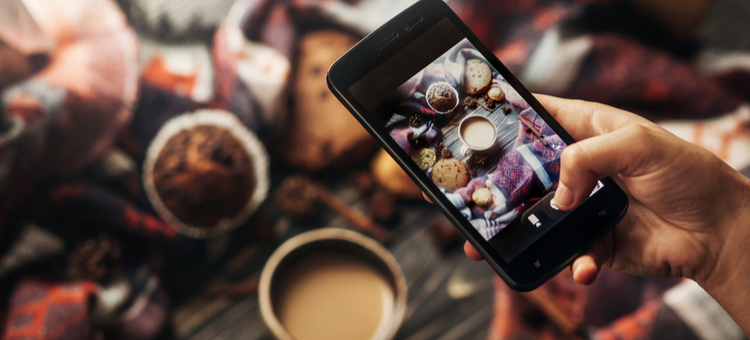 Tell us a story. No really, you should. Because Instagram Stories are one of the latest ways you can bring marketing glory to your restaurant or bar. Don't believe us? Or, never heard of Instagram Stories? Don't worry, we have you covered. Here, we'll break down what Instagram Stories are, why you need them, and how you can use them to boost engagement (and business) for your bar or restaurant. Most importantly, get 10 DOs and DON'Ts for rocking your Stories…
What You Need to Know About Instagram Stories
Instagram Stories busted onto the social media scene in 2016, and they've been making out like gangbusters since. And it doesn't look like they'll stop anytime soon. According to Instagram, over 500 million Instagram accounts use the Stories per day.
So, what exactly are Instagram Stories? And why are they so popular? Essentially, Instagram Stories are short, 15-second snippets of photos and videos that disappear after 24 hours. They pop up in the top bar of your Instagram profile page, and users have to tap on the story icons in order to view. So, unlike regular posts that automatically appear in your followers' feed, users need to manually interact with Instagram Stories to see them (and that's a good thing).
Why Your Bar or Restaurant Should Use Instagram Stories
Facebook. Instagram. Twitter. SnapChat. And now Instagram Stories? We get it—adding another social media platform to keep up with may seem like a hard sell. But it's worth it to incorporate Instagram Stories into your marketing strategy. Here's why:
They're an opportunity to level up your brand. Instagram Stories are all about being in the moment. Which means you have a chance to show more raw, authentic (read: less staged) moments with your followers that can really resonate with them.
They're a real-time marketing tool. As any millennial will tell you, FOMO is a real thing. And because Instagram Stories pop up at the top of users' profile pages in real time, it's a prime spot to show off moments from live events to spark interest and possibly drive traffic to your restaurant as your promotions are happening. Have a live band that's off the hook? Going head-to-head in an epic trivia battle? Just discovered the next Adele at karaoke night? Add that to your Story!
They cancel out the noise. Instagram Stories take up the entire screen of your device when they're playing. Which means no distracting ads, comments, or temptations to keep scrolling. Your followers can focus 100% on the content your sharing.
They're popular. Instagram Stories are some of the most viewed forms of social media out there. Which means that you have a chance of gaining more traction with your followers by posting to your Instagram Stories rather than just your regular feed. According to a study by VidMob, over 63% of Instagram and Snapchat users watch stories on both platforms daily. And a whopping 68% of millennials watch stories on Instagram. Which means Instagram Stories are a surefire tactic for reaching the growing demographic of consumers.
They're fun. Because Instagram Stories are temporary, you can play around more with the content. Don't worry about staged photography or spending a ton of money for professional-level photos. This is a chance to let your brand shine. Be silly. Be outrageous. But most importantly, be entertaining.
[fl_builder_insert_layout slug="2020-holiday-calendar-signup-module"]
The 10 DOs and DON'Ts of Instagram Stories
Now that we have the basics out of the way, it's time to dive into what you need to know to make your Instagram Stories successful. So here are our tips to get the most out of your Stories:
The Must DOs
1. Have a plan.
Yes, the purpose of Instagram Stories is to post real, authentic moments on the fly. But that's really only one aspect of it. You still need to be strategic in your posts and ultimately what you want your Stories to achieve. Are you using them to primarily showcase your mouth-watering menu items? Highlighting your team members and restaurant work culture? Offering a glimpse of the behind-the-scenes at your restaurant? All three? Figuring out the main purpose behind why you want to use Instagram Stories will help you craft meaningful content.
PRO-TIP: Don't feel chained to a specific purpose or goal with Instagram Stories. The temporary nature of the posts means you have plenty of wiggle room to adjust your goals as time goes on. Pay attention to which posts are getting the most engagement with your audience, and use those findings to help plan future content.
2. Be consistent.
Like all social media platforms, consistency is key when it comes to Instagram Stories. If users get used to seeing Stories from you one day but not the next, or if you go weeks in between posting, they'll stop checking your Instagram Stories. That could hurt how you appear in their feed. So, post several times throughout the day to keep a steady stream of content in your Stories.
PRO-TIP: This is where a social media calendar can really help you stay on course. You have the option to share pictures and videos from your camera roll when you post to Instagram Stories, so use that feature to your advantage. Take a bunch of photos and videos throughout the day at your restaurant and keep them stored to share at a later date. That way, you're not scrambling for content as your Stories sit empty.
3. Switch things up.
When comes to frequency, it pays to be consistent. But when it comes to content, variety keeps things interesting. Fortunately, Instagram Stories offer plenty of ways to keep your content feeling fresh. You can post photos and videos, but you also have options to add text and filters that make the posts a little more fun. You can even make your own mini-series using videos that are split up into 15-second segments (which is how long Stories give users to view content). So, feel free to go a little crazy and see what works with your audience.
4. Use stickers to increase engagement.
Unlike regular posts, Instagram Stories allow you to customize your videos and photos with texts and stickers to add a little context and personality to your posts. And the best part of the stickers is they can increase engagement and how many users can view your post.
Here are some of our top picks for stickers to increase engagement:
Location Tags: Sure, regulars may know where your restaurant is. But it you're in a tourist town or just trying to attract visitors during your busy season, location tags make it so your Instagram Stories show up in local searches—meaning more eyes on your content.
Hashtags: Same with location tags, hashtags can help your Instagram Stories show up when users search for the same term you tagged.
Polls, Questions, and Emoji Slider: Increase engagement by asking your followers their opinion. Post a poll for users to choose between two options. Ask open-ended questions that they can answer directly through your story. Or see how your followers really feel with an animated emoji on a sliding scale.
Countdown: Have a big event coming up? The countdown sticker on Instagram Stories is an easy way to drum up excitement for your next big promo.
5. Stay on brand.
Instagram Stories are a place where you can be more casual and show off the fun side of the restaurant business. But it's still important to remember that they are a reflection of your brand. Keep the content and tone consistent with your normal messaging. For example, if you're a slightly more upscale restaurant, your Instagram Stories may have a more business-casual feel. However, if you're a local sports pub or wing bar, you could get away with more cheeky or humorous posts.
PRO TIP: When it comes to posting content on your Instagram Stories, pretend that you are speaking directly with one of your customers. Remember that they're your target audience, so you want to keep the interactions similar to what they may experience when they visit your bar or restaurant.
THE PRETTY PLEASE DO NOTs
1. Don't over post.
Yes, we did say you should always have at least a few stories in your Instagram feed at any given time. But there's a big difference between five stories and twenty. At the top of your Instagram Stories feed, users can see little lines that represent how many stories you've posted.
And long lines of tiny, seemingly endless dashes are overwhelming to followers. After a few stories, users may lose interest and swipe right to move on. So it's important that you find that sweet spot where you can post multiple Instagram Stories to drive engagement, but not so much that users tune out.
PRO-TIP: Start with posting between 1-7 Instagram Stories each day and be sure to track your engagement. Pay attention to where you start seeing users drop off from viewing and consider that amount as your sweet spot for posts.
2. Don't only focus on promotions.
We're sure you have some pretty sweet deals going on at your restaurant. And Instagram Stories are a great way to share them. But that shouldn't be the only content on your feed. Like other social media platforms, users follow Instagram Stories because they want quality content. Yes, that mean deals. But it also means entertainment and information that your followers will find valuable. So add other posts that showcase what else you have to offer, from delicious food to a stellar team to a fun atmosphere.
3. Don't repeat posts from your regular feed.
It may be tempting to re-share a post from your normal Instagram feed in your Instagram Stories. The information is already there. You paid good money for that professional photo. And it saves time. But, while that all sounds good, it actually works against you.
Users watch Instagram Stories because they want to see something different. And if you give them the same information they could easily get on your profile page, why should they continue watching your Stories?
By re-sharing the same posts, you're missing out on opportunities to share other quality content and valuable information that could help followers better connect with your business. So, don't cheat—come up with original content for your Instagram Stories. Your users (and your business) will thank you.
4. Don't be inappropriate.
One of the main features of Instagram Stories is that they only appear for 24 hours. However, everything lasts forever on the Internet. So, don't use Stories as a way to share content that could be considered offensive or inappropriate. It's a sure-fire way to alienate followers and could even capture national attention in a not-so-great way. Stick with safe content that focuses on your business, and follow the same rules you would for your other social profiles.
5. Don't ignore your analytics.
For your Instagram Stories to be successful, you have to know what's working. Pay attention to your user engagement and what seems to resonate with your audience. Start with Instagram Insights, which is a tool embedded directly in the app for those who are using a business account.
Once there, you can see how your content is performing and how your followers are interacting with your Instagram Stories. Then use those findings to craft future content and a posting schedule.
Instagram Stories are a great way to increase engagement with your followers. All it takes is a little practice and time to keep your audience tuning in. So, start sharing—your followers are waiting!