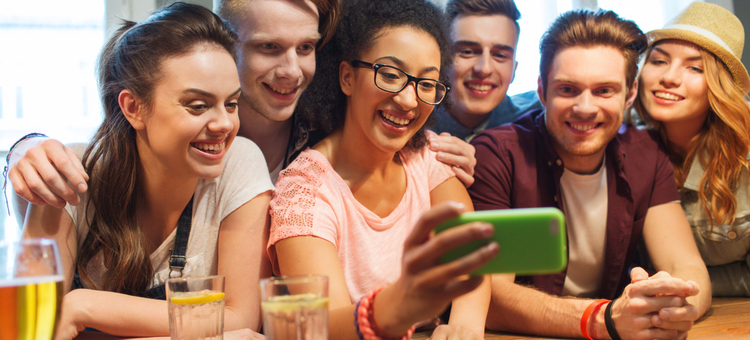 "My friends and I look for bars that have something going on…games we can play, a special event or tasting. Anything that's fun and out of the ordinary is a big draw."
As a young professional living in Washington D.C., Sarah L. is on a budget. Yet, drink prices and Uber fees aren't on her radar. It's all about having a good time, at all costs.
Today, the average millennial and Gen Z consumer shares Sarah's craving for an entertaining experience – not just an average night out. As a result, entertainment for bars is rapidly evolving. It's more social, interactive, and out-of-the box than ever. Here's the proof…
Are You Not Entertained? Why Music-Based Entertainment for Bars Doesn't Cut It Anymore
Ask a millennial what they'd rather do at a local bar: listen to live music or throw axes. Based on the new axe throwing bars opening on a weekly basis across North America, the answer is clear.
The wilder, crazier, and more competitive the entertainment for bars…the better.
The trouble with music-based entertainment for bars, like live bands and DJs, is that it inhibits rather than encourages socializing.
Sarah L. explained that she enjoys going to concerts for live music, and nightclubs for dancing, "but I don't want to yell over a cover band or DJ set while I'm trying to talk with my friends or meet people at the bar."
Of course, many customers still want that classic bar music experience. For bar owners, the key to mastering entertainment for bars is to create an events calendar based on the type of customer you're trying to attract.
Start by exploring different types of competitive, social entertainment for bars (that won't send your insurance premiums skyrocketing like an axe throwing setup).
For example, live bar trivia – also known as the pub quiz – is a favorite midweek event for everyone from college students to older millennials who want the thrill of "going out on a school night."
However, even classic bar trivia is changing to meet the demands of the younger crowd. Instead of pens and paper, players can now use their own smartphones to compete in live trivia. In fact, smartphones are behind another type of trend in entertainment for bars.
The FOMO Factor: How Social Media is Shaping Entertainment for Bars
If a tree falls in the forest, does it make a sound? If you go out and enjoy bar entertainment without sharing it on social media, did it happen?
To millennial and Gen Z customers, no memorable experience is complete without a proper Snapchat or Instagram post.
That's why savvy bar owners are seeking out entertainment for bars that customers can't wait to "humble brag" about on social media. By creating Instagram-worthy experiences, bar owners benefit two-fold.
First, they make their customers happy by giving them those precious Instagramable moments. Second, each time a customer posts about entertainment for bars, it's free advertising. The customer is giving all their Instagram followers FOMO (fear of missing out) on all the fun.
In fact, the 2019 Charles Schwab Modern Wealth Survey revealed that nearly half of millennial and Gen Z customers are influenced by social media to spend more money on experiences. The study's conclusion was that FOMO fuels American spending. When we see others having a great time – sky diving, strolling through Rome, or yes, enjoying entertainment for bars – we get envious and want to join in.
So, what kind of entertainment for bars can create FOMO on social media? It could be a crazy costumed event like the recent onesie bar crawl held in Santa Barbra, CA at Wildcat Lounge. Some bars take a more permanent approach to bar entertainment…Pinewood Social Club in Nashville, TN built an actual 6-lane bowling alley in their venue! Thousands of people have taken selfies with the alluring neon turquoise sign in the background.
[fl_builder_insert_layout slug="whitepaper-signup-module-26-bar-promotions-that-work"]
From Tequila Lessons to Yoga Sessions, Bar Entertainment Gets "Classy"
The millennial and Gen Z population is altering and expanding the very definition of entertainment for bars. The bar has transformed into a classroom…even a yoga studio.
While traditional bar sports like darts and billiards are still holding their own, you're likely to see younger patrons stretching it out during an afternoon yoga session – right on the bar floor. At Empire Farmstead Brewery and Bar in Cazenovia, NY, participants who join in yoga get a free beer to enjoy after their workout.
At 87 Main Street Spirits in Cocoa Beach, Florida you can get schooled in tequila. The bar owner, J. Marie Sheppard, holds a weekly cocktail class that's free for patrons. She believes that entertainment for bars is critical to fostering relationships with customers:
"Our cocktail classes are a chance to show off the knowledge of our staff, and to provide value. Our tequila class is really popular. Customers learn about the 3 kinds of tequila, how it differs from mezcal, and they even learn how to mix tequila into traditional cocktails."
Other trending variations of class-focused entertainment for bars include paint and sip nights, where participants get all the supplies and instruction to create artwork they can take home. Plant night is another DIY-type class that's hitting high notes with Gen Z and millennial patrons, who get to pot their own terrariums.
Instructional entertainment for bars also results in FOMO-inducing content on Instagram. For proof, follow the #makeyayallday hashtag on Instagram. People love to show everyone what they made during art class…at the bar.
Charitable Events Strike at the Heart of Entertainment for Bars
Millennials and Gen Z consumers have a reputation for being self-centered. After all, the millennial generation is responsible for the rise of the selfie.
However, Jeff Fromm, a researcher at the Boston Consulting Group, found that the younger generation is more likely to seek out products and services from companies that support causes they care about.
To appeal to the younger crowd, and make a difference in their community, many owners are integrating charitable giving into their entertainment for bars. It could be a bar trivia tournament where the prize is a donation to the winning team's favorite charity.
Another trend in entertainment for bars that heats up during the summer are dog adoption events held on bar patios. Most of the locations in the Bar Louie chain are dog-friendly, and regularly team up with local dog shelters to host adoption events.
Ultimately, the Gen Z and millennial focus on socializing – both online and in real life – is creating a demand for events that bring everyone together through new and novel shared experiences. So enjoy the live folk music and round of darts while you can, because the bar scene is changing faster than you can throw an axe…