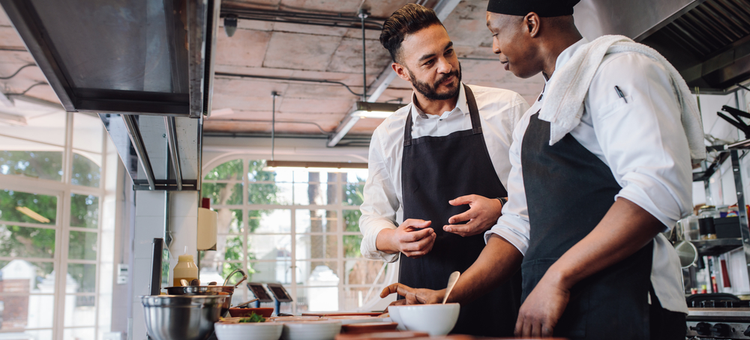 Need to hire a new employee? Setting the right restaurant salary is all about balance. You want to attract the best in the business, but you don't want labor costs cutting into your profit margin. Use this restaurant salary guide for 11 positions as a starting point. After all, the best restaurant salary and hourly wages will keep your team – and your bottom line – happy.
Front of House Restaurant Salary Ranges
Most front of the house (FOH) positions require tips, so you can pay less than minimum wage for certain roles. However, you must ensure all staff are being paid at least minimum wage once tips are added in. Here are some estimated restaurant salary ranges to start with:
1) Hostess: $7.25 – $12 per Hour + Tip Outs
The hostess role is typically an hourly position where employees also earn additional tips and tip outs from servers. Job-applications.com estimates that the national restaurant salary for hostesses is $9.50 per hour, depending on experience and responsibility.
A hostess just starting out may make closer to minimum wage. However, if you expect the hostess to take on additional responsibilities like running food or bussing tables, provide a higher starting rate.
Generous patrons may slip a dollar or two to hostesses for better seating (which they may accept, if your policy permits). Servers also tip out approximately 5% of their tips to their hostess, but it depends on your restaurant's tip out policy.
Depending on the restaurant salary you determine for tip out employees, you can implement a blanket percentage or leave it to the servers' discretion on how much they want to contribute to the hostess.
2) Busser: $6.35 – $10.91 per Hour + Tip Outs
If you decide to employ a busser, expect to pay them a restaurant salary around $8.29 per hour, which is the national average. While not all restaurants employ bussers, they can help streamline service by running food and cleaning tables.
Some restaurants require their servers or hostesses to take on bussing responsibilities, eliminating the need to hire an extra worker. However, that decision runs the risk of impeding your team's productivity. Your hostess can't greet guests if she's too busy cleaning tables.
Like hostesses, bussers often receive a portion of server tips at the end of their shift as well – usually 5%.
3) Server: $2.15 – $10.85 per Hour + Tips
Both server and bartender roles function as tipped positions, meaning that the majority of their payment comes from tips. The minimum wage for tipped positions according to the Fair Labor Standards Act is $2.13, but other requirements vary by state.
The national average for a server's base restaurant salary is $5.43 per hour, not including tips.
Be careful here! For any tipped employees, their restaurant salary combined with tips must meet the minimum wage in your state, otherwise you have to make up the difference. That includes some tracking on your part. However, setting up a schedule that provides at least a couple busy shifts or sections per server will help them reach that amount each week.
4) Bartender: $3.25 – $12.81 + Tips
Like servers, bartenders are considered tipped positions. The average hourly rate reported on payscale.com is $7.70 per hour for bartenders.
With intricate cocktail trends on the rise, it pays to hire innovative bartenders who are experienced with mixology. If you expect your bartenders to create cocktail recipes and contribute to your drink menu, pay a restaurant salary higher than the tipped minimum wage.
5) Assistant Manager: $34,596 – $49,028 per year
As a restaurant salary position, assistant managers make an average of $41,435 per year. While you can pay your assistant manager an hourly rate, it may be more cost efficient to provide them with a restaurant salary.
Assistant managers perform a myriad of duties to ensure a smooth shift. They may even have to fill in for a server if someone calls out last minute. Since they don't accept tips, you can provide quarterly or annual bonuses for a job well done.
6) General Manager: $32,253 – $66,690 per year
Your general manager is the backbone of your restaurant operations. They oversee both the FOH and BOH staff, make inventory purchases and deal with your vendors. They do a lot, and tend to be paid the most out of all your FOH restaurant staff – approximately $47,290 per year, according to the national average on payscale.com.
Their restaurant salary may vary, depending on the size of your staff and the amount of sales your business makes per year.
BONUS TIP! If possible, hire your general manager from within your own staff, rather than relying on an outside hire. Someone who was promoted from assistant manager or server is already familiar with your processes, products and staff, which means less training costs for you.
Back of House Restaurant Salary Ranges
While FOH is what your guests see, the BOH is where the magic happens. From dishwashers to the executive chef, each role is integral in delivering a high-quality experience for your patrons. BOH employees require a completely different set of skills and do not receive tips. This makes their restaurant salary setup very different from your FOH staff.
7) Dishwasher: $8.20 – $10.75 per hour
Becoming a dishwasher is a great starting point for anyone looking to break into the restaurant industry. The education level and skill level is minimum, with only a few years of high school required.
Since dishwasher is an entry-level position, the average restaurant salary is around $8.20 per hour. However, more experienced dishwashers may possibly make a little extra, especially if they show interest and potential in moving up within your restaurant.
8) Line Cook: $8.92 – $14.60 per hour
When it comes to food prep and assembly, your line cooks are essential to the operation. However, they do make a surprisingly small amount compared to other positions. According to payscale.com, the national average restaurant salary for line cooks is $11.27 per hour – slightly more than dishwashers.
Several factors come into play when determining your line cook restaurant salary. Like other positions, you should consider the size of your restaurant and food output.
You also have to keep in mind your restaurant standards. A more casual sports bar may not require as much precision or plating techniques. At a more upscale restaurant, plating is almost as important as the food itself.
9) Kitchen Manager: $27,598 – $53,775 per year
Kitchen managers oversee all of your kitchen operations and staff (excluding the sous and executive chefs). As a manager position, the national average restaurant salary runs about $40,093 per year. That amount may fluctuate, due to the size of your kitchen staff and the manager's responsibilities.
Chain restaurants, like Texas Roadhouse and The Cheesecake Factory, tend to pay their kitchen managers a little more since they serve at such high volumes. If you're running a smaller restaurant, you can probably offer closer to the national average for an experienced kitchen manager.
10) Sous Chef: $36,751-$56,477 per year
Acting as the assistant to your executive chef, the sous chef national restaurant salary average is approximately $45,217 per year. In most cases, your sous chef should have at least five years of experience as a line cook under their belt before getting started.
Like the kitchen manager, the sous chef oversees your kitchen staff, but they also take on more responsibility. They are often in charge of overseeing food quality and regularly contributing to your menu and recipe concepts.
11) Executive Chef: $39,677-$86,858 per year
An executive chef is arguably the most important restaurant salary to focus on. If your food isn't good…well, you know what happens. On the flip side, an experienced head chef could be what keeps bringing your patrons back. Hiring a well-known chef could even add credibility to your restaurant and attract more business. But, these chefs come with a higher restaurant salary.
The average executive chef restaurant salary is about $58,182 per year. However, that amount may be higher if your restaurant is located in a city known for its culinary scene, like New York or Las Vegas.
[fl_builder_insert_layout slug="whitepaper-signup-module-run-a-promotion-max-roi"]
BONUS! 3 Tips for Setting the Right Restaurant Salary
Give a Little Extra, Attract Better Candidates
Setting a fair restaurant salary is a good way to attract high quality employees and reduce employee turnover. The Fair Labor Standards Act (FLSA) sets the federal national standard for minimum wage at $7.25 (and many states have higher minimum wage requirements). However, offering just above minimum wage – even for the smallest roles – can attract higher caliber employees.
Several large restaurant chains offer above minimum wage as a starting restaurant salary, and they're seeing some positive results. McDonald's started offering $1 over the minimum wage at company-owned stores and reported lower employee turnover and higher customer satisfaction scores.
Do Your Homework! Research Local Restaurant Salary Ranges
Using the national averages listed above is a good starting point for restaurant salary numbers. Plenty of sites, like Glassdoor, Payscale and Salary.com can also give you a ballpark range for each position. But don't stop there. Dig deeper and look at the local restaurant salary ranges – so you can stay competitive.
Watch Out for Overtime
Monitor both hourly and salary overtime regulations. The regulations have recently been updated to include salary employees making less than $47,500 per year.
The ultimate lesson in setting a restaurant salary is: "you get what you pay for." But that doesn't mean blowing your budget by overpaying staff. Research national and local averages to determine the ideal restaurant salary. It should be one that fairly compensates your team for their skills – while keeping your bottom line in mind.