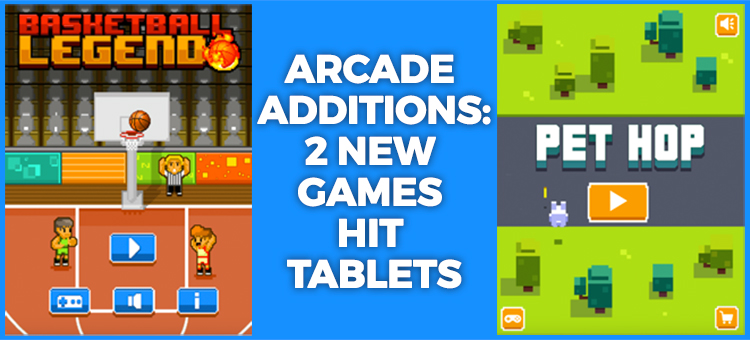 What do bunnies and basketball have in common? They've got the Buzztime arcade jumping with solo-style gaming for your guests. Pet Hop and Basketball Legend are now live on Buzztime Tablets!
Meet the 2 New Games
Pet Hop
Hop to it and play!
Hip, hop…but don't stop! Outwit busy traffic to move your pet across the road, and grab coins to unleash special pets from the shop. Don't skip on this retro 3D hopper game for all ages: jump in and save the pets!
Basketball Legend
Rule the Court. Shoot for Glory.
This swipe-to-shoot hoops challenge is nothing but net fun for everyone! Practice your shots with the virtual coach, then aim for all-star status in a competitive shoot out.
4 Reasons You'll Love 'Em
 The Throwback Factor
Both Pet Hop and Basketball Legend are brand new Buzztime games. The authentic arcade experience will give guests a retro thrill that keeps them coming back to your place.
 Designed for Repeat Play
The continuous play style of Pet Hop and Basketball Legend also encourages patrons to get in the zone, and keep challenge themselves and their friends. Just one more basket…just one more chance to get that rabbit across the road! Buzztime arcade games get addictive, in a good way. And the more guests play, the more they order: an average 21% more per table check.*
 Real Crowd Pleasers
Pet Hop and Basketball Legend offer instant fun for all ages, which benefits your business. Busy parents can connect over dinner while their kids strive to unlock new pet characters in Pet Hop. The business lunch crowd can unwind with a few practice rounds in Basketball Legend. Both games cater to different gaming styles, too: Hyper-competitive players can challenge themselves as they hone their skills and casual players can just jump in and enjoy some relaxed gaming.
You as Game Hero
As we add new games, we add value to the guest experience at your bar or restaurant. Buzztime's freshly stocked virtual arcade is dynamic, inviting guests to return and discover new games. Pet Hop and Basketball Legend are just the start…we'll be launching new games regularly throughout 2017.