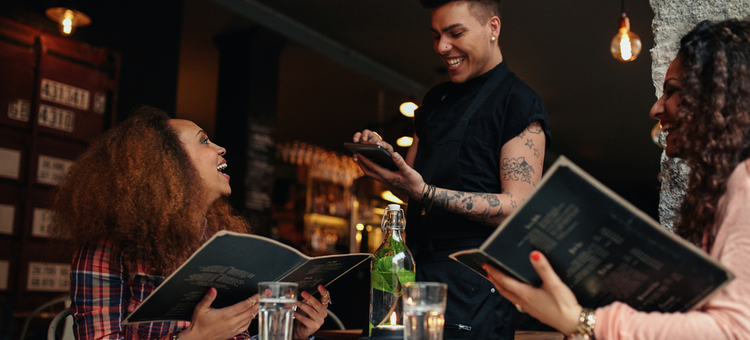 You might think everything in your restaurant is great—your food, your staff, and your décor—but have you tried looking at it through your customers' eyes? As soon as potential diners walk through the door, they get a first impression of your restaurant—and if it isn't good, they might not be back. Luckily, if you try thinking like a customer, you can identify your problem areas and fix them.
1. Your host.
Your host is probably the first person your customers talk to at your restaurant. If your host is friendly, attentive, and helpful, s/he can help you make a great first impression. However, if your host is rude or inattentive, you can turn off your customers before they even order their food.
2. Your waiting area.
Do you have enough space for your customers to wait for their tables? Do you have seating for them? And do you have a television or something else to keep them entertained?
3. Your décor.
This is the first chance your customers get to see what your restaurant is all about, so your décor matters a lot. If everything in your restaurant doesn't fit your brand, consider changing it so that customers aren't confused as soon as they walk in.
4. Your bathrooms.
If your customers visit your restroom while waiting for their table, you don't want them to be grossed out. If you don't keep up the highest level of hygiene in your restrooms, your customers will be left wondering about the cleanliness of your kitchen.
5. Smells.
Ideally your whole restaurant will be filled with the delicious aromas of your food. But this isn't so great if those odors are burnt or stale.
[fl_builder_insert_layout slug="whitepaper-signup-module-33-customer-loyalty"]
6. Lighting.
Is your restaurant too dim or too bright? Or, worse, do you have burned out bulbs? Your lighting can make a big impression on your customers.
7. Glasses or silverware.
Before your customers even place their orders, they'll probably get drinks and silverware. If there are lipstick stains on the glasses or crusted food on the forks, customers probably won't be excited to order their entrees.
8. Signs.
If you have any signs on your door, on your host stand, or anywhere else where customers are entering, make sure they look professional. A hand-lettered sign doesn't exactly make a customer feel confident about the level of care you put into your food.
9. Cleanliness.
Are your floors covered in dirt? Are your windowpanes lined with dust? These are the sorts of things that will stand out to customers.
10. The noise.
Is your noise level appropriate for the type of restaurant you're running? Customers expect a sports bar to be noisier than a French-style bistro.
By keeping these things in mind, you can be in control of the impression your customers get as soon as they walk in the door.