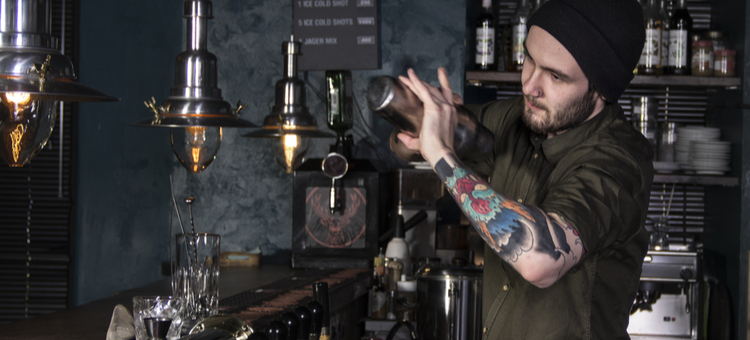 Guests aren't fools. So these bartending tricks aren't about deceiving them. Instead, our list of tricks are meant to add fun, laughs, and even thrills to the customer experience. Read on for 5 great ideas that make every guest feel like a VIP.
1) Bartender as Best Friend
Everyone loves sampling new beer and wine at a friend's dinner party. It gets the conversation flowing, and creates a night to remember. Spin the idea of making guests feel like family – and add it to your bartending tricks.
Give 'em a Try – They Will Buy
Offer a free taste of a new premium liquor that just came in. Or, serve a mini flight of wines to help guests decide on a full glass.
Samples make customers feel like they're getting more bang for their buck, plus it puts the reciprocity principle into action. When someone does something nice for us, we feel indebted to return the favor. That means a customer is likely to spring for a full glass of your sample. Sampling should definitely top your list of bartending tricks.
Request Line
You know that feeling when a friend watches the Netflix show you recommended? You feel pride, glory, and honor. Ok, that may be a stretch. But you definitely feel awesome.
As one of your bartending tricks, set out a suggestion box with slips of paper for patrons to write in their requests. Or, take these bartending tricks digital and ask guests on Facebook. When it's time for a seasonal revamp or to replace a low seller, head to the box (or Facebook). These bartending tricks make guests feel special – and can build loyalty.
Game Night
Game night in the living room is "meh." Game night at the bar? That's "oh yeah." Start a weekly trivia competition or poker tournament as one of your bartending tricks. Up the ante by giving guests gaming tablets for automatic scoring and access to tools that let you host these events yourself.
Consider prizes like themed swag, bar gift certificates or a mystery bag filled with the contents of the bar's junk drawer (or not).
2) Can You Keep a secret?
Thanks to Instagram, the business of home bartending is booming. Cocktail festival organization, Tales of the Cocktail, even added monthly Home Bartender Awards to honor homegrown talent. You don't need to give away all of your best bartending tricks, but letting guests in on some of your secrets can pay off…
Bartending 101 (or 201)
A great martini or daiquiri should be a staple for any home drinker. Start with a basic version, or cue guests in on your next-level twist.
Roosevelt in Denver takes its mixology courses to the next level. Participants are offered the chance to enter the bar's monthly cocktail creation contest. Monthly winners face off to be added as a quarterly menu special. Who knew bartending tricks could bring out the competitive streak in your guests?
Be Our Guest
Sure, your bartenders do a great job, but what patron hasn't imagined life from the other side of the bar? With a guest bartending program as one of your bartending tricks, patrons can try the job without the commitment. (Don't be jealous, now.)
San Francisco neighborhood bar The Brick Yard lets customers sign up online to guest-bartend in support of a charity or organization. Participants also are encouraged to set up raffles and auctions on their host night. Nice, bartending tricks can even treat charities to donations!
3) Pick up the Presentation
Anyone who's had a killer martini served in a dive bar knows: looks aren't always everything. But that's the exception to the rule. Don't use it as an excuse to skip these bartending tricks focused on presentation.
If you're not in a place where you want to (or can) remodel your physical space, these simple bartending tricks can provide a much-needed makeover.
Keep It Contained
Which drink would you rather order…one in a clear glass, or one in a bright blue tiki bird? (If you didn't pick the bird, how about an elegant, vintage cobalt blue tumbler?) The point of these bartending tricks is this: add visual interest to at least a few drinks on your menu by upping your glassware game.
Choose one cocktail to server in a specialty container, and display it prominently behind the bar to pique customers' interest. Yes, a cool tiki tumbler will catch their eyes (and wallets). Remember, these bartending tricks are all about fun.
At the newly opened Bar Biscay in Chicago, chilled white vermouth is served on tap. That's something guests might be hesitant about trying. But its served in tiny metal pineapples kept behind the bar – so it intrigues guests.
Get Cozy
Koozies make great bartending tricks. They're an opportunity to get your name into a guest's home while keeping their hands warm and drinks cold. Plenty of bars sell them. But at Homeslice Pizza in Chicago, they're a freebie perk. Every canned beer purchased comes with a branded koozie in a variety of designs that guests are welcome to take home. Who wouldn't want to crack open a cold one? Seems like the Windy City has bartending tricks mastered.
Go Can Crazy
With approximately 47 zillion IPAs on the market, it can be tough to figure out which ones to stock. Consider adding a menu section devoted to crazy cans…and keep them out on display. Guests will be excited to crack open something creative. Check out these 67 craft beers in crazy cans to inspire your canned bartending tricks.
[fl_builder_insert_layout slug="whitepaper-signup-module-golden-book-of-upselling"]
4) Make Your Specials…Extra Special
Go beyond happy hour with these bartending tricks that work any time of day. Yes, we're looking to Chicago again for inspiration…
One Price
If you're looking to boost your sales of cocktails or wine, consider setting an across-the-board price for that category. It'll help you get a better estimate of sales, and keeps guests from specifically ordering the cheapest thing on the menu. At Chicago's Bar Pastoral, most wines are priced at $5 for a half-pour, $10 for a full pour and $40 for a bottle. Bartending tricks that double as profit-building tricks? Epic win.
Drink it Here. Drink It There.
If you've got the license to sell alcohol to-go, consider letting guests enjoy that beverage onsite as one of your bartending tricks. Lush Wine and Spirits in Chicago, a bar/store, allows customers to buy a bottle of wine on one side, then uncork it for free to enjoy with snacks made onsite. Better than digging around for Cheetos at home, right?
5) Join the Club
It's like a secret society that everyone's invited to join. Depending on your state's laws, bar clubs are a great way to offer cool perks and create a set of built-in regulars. The best part of these bartending tricks: You've already got the clubhouse.
Go All In
It's common for bars to offer a beer club, and less common to offer a wine-related one. But why make guests choose? For $30 a year, the beer and wine clubs at Lures Bar and Grille in Maryland provide members a free gift, a free drink each month, and a special birthday surprise. Sounds like a great catch.
Check Out That Mug
What's a mug club without a great mug? Go beyond glass mugs imprinted with your logo and invest in an upgraded version of this perk. Seriously, bartending tricks don't get better than this.
Grey Fox Pottery in Minneapolis has a specific arm of its business dedicated to bar mug clubs. The bare clay bottoms allow the mugs to be numbered with a permanent marker to help you keep track of your members. Then add "support local businesses" to your list of bartending tricks. Check with potters in your community to see if they'd like to partner up.
Bartending tricks take a little creativity – and yes, some time and money. But if guests are wowed by your showmanship? They'll be back for more bartending tricks.