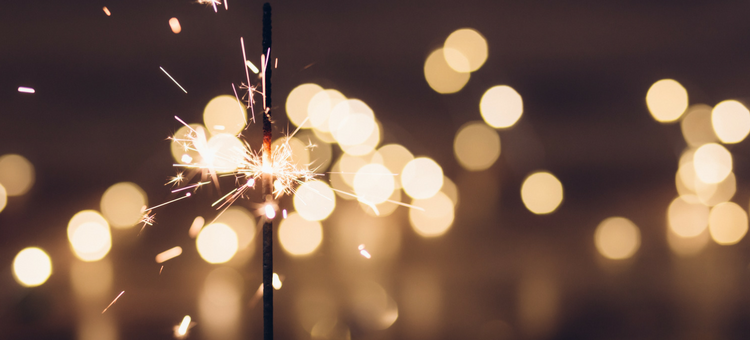 Why write New Year's resolutions when you can use these 5 bar and restaurant goals instead? Each resolution includes action items to take, and results you can expect. When the ball drops at midnight, you'll be ready to welcome in 2019…your most successful year yet.
Resolution #1 – Boost Check Averages
It's the holy grail of bar and restaurant goals: bigger checks. These strategies can help increase sales while driving up guest satisfaction – it's a win-win.
Action: Train Your Team to Upsell
Don't leave upselling up to chance. Empower your waitstaff with sales secrets for bigger checks (and tips). Start by reviewing these 26 upselling phrases.
Result: Increase Sales of Menu Items by 27%
Here's just one example of bar and restaurant goals focused on upselling: Instruct servers to vividly describe a dish to increase its sales by 27%, according to a Cornell University study. Tonight's special isn't the "blue cheese burger with fries" – it's the "1/2 lb. Prime Angus burger with creamy blue cheese, caramelized onions, and house-cut fries."
Action: Tune Up Your Playlist
Adjust your playlist by daypart as one of your bar and restaurant goals.
Result: Boost Drink and Dessert Sales by Up to 40%
Select louder, higher tempo tunes during busy times (you'll turn tables faster). Play it low and slow when business isn't brisk to see up to a 40% lift in dessert and drink sales according to research.
Resolution #2 – Bring in More Customers
Attracting more patrons is one of your 2019 bar and restaurant goals…right? Try these simple crowd-building tactics.
Action: Raise Your Fun Factor
The best bar and restaurant goals add value to every guest visit. One of the easiest ways to enhance the guest experience? Put fun on the menu. A Facebook Loyalty Study asked 14,000 adults to describe businesses they like best. The top word used was "quality" followed by "fun." To ensure every guest visit is super fun, turn to Buzztime. Your guests can tap in to on-demand trivia 24/7 using their own smartphones. Or, check out handheld, touchscreen tablets that connect guests to a digital arcade. And if running more live events tops your list of bar and restaurant goals for 2020, you can host a live trivia competition using someone from your own staff, or hire a pro
Result: Grow Guest Traffic by 40%, Exposure to 11 Million People
Beef O'Brady's in Apollo Beach launched Buzztime Trivia LIVE – and saw guest traffic grow by 40% and pitcher sales increase by 200%. Plus, when you become a Buzztime location, you're seen by 11 million registered players looking for a place to play their favorite games and trivia.
Action: Attract More Millennials
Stop hating on the younger generations for their love of avocado toast, selfies, and Snapchat. Earning their business should top your list of bar and restaurant goals. Why? Because millennials dedicate nearly a quarter of their spending money to bars and restaurants – which they patronize 5x per week on average. That's more than any other generation! To win their hearts (and wallets), try these tips.
Embrace Dietary Preferences: It could be offering gluten-free swaps like pizza crusts and buns. Or, appeal to the 8 in 10 millennials who eat meatless alternatives like tofu or the popular Beyond Meat burger.
Up Your Digital Game: Millennials do their research before choosing restaurants. They're 3x more likely to look for photos of food than other generations, so a website update may be one of your 2020 bar and restaurant goals. Also, 60% of millennials rely on online reviews (skip ahead to resolution #5 for tips on rocking your reputation).
Be Ready for Your Closeup: Are you Instagram-worthy? If not, put "be Instagramable" on your list of 2020 bar and restaurant goals. It could be a vividly hued cocktail or a quirky mural, a neon sign with a clever saying or a brightly painted wall. Get more ideas to up your Instagramability from the Brooklyn-based Ford Media Lab.
Result: Increase Repeat Millennial Business
If you can impress a millennial, they're 1.75x more likely to become a repeat customer according to the Facebook Loyalty Study mentioned earlier. So, make room in your bar and restaurant goals for those selfie-snapping millennials.
[fl_builder_insert_layout slug="2020-holiday-calendar-signup-module"]
Resolution #3 – Improve Your Marketing ROI
Marketing takes time and money. Save on both by making "marketing automation" one of your 2020 bar and restaurant goals.
Action: Automate Your Email Marketing  
For as low as $10/month, you can use a service like MailChimp to automatically send guests a welcome email when they subscribe to your email list. Or, set a "trigger" to email a coupon on the guest's birthday. You can even automate your email list buildout with a service like Yelp Wi-Fi, which asks for the guest's email in exchange for use of your free wi-fi.
Result: A Return of $38 for Every $1 Spent on Email Marketing
You read that correctly, email campaigns pack a powerful 38:1 ROI. Just one more reason to put email automation on your list of bar and restaurant goals for 2020.
Action: Use Digital Signage
All signs point to putting digital signage at the top of your bar and restaurant goals list. Simple software turns your existing TVs into dynamic display ads. With the right digital signage system, you get free templates – ready to customize with specials and events. You can even set digital ads to automatically rotate by daypart and day.
Results: Save on Print Costs, Increase Sales by 30%
A Nielson study revealed that on-site digital signage can increase sales of an item by over 30%. So add digital signage to your bar and restaurant goals…STAT!
Action: Set Up a Chatbot
Admit it, you've always wanted your own robot. Set one up using this how-to guide. You can create automatic responses to frequent questions asked on Facebook Messenger, like: "Can I make a reservation?" or "What are your hours?" Don't worry, you can still respond personally to messages, too.
Results: Reduce Time Spent Responding to Facebook Messages
Because we all could use a robot to answer (obvious) questions like "are you open tonight?"
Action: Hire an Influencer
Look to local foodies for your next big marketing success! Maybe they run a blog, manage a very active Twitter feed, or have an Instagram page with thousands of followers. Ask a few loyal customers which local or regional people they follow, then reach out to these influencers: would they be interested in coming in for a complimentary meal in exchange for a few posts?
Results: Join 80% of Brands Using Influencer Marketing
Yes, influencer marketing has gone mainstream – so don't get left out. Incorporate an influencer strategy into your 2020 bar and restaurant goals.
Resolution #4 – Improve Guest Loyalty
Bar and restaurant goals that revolve around loyalty pay off. After all, if you can boost guest retention rates by 5%, you could increase your profitability by 25-95%.
Action: Get Personal
Every guest wants to feel like a VIP. So, when it comes to bar and restaurant goals for 2020, focus on personalized ways to roll out the red carpet for patrons. In a 2018 survey, SevenRooms found that guests will return if you make them feel like a name (literally) – and not a number:
35% want to be greeted by name
35% would love a complimentary glass of wine
50% say a complimentary birthday dessert wins them over
Result: 67% of Guests Will Return
The survey found that 33% will NOT return if they feel like their waiter didn't cater to their preferences. Make the effort to get personal with guests – and you'll meet your repeat business bar and restaurant goals in 2020.
Action: Launch a Loyalty App
Guest loyalty. There's an app for that! Today, the majority of guests want to earn and redeem rewards for their loyalty through a smartphone app. That's according to the 2018 Bond Brand Loyalty and VISA Loyalty Report based on insights from 50,000 customers.
Result: 85% of Customers Say Redeeming Rewards Through Their Mobile Phone Improved Their Experience
Want to add a new loyalty app to your bar and restaurant goals for 2020? Use these 10 reviews of the best loyalty programs.
Action: Use EMV-Equipped Restaurant Tablets
Hackers. Identify theft. Stolen credit cards. It's all top-of-mind for today's guests – with good reason. Your bar and restaurant goals should focus on easing their fears, like letting them pay in the most secure way possible. That means using EMV ("chip" card) readers or NFC (mobile payments like SamsungPay and ApplePay).
Result: 85% of Guests are More Loyal to Businesses That Protect Their Financial Info
A massive 2017 study performed by Accenture revealed this powerful link between security and customer loyalty. Analyze your operations to see if other security measures should make it on your list of bar and restaurant goals.
Resolution #5 – Rock Your Reputation
Focus some of your 2020 bar and restaurant goals on reputation management. The same SevenRooms study mentioned earlier also found that 37% of today's guests decide where to dine based on the restaurant or bar's reputation.
Action: Stalk Yourself
Keep tabs on your reputation so you can address any customer complaints or negative press. Here's how to put these bar and restaurant goals into action:
Set up free Google Alerts for your business name
Activate "push notifications" to alert you when someone leaves a Facebook review or comment
Subscribe to a reputation management service like Review Trackers
Monitor your Yelp page on the daily
Result: A Better Reputation
Awareness is critical for achieving reputation-related bar and restaurant goals: Once you know about negative reviews or comments, you can take action using the next step.
Action: Respond. To. Every. Single. Review.
Learning how to respond to negative reviews using the 7A Formula should be a priority as far as 2019 bar and restaurant goals go.
Result: 34% of People Remove Initial Bad Reviews, 5-9% Revenue Boost
Experts recommend responding to all reviews – good and bad – within 24 hours. But it's never too late to address complaints. In fact, if you offer a great response, 34% will delete their bad review and 33% may add a new, positive review. (Source: The Retail Consumer Report by RightNow and Harris Interactive.).
The secret to setting bar and restaurant goals is to first focus on the results you want. Then, select the action items that will help you achieve those results. Use this list of bar and restaurant goals to guide you to a most prosperous new year. Cheers to 2020!