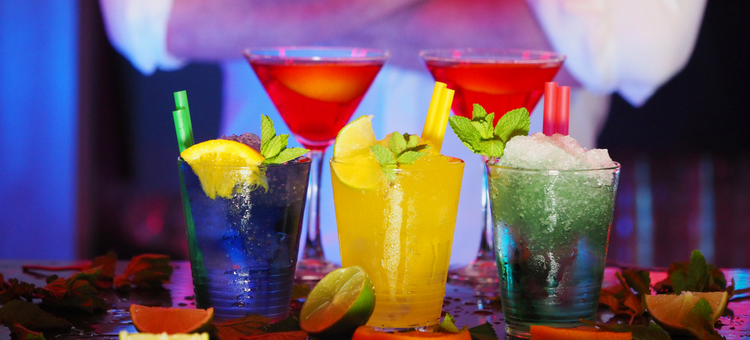 The best bartenders never stop learning and always jump at the chance to up their game. Now is your chance. We talked to experienced bartenders across America to uncover their top bartending tips: from managing a slammed bar, to secret bartending tips for upselling.
Whether you're a pro behind the bar or just exploring how to become a bartender, these bartending tips can help you deliver great customer service and spark bigger sales. Want even more tips and tricks? Download our free ebook (27 Top Secrets Every Bartender Should Know) below:
Bartending Tips for Upselling Without Being "Salesy"
Pro bartenders put the customer first. Try these bartending tips for upselling to strengthen bonds with your guests.
1) Name Calling
Guests want to feel like they're a name – not a number. Even when the bar is packed, Michelle from Sarasota, Florida swears by these bartending tips:
"When a guest hands me their credit card to open a tab, I look at the name on the card, look back at the guest, smile, and say 'thanks Dave, I'll keep this open for you.' Then, when he orders another round I use his name. It makes him feel like a VIP in front of his friends and builds a quick rapport between us…sales come easier the rest of the night."
Michelle's first-name bartending tips are actually backed by science: a study showed that when hearing one's name, the part of the brain associated with reward and pleasure is activated.
2) Strategic Samples
Next up on our list of bartending tips is a tactic that takes a cue from…Costco?
Yes, free samples can score big sales and build trust with guests.
Adam, a bartender in Madison, Wisconsin with 26 years of experience, believes that upselling is simply a byproduct of educating your customers.
"I give tastes of new or superior products to customers I believe may be interested in them."
Adam explained that his free sample bartending tips only work if you've first educated yourself on the product so you can give a trusted recommendation.
"I use that knowledge to highlight product differences for the customer without getting too technical and losing their interest."
It turns out that Adam's bartending tips are supported by research, too. First, free samples activate the "reciprocity principle." When someone is generous with us, we feel inclined to be generous in return – by purchasing that premium drink, or leaving a nice tip.
Plus, studies show that free samples can increase sales of an item by up to 2,000 percent. Yes, you read that right, and that's just one study.
3) Group Think
We noticed a trend when gathering bartending tips…the best bartenders all suggest you develop an eagle eye to "read" customers within a few seconds.
When a group approaches the bar, Shavonne from Rochester, Michigan looks for the "leader" or "influencer" of the group – coincidently he or she often orders first. Shavonne then suggests a premium product like a special cocktail or craft beer, if the "leader" goes for it – Shavonne compliments the choice, then immediately asks the group if anyone else would like the same drink.
"I'd say about half the time the rest of the group gets the premium drink," Shavonne added.
Top Secret Bartending Tips Almost No One Knows
4) The Soft (Music) Sell
Bartenders are often in control of the playlist, and it can directly impact your sales.
One study showed that playing slow tempo music can increase drink sales by up to 40% during slow times. So, resist the urge to "amp up" guests with loud music.
The reverse is true during busy times: play it loud and fast to keep the drink orders coming! Check out these additional bar and restaurant background music tips – all backed by science.
5) Build a Bond on Social Media
One of the best bartending tips? Engage with guests on social media. Ask whoever runs your bar's social media to record you making a different drink each week using Facebook live – or, try one of these other 19 Facebook restaurant and bartending tips for increasing engagement online.
Bartending Tips for Managing Massive Crowds
Most professional bartenders thrive in the high-energy atmosphere of a packed house. Turn to these bartending tips to keep guests happy when the bar is slammed.
6) Train for Busy Nights
Next time the bar is slow, act like it's busy. Adam has been practicing these "fire drill" bartending tips for almost three decades:
"I use slow times to my advantage. I take multiple orders and fill them quickly. It's like a rhythm I get into – you could say it's like running a drill or training. Then when the bar is slammed, I feel ready for the fast-paced action."
7) Always Acknowledge Guests
Adam also said the only thing that bothers him on busy nights is making people wait.
That in itself is one of the best bartending tips: you should be concerned about wait times!
To make the wait less tedious for guests, Adam acknowledges each and every one. It could be a simple nod or smile. You can do this while pouring a beer – look up and make eye contact with every customer.
Some bartenders avoid bartending tips that suggest acknowledging the guest, because they're afraid customers will demand their drinks ASAP…
"But customers just want to know you see them, that they're on your radar. Listen, they know the bar is busy, too. When I make someone wait, I thank them for their patience. Then, I go out of my way to make them feel special in our next encounter," said Adam.
Two other bartending tips for reducing the "pain" of waiting for a drink: either bring on more staff or give guests something enjoyable to do while they wait – like play trivia.
8) Know Your Environment
Mise en place. The back of the house uses this French culinary term for setting up ingredients before prepping a dish. Smart bartenders use this as one of their secret bartending tips, too.
There should be a designated spot behind the bar for everything from lime wedges to that rare scotch.
Bartenders should be trained to respect the "mise en place" of the bar environment and always return things to their proper place even on busy nights.
9) Be Smart with Signature Cocktails
One popular hotel bar and lounge in NYC serves up indulgent mixologist-approved signature cocktails but there's a catch. They've been mixed at the start of the night.
One of the best bartending tips is to prepare large batches of signature drinks in advance. For recipes requiring soda or anything carbonated, add that – along with a garnish – at the last minute.
The trick is to also have ingredients ready to mix up signature cocktails by hand for customers seated directly at the bar. They don't want you pouring their Manhattan from a pitcher. But for servers taking cocktails to tables or lounge seats? Customers won't know the difference – and you'll save precious time at the bar.
However, gourmet sangrias and trendy rum punches are just fine to pour from a pitcher in front of guests. Can you add these, and other classic cocktails every bartender should know, to your cocktail menu?
Bartending Tips for Sticky Situations
Prepare for the worst, and hope for the best – that's one of the best bartending tips out there. Take time to set up protocol for worst case scenarios: what's your policy for cutting off an intoxicated guest? What happens if a bartender calls in sick and there's just two bartenders and hundreds of thirsty guests?
10) Spot "The Troublemaker"
Torrey, a bartender and sommelier in Los Angeles, says one of his top bartending tips is this:
Keep one eye on the drinks and the other eye on the crowd.
In particular, he says to look for potential troublemakers:
"They're overly loud or even a little too animated, even if it initially appears to be happiness. Also, they're often aggressive getting to the bar or trying to get your attention."
If you spot a troublemaker, Torrey says you need to either "cajole them into behaving" or shut them down. If they appear to be overly intoxicated, don't serve them. Don't let one bad egg spoil the bar. Use these bartending tips to create a safe, welcoming atmosphere at your bar.
11) One for All Carding
You can't just card those you suspect to be underage – you should card everyone. Think of it this way: if a group of friends are all 23 and 24, but you only card a few of the "young-looking ones," the others will be offended.
Or, maybe that group has a few under-21 patrons who appear older. Your bar could lose its liquor license plus face fines and bad press. These bartending tips are meant to be simple, so just card everyone.
We've shared these bartending tips to empower your success behind the bar. Got an insider secret you'd like to share? Tell us in the comments.