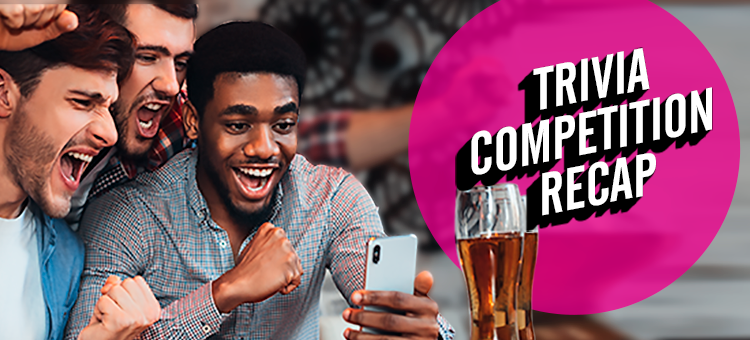 The Buzztime Nation just can't get enough of our high-stakes trivia competitions. On average, gameplay is up by 27% due to these prized trivia events. So, we're giving players what they want: more chances to win at your location – all year long!
Keep Your Players in the Game
With an entire year of player competitions, there's always a reason for customers to come into your venue! Let them plan ahead for fun by displaying our 2019 competition calendar table tents. By now, you should have received these table tents. If not? Just reach out to your account representative and we'll send 'em ASAP.
First Quarter Competition Recap
In the first quarter, we saw tons of energy and enthusiasm from players like Thomas Hoobler, a patron of Mad River Bar and Grille in New York, NY.
"Our team has never played on Sunday before, but we sure did after I (with the team's help) won the $1,000 prize during the January Trivia for Cash event…Sunday Funday. When we told the waitress and manager what we had won, we noticed that the service even improved! Keep it up, Buzztime!"
The friendly competition continued in February with Trivia for Cash: Awards Season. Players showed their smarts in Pop Culture and Movie Night Trivia, just in time for major entertainment awards like the Grammy's and the Golden Globes.
In March, trivia mania reached new heights. With a chance to be one of 10 daily winners, players rushed in to compete in Trivia for Cash: Trivia Madness. The qualifying game – Buzztime Sports – was the perfect companion to all the basketball action in the college tournament.
In April, Players Called the Shots
We polled Buzztime players to find out what THEY wanted in a trivia competition. Fans voted to select the prize amount, qualifying game, and how they could win.
The result? April's Trivia for Cash: Player's Choice.
Every day in April, Buzztime gave away over $100 in cash and prizes to the 10 highest scorers in Countdown Trivia.
As we head into May with Trivia for Cash: Block Party, we're excited by the "hype" these competitions are generating both for our players – and businesses like yours. See what's on deck for the remainder of 2019…