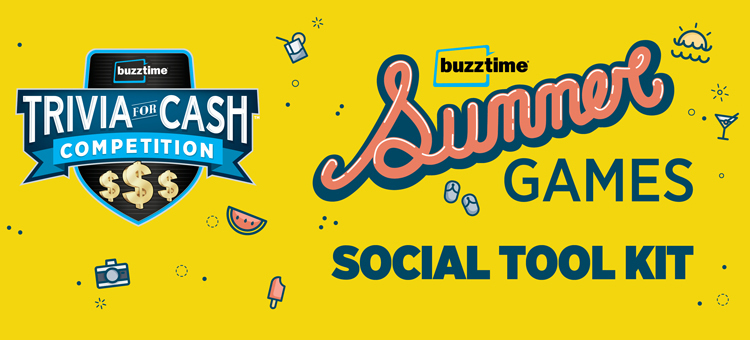 This June and July, Buzztime is giving away $450 in cash prizes every night – Friday through Monday.
Yes, that means that your business is an official host of a $15,000 trivia competition. This Summer Games Playbook contains tips and tactics for using this competition to attract new customers and delight your current fans. Ready? Let the games begin!
Cover These 3 Bases
The Summer Games are a key opportunity to bring in repeat business this summer. First, you need to get more customers playing Buzztime. Do these 3 things to maximize your player base:
1) Put Buzztime on Your TVs
Make sure at least one TV is set to the Buzztime Network so players can compete!
2) Place Tablets on Tabletops
Include this step in your daily manager checklist: "Put fully charged Buzztime tablets on tables." 
If you don't have a manager checklist, here's a free checklist you can customize.  
3) Spread the Word
Hold a quick meeting with your staff so they understand that you're hosting a BIG $15,000 trivia competition. Train them on Buzztime basics – like how to help customers register, how to download the app or use a tablet, and of course, they need to be aware of the new Summer Games schedule (skip to the 3rd tip for the new schedule).
Tell Your Customers: "Get the New Buzztime Entertainment App!"
Players can compete in all 9 qualifying trivia titles in the Summer Games…using their smartphone. Encourage your customers to download our new app, which is free for both Android and Apple iOS mobile devices. (P.S. Players can still use tablets to compete in the Summer Games, too.)
Once players download the Buzztime Entertainment app, we'll be able to send them alerts for future competitions and events at your location.
Get More Players Into the Game
With 9 trivia games that qualify for the Summer Games cash prizes, your customers can play the field and find a new favorite. We carefully selected these 9 games because:
Qualifying games like Movie Night and Topix focus primarily on pop culture and current events, so players need not be "diehard" trivia gurus to win the game (and the cash).
Games are just 15-30 minutes, so new players don't have to commit to a full hour-long trivia game.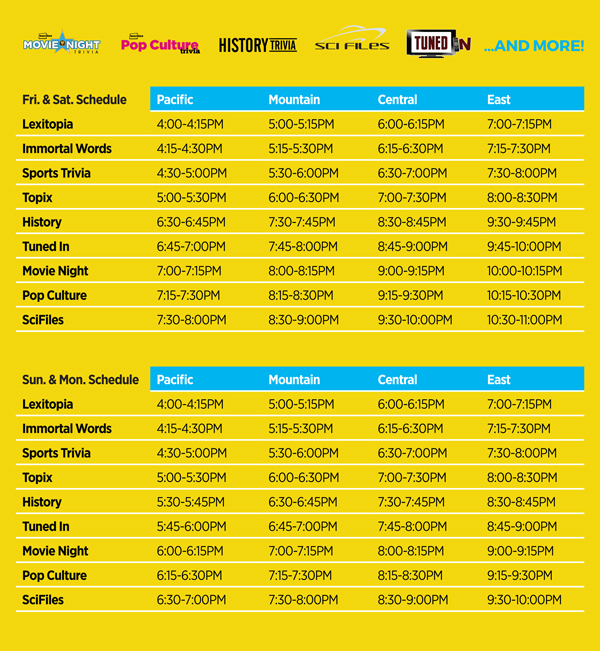 Join Us and Get Social!
You'll see ads for the Summer Games on your TVs and tablets. We're also emailing the Buzztime Nation of 10 million registered players, inviting them to compete in the summer games at your venue.
If you follow us on Instagram and Facebook, you'll see plenty of graphics promoting the Trivia for Cash: Summer Games. You can always use our graphics in your own promotions. Visit Buzztime on Facebook, Twitter, and Instagram to find a graphic to share.
When you mention the competition on social media, always tag us:
Facebook: @Buzztime
Twitter: @Buzztime
Instagram: @PlayBuzztime
Use these hashtags: #TriviaforCash #SummerGames and #Buzztime if you post about the competition online, along with the images below. Don't forget to invite your customers to do the same!
Make it Your Own: Host an Event
Need ideas for boosting your summer events schedule? Build an event around the Trivia for Cash: Summer Games! Here are some ideas:
#MondayMotivation Happy Hour This summer, invite patrons to beat the Monday blues by coming in for happy hour specials and a chance to win a portion of $15,000 by playing the Summer Games. Need more ideas for June and July promotions? Get started with these 30 promotions for restaurants and bars.
Set Up a Facebook Event Create a Facebook event around the Summer Games. It's free and fast to set up a Facebook event. Then, Facebook automatically suggests your event to those who live or work nearby. You can also boost your Facebook event just like you would a regular boosted post.
Host Even More Summer Games When the Trivia for Cash competition isn't going on, take it outside! Create a tournament based on any one of these 20 patio games.
Celebrate Your Buzztime Community
If one of your players wins a cash prize, create some hype through a little public relations. It's a clutch public relations opportunity: after all, you have one of the top trivia players in the country at your business!
Write up a 1-page press release and send it to your local online newspaper, TV and radio stations, and even local bloggers. Of course, make a big mention on your social media pages. If the winner is comfortable, take a picture of them and give them plenty of praise.
Don't forget to put the winner's name in lights on your TVs using the Buzztime digital signage package. Just ask your account rep for details on customizing ads on your TVs.
Now, you're all set up to use the Trivia for Cash: Summer Games to your advantage this summer! Don't wait. Start promoting the event now on social media, in your emails, and through word-of-mouth throughout your business. Cheers to a successful summer…let the games begin!
Let the Games Begin! NEW Schedule
June 1-July 30th, Friday through Monday Nights
Summer Games Begin at 4 PT / 5 MT / 6 CT / 7 ET
Friday/Saturday Schedule (Times Listed as PT)
4:00-4:15 Lexitopia
4:15-4:30 Immortal Words
4:30-5:00 Sports Trivia
5:00-5:30 Topix
5:30-6:30 Spotlight on Friday / Playback on Saturday*
6:30-6:45 History
6:45-7:00 Tuned In
7:00-7:15 Movie Night
7:15-7:30 Pop Culture
7:30-8:00 SciFiles
(*NOT included in competition)
Sunday/Monday Schedule (Times Listed as PT)
4:00-4:15 Lexitopia
4:15-4:30 Immortal Words
4:30-5:00 Sports Trivia
5:00-5:30 Topix
5:30-5:45 History
5:45-6:00 Tuned In
6:00-6:15 Movie Night
6:15-6:30 Pop Culture
6:30-7:00 Sci Files