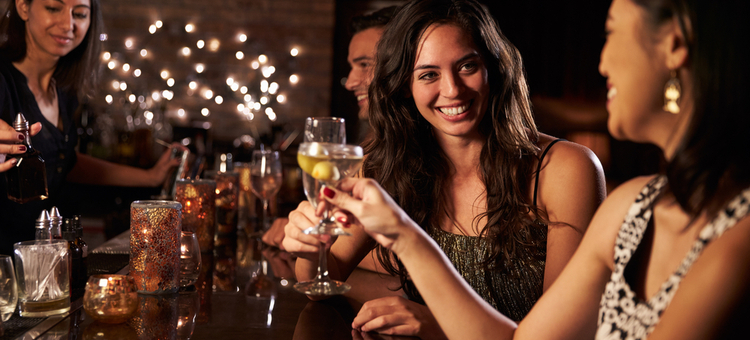 You and your guests have something in common: you both dread empty bars on weeknights. Guests want energy, entertainment, and escape from the midweek slump. You want more business. That's why we put together 11 bar theme night ideas to cure the weeknight blues…
11 Bar Theme Night Ideas
Need help brainstorming bar theme night ideas? Here are 11 thought starters, followed by tips and best practices:
Beer Pairing Menu: Put a casual twist on wine pairings with a beer pairing dinner. Reach out to a local brewery. See if the brew master would like to work with your chef on creating a menu that goes with some of their high-selling brands. A brand rep could host the dinner as a chance to cross promote their brewery while also giving your regulars a unique dining experience.
Learn the Game: If you're well known for a particular event – like poker competitions, pool tournaments, or a dart league – bring in a coach to teach beginners the fundamentals! Spend an hour on the tutorial, then give the "students" a chance to practice what they learned.
Battle of the Brains: Set up a Trivia Tournament with a twist. Invite the staff of local businesses or charities to come in and represent each other in a trivia tournament. Not only is this theme fun, it supports local businesses and promotes them in your bar. Be sure to reward the winning businesses or charities with plenty of social media shout outs.
Team Spirit: Treat fans that come wearing their team logo to a free drink or half-off appetizer. If there is a local team for your area (college or national), you can give extra points or specials for anyone representing that team. Bar theme night ideas like this should be promoted heavily during the weekends when fans are in your place watching the game!
Throwback Thursday: Give your customers a blast from the past with discounts to anyone that comes dressed up from a particular decade. The 60's and 80's themed nights have always been popular, and the 90's are currently making a comeback. Play music from that particular decade to help with the ambiance.
Speed Dating: Give your guests a chance to meet their soulmate outside of Tinder. Set up your tables and give your guests 5 minutes each to get to know each other. You can even provide some conversation starters to get the ball rolling. At the end of the speed dating round, offer your guest one cocktail at half-price so they can continue mingling with anyone that caught their fancy. Cater to a professional crowd? Speed networking is another winning bar theme night idea!
#MotivationMonday: This trendy social media hashtag is one of our best bar theme night ideas. Offer a special cocktail and a motivational quote that changes each Monday. Have fun with this theme by putting your quote on your own TV screens using the power of digital signage. Of course, use #MotivationMonday to promote your event on Instagram and Facebook!
Social Media Promo: Did your Facebook page just hit 1,000 likes? Did you just re-launch your business website? Hold a party celebrating your major social media milestone, and offer some specials while cross promoting your business site. After all, more followers means more repeat customers…
Stupid Cupid Party: These types of bar theme night ideas are usually reserved for particular holidays, like Valentine's Day. Give scorned lovers or singles a chance to air their grievances on a day that most couples may be celebrating. Play anti-love songs and commiserate over craft cocktails and single-serving appetizers.
Game Night: While trivia night is your best bet to woo weeknight crowds, you could also offer other games like charades or a Pictionary-style throw down using easel-mounted pads of paper and markers.
Watch Parties: You turn every TV onto the big game each Sunday during football season. Why not do the same for popular weeknight cable TV shows, like The Walking Dead? Watch parties are among the most popular weeknight bar theme night ideas. Offer food and drink specials as if it were a sporting event, and come up with recipes that go with the show. Pretty soon, the 30% of millennials without cable will be filling up your bar to watch the latest episodes. NOTE: Do not use the TV show logo in your promotions. It's also imperative to have proper commercial license to be showing cable shows to your customers. Netflix and HBO do NOT allow their shows to be viewed outside a private home.
Why Bar Theme Night Ideas are Good for Business
Think about the last time you hosted a theme night for your bar. If it's been a while, you could be missing out on an opportunity to bring in new business during the week.
Bar theme night ideas are a chance to get creative with your marketing strategy and attract a new crowd. Adding a little something special on a weeknight could also give your regulars a reason to come out, even if they have to work in the morning.
Creative bar theme night ideas are also a great way to stand out from other bars and restaurants. The more unique your bar theme night, the better chance you have of attracting guests your way.
[fl_builder_insert_layout slug="whitepaper-signup-module-ultimate-checklist-bar-sales"]
3 Ways to Create Effective Bar Theme Night Ideas
Coming up with bar theme night ideas is half the fun of actually hosting one. You get to brainstorm on things you'd like to see as a customer. But, you also want to make sure that the bar theme night ideas you select are realistic and affordable. Here's how to do that…
Focus on Audience
Before selecting from a list of bar theme night ideas, you need to make sure you are catering to your demographic. If you're a casual sports bar, chances are your customers won't be excited about a wine pairing dinner.To figure out what your customers want, take a minute to really examine your brand and what your customers like. This will help to narrow your options and make it a lot easier to come up with bar theme night ideas.
Pick a Creative Theme
The beauty of bar theme night ideas is that it gives you a chance to be creative with your brand. Being unique with your themes helps you stand out from other bars and gives your guests more incentive to check out your theme night.If you're having a hard time coming up with creative bar theme night ideas, try looking at classic themes and add your own twist. For example, almost every bar offers ladies night specials. So level up your ladies night with spa treatments! Think manicures and chair massages, in addition to those discounted cosmos.
Stay on Brand
Much like focusing on your audience, you want to select bar theme night ideas that enhance your brand. Stay true to the values of your restaurant and don't forgo quality over driving traffic – that's how you can quickly go from thoughtful theme to silly shtick.Don't try promoting something that isn't in line with your brand. If you've never offered a craft beer on tap, a beer tasting night may seem confusing for your customers. Instead, focus on bar theme night ideas that enhance what you already do! For example, if a lot of families frequent your establishment on school nights, try hosting a kid's night that will help busy parents feed and entertain their children. They'll be grateful to have one less meal to worry about and you'll be grateful for their business.
3 Tips for Brainstorming Bar Theme Night Ideas
There are many ways to find inspiration for bar theme night ideas. If you find yourself in a rut, there are multiple resources you can turn to.
Tap Into Your Staff
Ask your employees what bar theme night ideas that they think would draw a crowd. Chances are, they have friends coming in to see them throughout the week already, so their interest may align with your target audience. Also, they speak directly to customers every day, and have first-hand knowledge of what your regulars would want to see. Even the kitchen and bar staff could get involved, with culinary and cocktail suggestions that will pair nicely with your bar theme night ideas.
Track the Trends
Another way to come up with bar theme night ideas is to track industry trends, and see what might work for your venue. Seeing what other bars are doing and what works can give you some fresh ideas for your business.
Go to the Source!
Why not crowd source your bar theme night ideas? Use social media to see what kind of promotion your followers would like to see. You can run a simple Twitter or Facebook poll with some ideas you already came up with, then select the most popular one. Or, leave the question open ended and see what your patrons reply with in the comments.
We get it. Slow weeknights can be a major buzzkill. It just takes a few creative bar theme night ideas and some savvy promotion to start seeing weekend-size crowds at your place.