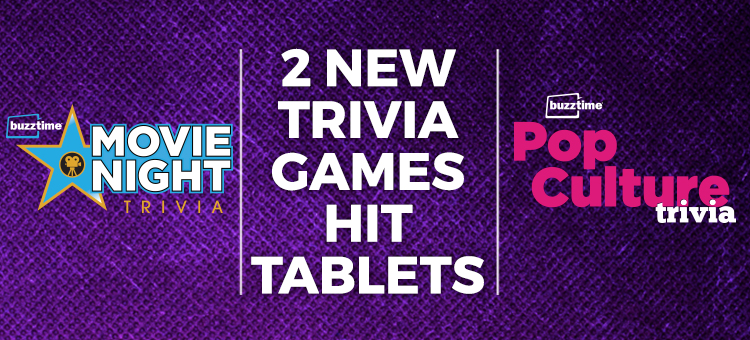 Coming this July, Buzztime is livening up your Saturday nights even more with two new trivia titles: Pop Culture Trivia and Movie Night Trivia. Both trivia games focus on trending entertainment news, so questions are completely new each week. Guests can expect a fresh experience each time they play Pop Culture Trivia and Movie Night Trivia, driving repeat business to you.
Bitesize Trivia That Appeals to Millennials
The ongoing 15 minute, 7 question format of Pop Culture Trivia and Movie Night Trivia is designed for casual play that enhances Saturday night socializing. Question content is taken from the topics millennials are talking about on social media: from the hottest new celebrity gossip and movie news, to the latest viral videos.
While trivia buffs will enjoy the trending content, the bitesize 15-minute game format will appeal to casual players and trivia newbies who can jump in and out of the games throughout the night.
Say Hello to New Summer Trivia!
Movie Night Trivia
Before you pass the popcorn, play Move Night Trivia! Critics agree, Movie Night takes you inside Hollywood with trivia taken from this week's big screen scene. From A-list actors to upcoming releases, if it's movie news – it's in Movie Night!
Pop Culture Trivia
Did you hear about Pop Culture Trivia? It's the juiciest entertainment trivia, fresh squeezed from this week's headlines. If you saw it in your newsfeed, you'll find it in Pop Culture Trivia.