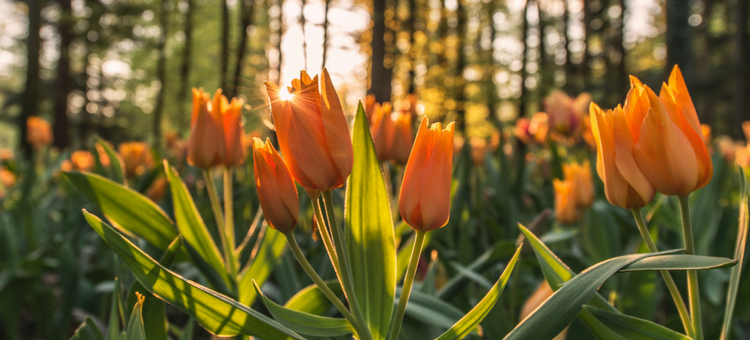 April showers could bring crowds pouring into your restaurant. How? By launching creative April holiday promotions. From New Beer's Eve on April 6th to National Garlic Day on April 19th, there's a wild holiday ready to inspire your next great promotion.
17 Craziest April Holiday Promotions
April 1: April Fool's Day
Ok, so April Fool's Day isn't the most unique holiday. But these clever April holiday promotions will get every talking (and laughing):
1) Fake Out the Foodies
It's a vanilla cupcake, or is it? Use these 16 brilliant fake out dishes to create an April Fool's Day menu. (Hint: the cupcake is a shepherd's pie. The mashed potatoes are the frosting, topped by a cherry tomato).
Get tricky with April holiday promotions at the bar, too. Serve the iconic chocolate cake shot that looks identical to a tequila shot. That's sugar, not salt, on the rim…
2) Dad Joke Competition
"Did you hear about the thief who stole a calendar? He got 12 months." Yes, that's a Dad joke. Beloved by millennials, Dad jokes are trending. Ask an actual panel of fathers to judge the competition as one of your April holiday promotions.
April 6: New Beer's Eve
Like a little history with your April holiday promotions? You'll love this one. After 13 very dry years, the beer could legally flow again at 12:01 on April 7th, 1933. America went crazy, lining up at bars nationwide. Use these ideas to see similar lines at your spot.
3) Go Gatsby
Turn your April holiday promotions into an event. Give guests an excuse to dress up and ring in New Beer's Eve with a Great Gatsby theme. Hand out noisemakers, do a group countdown, and tap a keg at midnight.
4) Launch New Beers
Partner with a local brewery and bring in new craft brews. Need help finding a local brewery for your April holiday promotions? Use this national craft beer finder. Then, keep beer lover's guessing. During the week leading up to April 6th put teasers on social media, letting customers guess which new beer you'll bring in on "New Beer's Eve."
April 7: No Housework Day
For most, cooking dinner at home is a chore. So, build April holiday promotions around a "No Housework Day" menu.
5) Comfort Gone Gourmet
Create gourmet versions of typical home-cooked meals: Think lobster mac n' cheese and trendy grandma-style pizza (cooked in a pan).
April 11: National Pet Day
Team up with a local animal shelter for your April holiday promotions – and beyond. Research shows that 72% of customers recommend businesses that support charitable causes.
6) Paws for a Cause
Invite the shelter to set up a table outside your restaurant with photos of adoptable animals. Bonus points if your town or city health code allows them to bring an adoptable furry friend or two.
As one of your April holiday promotions, you could cover the adoption cost for an animal. Ask the shelter if they'd consider naming the rescue dog (or cat) after your business.
7) Hair of the Dog
Designate a tap handle to be "for the dogs." Donate a portion of each pour to the shelter. Then, create a few cocktails with clever names with proceeds going to the shelter. Use these 9 cocktails named after dogs for inspiration.
[fl_builder_insert_layout slug="whitepaper-signup-module-50-best"]
April 13: Friday the 13th
Also known as Skeptics Day, Friday the 13th is a chance to get witty with your April holiday promotions.
8) Lucky 13s
Every patron can get lucky with a $13 entrée menu. Or, offer a mix-and-match appetizer menu priced at 2 for $13.
9) Face the Facts
Treat skeptics and fact lovers to a round of live trivia. Buzztime can provide you with everything needed to host the event yourself. That includes tablets for easy, automatic scoring plus up-to-date trivia questions.
April 17: Tax Day
Tax Day was made for creative April holiday promotions…
10) Fun with Tax Forms
Create menu pricing based on common tax forms like $10.99 and $10.40. Offer a "W9 Wine List": 9 great wines at $9 each. You could do the same with whiskey.
11) 17% Off
Offer 17% off your menu during a slower daypart, like midafternoon or late night.
12) Tax Break Happy Hour Headquarters
After rushing to the post office, guests will be eager to unwind. Hire a local masseuse to offer free 5-minute chair massages. Treat guests to April holiday promotions and specials offers on your happy hour menu.
April 19: National Garlic Day
These April holiday promotions will bring in customers – and keep the vampires away.
13) Garlic Lovers Anonymous
Let garlic take center stage as your chefs create the daily specials. Or, whip up a happy hour menu – starring garlic of course. And you definitely need garlic-stuffed olives for your martinis…
14) Minty Drinks and Desserts
Yikes, garlic breath. Freshen up your garlic April holiday promotions with minty treats. Try a trio of "mini berry mojitos" served in small glasses: strawberry, blueberry, and raspberry. Create a mint-focused dessert menu using these 50 chocolate and mint dessert recipes.
15) #GarlicChallenge
Task your chefs to come up with the most garlicky menu item possible. Think roasted garlic as an appetizer or garlic ice cream. Who knows, you could get #garlicchallenge trending on social media. Just be sure to also use #NationalGarlicDay in all your social media posts.
April 26: National Pretzel Day
Take a cue from chain restaurants, who have embraced Pretzel Day as one of their biggest April holiday promotions.
16) Free Pretzel Bar at Happy Hour
Set out a "buffet" of pretzels and let guests go wild. Include flavored pretzels, rods, the classic twists, and soft-baked pretzels. Expect to see guests sticking around for dinner. Kramer from Seinfeld was wrong when he said "these pretzels are making me thirsty." The latest research shows that salty food increases appetite, not thirst.
April 27: Arbor Day
Earth Day on April 22nd gets the spotlight as the token "green" holiday. But trust us, Arbor Day is greener. It's all about the trees, and ideal for your April holiday promotions.
17) See Green
For just $15, you can become a member of the Arbor Day Foundation – and the company will mail you 10 free seedling trees. If you have the space, invite guests to help you plant the trees on your property. Treat them to complimentary appetizers as a thank you.
Why let the "big" holidays have all the fun? Take a unique holiday and make it your own. The crazier, wilder, and weirder the holiday…the better. With creative April holiday promotions, you'll stand out from the competition – and give guests a reason to rush in.