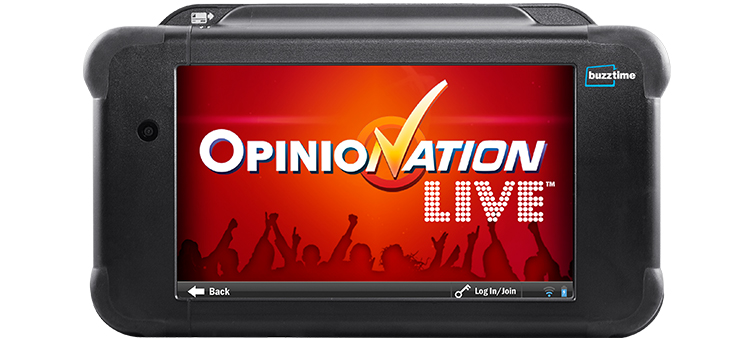 Article writen by  Dean Takahashi, Lead Writer for GamesBeat at VentureBeat.
If you'd rather not look at your date in a restaurant or bar, maybe you can play a tablet game instead. Recognizing the potential to boost activity at quiet restaurants, Buzztime provides tablets with games and interactive menus to restaurants that need more help becoming nighttime party spots.
Buzztime provides trivia games, sports competitions, poker, and other kinds of live social entertainment. Over the past four years, the number of player registrations has grown to 5 million — roughly 70 percent in the past year alone. More importantly, the games get customers to come back to restaurants.
Carlsbad, Calif.-based Buzztime, which is publicly traded on the New York Stock Exchange, has been around for three decades as a provider of in-venue entertainment. But its business has taken off as it launched the BEOND platform on Android tablets and smartphones. The platform is now being rolled out across the entire chain of 1,000 Buffalo Wild Wings restaurants. Altogether, Buzztime is at 3,000 locations, and its games are played 52 million times a year.
Vladimir Edelman, the chief development officer for Buzztime, said in an exclusive interview with GamesBeat that the company is introducing its new on-demand OpinioNation Live game across its network so that restaurant and bar owners can improve traffic on slow nights. The game enables people in a local spot to play each other in a competitive game that has players guessing the most popular answers to opinion surveys. It is targeted at broader and younger audiences as it is not knowledge-dependent like trivia is.
"We can custom-brand the games as needed," Edelman said. "We are capitalizing on the excitement around mobile and tablet gaming. This is about taking the gaming experience and moving it into retail."
Edelman said that customers subscribe to a service for around $500 a month. They receive leased 7-inch tablets and a bunch of games in a variety of genres. The tablets are inexpensive, but the screens are large enough for several patrons to look at simultaneously. Buzztime provides tools for a place to promote its events with onscreen ads, in-venue collateral, social media tips, and other resources.
Edelman said that restaurants are dead Monday through Wednesday. One new customer had about three or four teams on its first night. About four weeks later, 10 or 12 teams showed up on Tuesday and Wednesday nights. Now, 25 to 30 teams show up with four or five people each.
"If you do the math, that makes a Monday or Tuesday night for a restaurant," Edelman said. "Restaurants are learning to differentiate themselves based on the experience they offer. You're not going to serve cheaper food than Chipotle."
"Bottom line numbers don't lie, and we've seen an increase in sales. Tuesday nights alone have increased by 30 percent," said Steve McKinney, the general manager at JR's Pub, an independent eatery in South Carolina.
Just one month after implementing Buzztime's new Beond tablets at the venue, McKinney saw a 110 percent increase in overall gameplay.
Restaurants can host social game events, giving customers a reason to come back. Players can provide answers on the tablets or their own smartphones via the Buzztime Mobile Playmaker app on both iOS and Android. Professional hosts can also run more serious pro games. The platform is customizable based on what a venue wants.
"We can create a community event inside a restaurant or bar using modes of play that people are already familiar with," Edelman said. "We'll create more games that make sense in retail. We generate revenue by selling premium digital content to customers and share that with the venue."
Getting return visitors is important as the restaurant is expected to hit record sales this year of $683.4 billion, according to the National Restaurant Association. But the forecasts are lower than expected due to a range of postrecession challenges. By the end of the summer, Buzztime will roll out digital menus, where you can order right from the tablet or even pay for your food on the tablet. Restaurants can offer rewards to the winners of the games.
"The hospitality industry is ripe for innovation in digital gaming, and Buzztime is in a prime position to pave the way given their decades of experience in the space," said Michael Cai, the senior vice president of games and digital for market analysis firm Interpret. "Buzztime is providing a much-needed technology solution so bars and restaurants can capitalize on the popularity of social gaming and the live events sweeping the nation."
Buzztime was founded in 1985, and it has 144 employees. It launched a sports-play prediction game for bars, where you had to predict what would happen next in a football game. Rivals include Ziosk and E la Carte.
"It sounds easy to do now, but in the mid-1980s, it was incredibly hard," Edelman said. "That was a huge hit. We created a trivia network that allowed people to compete against the country. We created a poker network and began to network more clients together."