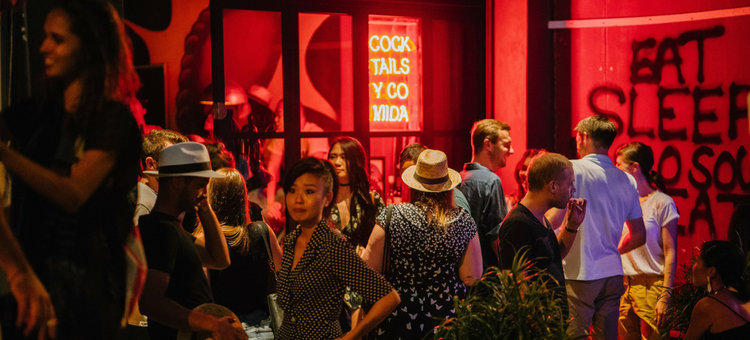 Your current customers rock. Now, roll out the red carpet (literally, see secret #3) to bring in new guests. These 12 secret strategies will increase foot traffic to your restaurant – and bring 'em back for more. Get ready to pack the house.
Stop Guests in Their Tracks to Increase Foot Traffic
1) Work Your Windows: Digital Signage, Smart Seating
People love to "window shop" restaurants. Use these 3 tips to catch their eye and increase foot traffic.
Hosts should be trained to seat guests by the window first. This gives passerby the impression your restaurant or bar is busy (which means it must be good!).
If zoning allows, use dynamic digital signage in your windows. Simply turn a large flat screen TV towards the window and use digital signage software to spotlight menu items, specials, or clever messages. Digital signage software is affordable and often includes customizable templates
Keep a printed copy of your menu in the window like almost every restaurant in NYC (or use digital signage). Even if your restaurant is closed or patrons have already eaten, you can still increase foot traffic in the future.
2) Have a Seat…Outdoors
To increase foot traffic, take it outside. Whether it's sidewalk café tables or casual picnic benches, outdoor seating acts as a "living billboard." Those driving or walking by can immediately picture themselves sipping sangria on your perfect patio. Not only will you increase foot traffic, you'll boost sales: Fast Casual and Simmons Research Group found that outdoor seating lifts revenue by 33% on average.
3) Red Carpet Nights
Located in a downtown area with tons of pedestrians? Roll out the red carpet to increase foot traffic. Here's how. Order an indoor/outdoor red carpet runner and purchase a step and repeat banner with your logo. (Step and repeat banners are what you see behind celebs on Hollywood red carpets – they only cost about $200-$300). Passerby can stop and take selfies in front of your red carpet. Then, hand them a coupon and invite them in for dinner.
4) Clever Sandwich Boards
It could just be the easiest way to increase foot traffic (and social media mentions). Get a chalkboard sandwich board and write a "punny" phrase along with a great special. Need inspo? We got you. Check out this gallery of hilarious sandwich boards like "Soup of the Day: Whiskey." You can take the same approach with moveable letters on a sign if your restaurant is on a busy street without sidewalks.
5) Instagram-Worthy Exteriors
Paint your exterior the nearly-beige millennial pink color and just add a few potted palms. Selfies taken with "pink and plant" backgrounds are seriously trending on Instagram.
Twice a year, invite an artist to create an Instagram-worthy mural and you'll bring crowds to take pictures – and step inside.
Increase foot traffic with a "standee" like this brewing company in Toronto. It's a life-size image with spots for people to stick their heads in and snap a picture. If you run an Irish pub, it could be leprechauns. A BBQ joint could feature a pig and cow.
[fl_builder_insert_layout slug="whitepaper-signup-module-get-more-customers"]
Let's Get Live! Events to Bring Crowds Running
6) Race Wrap Ups
To increase foot traffic, cater to the racing crowd. Today, that's almost everyone. From low-key charity 5K walks to half marathons in the dead of winter, more people are getting out and getting active than ever before. So bring them to your place after the race by hosting race wrap-up events. (After all, they're gonna be hungry…and thirsty). Include food and drink specials for participants.
7) Live Trivia Night
If your midweek business needs a pick-me-up, turn to trivia. Join thousands of restaurants that increase foot traffic by hosting a live trivia night. No need to spring for an outside trivia host.
The same digital signage software can also come with digital tablets used as live trivia scoring devices. Your staff runs the event and is supplied with all the questions.
Beef O'Brady's in Apollo Beach, Florida ran a weekly live trivia event using this method. Did they increase foot traffic? Yes, by an impressive 40%. Pitcher sales skyrocketed by 200%.
8) Learn to Crawl
A bar and restaurant "crawl" is a collaborative way to increase foot traffic. Team up with other businesses in your area and make it an annual, or even monthly, event. Create a theme like Syracuse, New York. They hold a winter wing walk to increase foot traffic in February (one of the slowest months in the biz). Don't forget to promote your crawl using digital signage.
OTT Contests and Offers
9) Crazy Contests
Here's another method to increase foot traffic. Catch the attention of local media with a buzzworthy, over the top (OTT) contest. Make the contest interactive and open to all attendees to really increase foot traffic.
Here's an example. Let patrons take a putt into a practice green from across your restaurant. If the golfer sinks it? They score $10,000.
No worries, you won't need to come up with 10 grand. Just purchase prize indemnity insurance. It's typically 5-15% of the actual prize. (Isn't it worth as little as $500 to get press coverage and hundreds of patrons in the door?) If someone actually wins the contest, the insurance company pays the winner.
10) All Out Offers
Offer an insanely good deal and your restaurant could make the news and increase foot traffic.
Give away something for free one day a year to increase foot traffic. Dunkin' Donuts offers a free donut on National Donut Day. And these restaurants went big with these National Burrito Day deals on April 5th.
Try one of these 50 buzzworthy promotions to bring folks through the door.
Digital Wins
11) How to Influence People
Tired of getting a few likes on every Facebook post? Try a new social media strategy to increase foot traffic and boost awareness of your restaurant online. Influencer marketing is all the rage right now. Essentially, you pay a person with a ton of followers on social media or their personal blog to promote your restaurant. It's like an endorsement – and it works. Read this overview of why restaurants need to try influencer marketing.
12) Get Found Online
Last but not least, ensure your restaurant shows up when people are searching online for places to dine.
To increase foot traffic, you've got to direct foot traffic to the right address! If you haven't already, claim your free business listing on the major search engines like Bing, Yahoo, and Google Business. Double check that your address, hours, and phone number are accurate.
If you're on a mission to increase foot traffic, put these 12 secret strategies – from digital signage to crazy contests – into play now. Then look up…is that a line forming out your door?