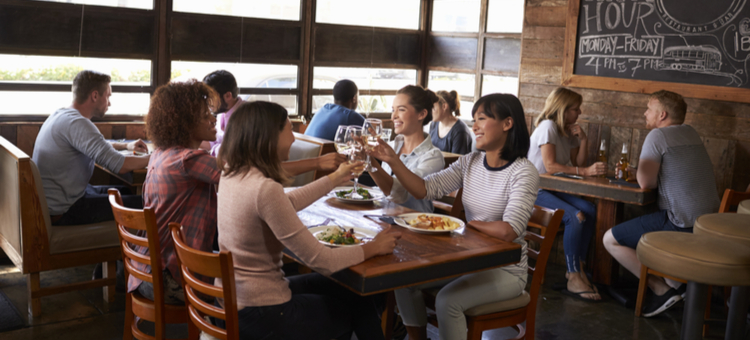 Ready to pack the house? Turn to these 26 affordable, easy tactics to get more customers. From crazy contests to irresistible offers, can't-miss events to charitable causes, these marketing strategies have you covered…from A to Z. Then, download our free guide for 50 secrets to scoring more customers:
A is Ads
Not just any type of ad…Google Ads! When customers type "where to eat" into Google, Google Ads increase the chances that your restaurant's website shows up. You call the shots: setting parameters for when your ads run, who seems them, and where they're located. Yes, you also set the budget and can spend as much – or as little – as you want. Google walks you through the easy process of setting up your campaign to get more customers.
B is for Bring-a-Friend
It's a win-win. Invite your current customers to bring a guest new to your bar or restaurant, then reward them both with a freebie or awesome deal – like a shareable appetizer when they both purchase entrees.
C is for Crazy Contest
No, we're not talking about a contest to win a free dinner. Go big with a $1,000 contest to get more customers (and likely an insane amount of free media coverage). It could be a half-court shot into a mini basketball hoop from across the room. Or, an attempt to throw a ping pong ball into a pint glass blindfolded.
Worried about paying up when someone makes the shot? That's where prize insurance comes in. You would just pay 3-10% of the prize amount with prize indemnity insurance. Talk with your insurance company about your options.
D is for DoorDash
…and UberEats, and GrubHub. These are 3rd party order-and-delivery apps that can be used to get more customers. Many hungry customers start their search for restaurants who deliver on these apps, so sign up to get on their radar.
E is for Entertainment
Give guests a reason to come in – and bring their friends – with social entertainment. To get more customers, restaurants are running interactive events: from live trivia to bar games competitions. Use these 7 ideas to set a more entertaining vibe at your restaurant.
F is for Facebook
Likes are nice, but are you using Facebook to its full potential to get more customers? From live streaming video to "boosting" popular posts, free slideshow tools to chatbots, restaurants are discovering new ways to improve their ROI on social media.
For 8 insider tips to get more customers using social media, download the popular eBook: 50 Ideas Under $50: Easy Ways to Score More Customers
G is for Gluten-Free
According to the latest Gallup Poll, 1 in 5 Americans seek out gluten-free food and drinks. If you offer gluten-free beer or simple swaps – like wheat-free pizza crust or bread – you can get more customers with a listing on the FindMeGlutenFree app.
H is for Hit the Streets
Create an in-house "street team" to get more customers. Send a few employees out before big sporting events or during community festivals to hand out coupons for your restaurant. It's an easy way to get more customers, and give a few employees some extra cash.
I is for Influencer
To spread the word on social media and get more customers, turn to the influencers in your area. These are people with a large and loyal following online. It could be a "mommy blogger" with her own website and Facebook page. Or, it could be a trendy fashionista with thousands of Instagram followers. You pay them to recommend or promote your restaurant. To find influencers, use www.BuzzSumo.com.
J is for Joggers
From marathons to 5Ks, America likes to get out and run for a good cause with weekend charity race events. To get more customers, many restaurants are sponsoring teams or hosting wrap-up parties for the runners.
K is for Kids
A kid's menu and crayons aren't enough to get more customers with children. Instead, offer age-appropriate digital games on restaurant tablets. That's what Native Grill and Wings in Mesa, Arizona, did. Native became known as the "it" spot for families, and saw a 400% increase in customer traffic.
L is for Loyalty Program
You likely launched a loyalty program to keep current guests happy. But an awesome rewards program can help you get more customers, too. In a study of 28,000 consumers by VISA and Bond Brand Loyalty, 73% of those who are satisfied with a loyalty program recommend that brand to friends and family.
M is for Media Attention
Want to get covered in your local online newspaper or be featured on TV? Do something newsworthy to get more customers – then submit a press release to the media. It could be a charitable effort (see P for Philanthropy), a new menu sourced from local farms, or a crazy good offer – like 70 cent burgers on the first 70-degree day.
N is for Networking
Offer to host tip clubs, non-profit volunteer meetings, and networking groups during your slowest dayparts to get more customers. Provide the space for free, and the group will likely reward you with plenty of food and drink purchases…due to the reciprocity principle. It's a human tendency to be generous with those who are generous with us.
Eager to get more customers without blowing your budget? You'll love this eBook for restaurants: 50 Ideas Under $50: Easy Ways to Score More Customers
O is for Online Offer
Customers love their deals! 9 in 10 customers have used an online coupon for a restaurant in the last 3 months according to a 2017 study by RetailMeNot. Give 'em what they want with online offers – meant to be shared. Try an incremental offer: a free appetizer for parties of 2-4, then double it for parties of 8 or more. It's a great way to get more customers – especially big groups.
P is for Philanthropy
To get more customers, show love for causes they care about. An Edelman Good Purpose study found that 72% of consumers recommend businesses that support charitable efforts.
Sponsor a youth sports league, run a charity night and donate 10% of proceeds to a local non-profit, or host a "battle of the charities" trivia night (the winning team gets a donation).
Q is for Quiz Night
Also known as pub quiz night or live trivia night, a quiz night can quickly increase your head count. Thousands of bars use tablet-based live trivia to get more customers, like Beef O'Brady's Restaurant in Apollo Beach, Florida. Their live trivia night increased customer traffic by 40% – and pitcher sales by 200%. Cheers to that!
R is for Radio
Think radio is out of your budget? Think again. Try running 5-second adlets during the afternoon and early evenings with a short message to get more customers for takeout: "Don't want to cook? Get takeout from Kelly's Restaurant, ready in 15 minutes!"
S is for Sidewalk Seating
Take it outside to get more customers. Set up café tables and chairs or a casual picnic table or two. It becomes a "living billboard" that can attract the attention of those driving or walking by.
T is for Teamwork
You have something in common with other nearby businesses: you all want to get more customers. So, work together! From pop-up shops to restaurant crawls, literature swaps to dining week…everybody wins.
U is for UX
UX is website developer lingo for "user experience." To get more customers, ensure that they have a great UX whether they view your website on a desktop computer, tablet, or smartphone.
The National Restaurant Association found that 9 in 10 smartphone users pull up a restaurant's website on their mobile device when deciding where to dine. Is your website mobile friendly? If not, consider switching your website to WordPress, WIX, or Square Space. These platforms automatically adjust graphics and text to ensure a great "UX" on any device.
V is for VRBO
In your quest to get more customers, don't overlook visitors! Approach hosts who rent out their homes through VRBO and Air BnB. Offer them a gift card in exchange for putting your menu in their binder of recommended local attractions.
W is for Windows
Work your windows to get more customers. Start by turning on digital signage after hours. Simple digital signage software turns your flat screen TV or monitor into an eye-catching billboard. Showcase menu items, events, specials…whatever you want.
X is for X-Factor
Hosting an open mic night is an easy way to get more customers. But to bring the crowds, give your event an X-Factor twist. Invite local musicians in to judge contestants. The winner gets to be the judge of the following week's contest. You could also run an open mic comedy night to bring the customers…and the LOLs.
Y is for Yelp Reviews
To get more customers, always respond to online reviews – even the negative ones. Research from BrightLocal reveals that 85% of customers look at reviews first when deciding where to dine, and 30% specifically look to see if the owner responds.
Z is for Zero-Cost Food
Wait, what? Give away food? Yes, free happy hour buffets are trending in New York City. If you want to get more customers and draw big crowds, it can pay to give away a taste for free. Start small with a first-come, first-serve offering of pizza slices or wings.
Now that you know the ABCs to get more customers, level up with 50 more customer-attracting tips that cost $50 or less. Check out the free e-book: 50 Ideas Under $50: Easy Ways to Get More Customers