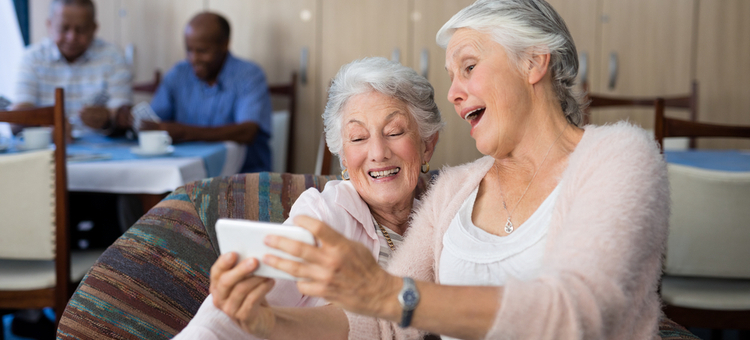 For seniors who must give up the comfort of their own home for the added support available in a senior living home, the change can lead to social isolation and loneliness, particularly for seniors without a spouse or partner, or those without family that live nearby that can easily visit.
Many senior living homes host a variety of activities and incorporate socialization into the daily schedule so seniors can form friendships and bond with the other residents. But not everyone is as open to the idea of an exercise group or sewing circle as others. To tend to a resident that you can tell experiences loneliness, try these fresh ideas to help them engage socially.
Host a Preschool
This one is quite an undertaking, but it has proven incredibly effective: the Intergenerational Learning Center in West Seattle is a preschool that's located entirely within a senior living center. The senior residents collaborate with the preschoolers on storytelling exercises, games, dancing, music lessons, and more.
Interaction with free-spirited and open-minded children greatly boosts any senior's mental and emotional wellbeing, especially those that are feeling isolated. Granted, opening a preschool is no small endeavor – this is a large-scale project that requires plenty of planning and investment. But the payoff is more than worth it: the seniors at the living center reportedly went through a "complete transformation" when the children would come in for daily activities.
Teach, Teach, Teach
Many seniors preoccupied with loneliness focus on these feelings because they have no greater goal or purpose to drive their life. Living in a senior home is confining by nature, so provide your residents the opportunity to learn new life skills and push themselves by hosting regular classes or workshops.
Few experiences are more invigorating than mastering a new skill. Hire outside experts to teach classes on topics like sign language or finger painting. Foreign language classes are becoming increasingly popular in senior living centers. For those able to stand on their feet, dancing classes are an absolute must. Seniors will naturally socialize with the other members of their weekly salsa or ballroom dancing class.
Encourage Some Competition
Many activities in senior homes take place in groups, but are still "solo" activities, like arts and crafts or bingo. Even playing cards can be considered a single-person endeavor unless members are on a team. Team-based activities effortlessly create social bonds and lasting memories. Few group activities are more involving than trivia.
Buzztime trivia isn't just for bars and restaurants – the tablet interface is perfect for seniors who want to get into the spirit of the game without needing to get out of their seat. A little competition never hurt anyone, and trivia games will also help seniors stay sharp and practice their memory and critical thinking skills. Buzztime trivia is pick-up-and-play, so seniors can congregate in shared space and start a game at any time.
AgingCare.com reports that 43% of today's seniors feel lonely on a regular basis. If you run or manage a senior living home, it's your responsibility to think outside of the box and implement ideas and activities that connect seniors with peers or new friends for lasting positive effects. Try these solutions and brainstorm ideas of your own.