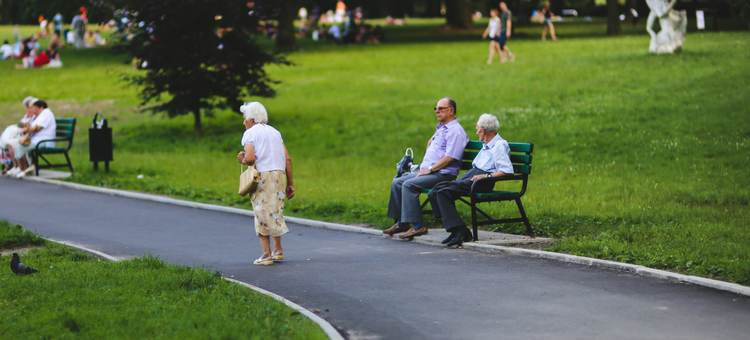 When you work at a nursing home, you'll quickly notice that some seniors tend to stay to themselves. Transitioning from an independent lifestyle to daily life in a senior living facility or nursing home involves a lot of change, and in the face of something new and foreign some people will naturally retreat.
Being introverted certainly isn't a negatively quality – many personality types simply need ample alone time to recharge and be themselves. However, seniors that shut themselves off from staff and other seniors in the nursing home will experience loneliness. When seniors feel lonely for an extended period of time it can lead to diminishing physical health.
As a staff member it's your duty to encourage organic social interactions so seniors in your care can make connections and forge friendships in your facility. But how do you get a solitary senior to make that leap? Read on for exciting ideas and activities that will get any senior out of their room.
Ice Cream Socials
Offering a delectable treat is a great way to get solitary residents out and about with other residents. Invest in offering the classic combination of chocolate, vanilla, and swirl, with toppings like syrup, sprinkles, and whipped cream. Choose a theme for the decorations or play a specific type of music to encourage conversations that can spark real connection.
Finger Painting
This is a fun-spirited activity that doesn't require any artistic talent to enjoy. In fact, encourage residents to go wild and make an abstract masterpiece, using as many colors as possible. It's messy but it helps lighten the mood and can create vivid memories for seniors that participate. Get solitary residents in groups and let their flair for finger painting do the work for you.
Board Game Bonanza
Often seniors will engage more if their specific interests and likes are taken into account. For residents that don't like to take part in large group activities, investigate and find out if they like certain types of board games like Scrabble or Monopoly. Find other residents who like to play and surprise them with a board game bash tailored to include their favorite games. They may start a weekly board game night and make lasting friendships they otherwise wouldn't seek out.
Trivia Team
Installing Buzztime trivia at your nursing home creates a fun, communal atmosphere in your common space that encourages drop-by socialization around the clock. With the regularly scheduled themed trivia games and countless other options Buzztime provides the perfect way to bond with other seniors while staying sharp and making friends. Create a team of trivia hounds to make Buzztime a group staple!
Host a variety of group-oriented activities and think outside of the box to get solitary seniors out of their shell. Encouraging social interaction will help their physical, mental, and emotional health.
[mk_button dimension="flat" corner_style="rounded" size="medium" outline_skin="dark" outline_active_color="#ffffff" outline_hover_color="#333333″ bg_color="#69be28″ btn_hover_bg="#ffffff" btn_hover_txt_color="#000000″ text_color="light" icon_anim="none" url="https://www.buzztime.com/business/activities-for-seniors-web/" target="_self" align="center" fullwidth="false" button_custom_width="0″ margin_top="0″ margin_bottom="15″]GET BUZZTIME
[/mk_button]