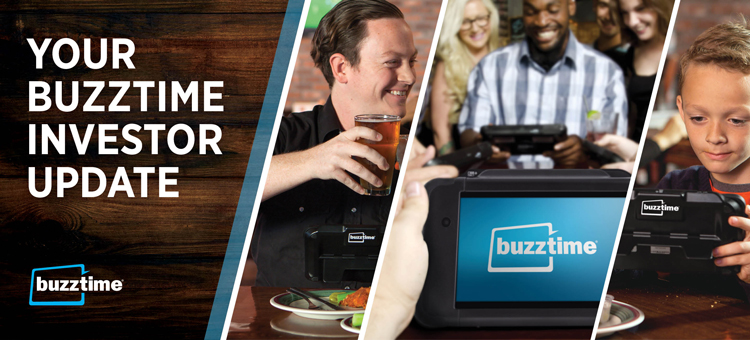 At the heart of Buzztime is our handheld tablet. It's where the magic happens.
Our tablets transform bars into local hotspots, and restaurants into venues for nationwide trivia challenges. Our tablets turn wait time into game time and printed menus into beautiful, digital versions.
When we say "our" tablet, we really mean it.
We're shifting to our own, Android-based tablet built to our exact specs. As our business model has evolved, so has our need for specific tablet functionality. Now, form follows function in our truly custom tablet.
Here are the 5 reasons why we took the tablet in house:
Optimization
Improving Efficiencies through Customization
By building our own tablet, we get more of what we need – and less of what we don't. We're not paying for extras that come standard on most consumer-based tablets like a physical home button, more than one camera, polished chrome features, or leather-textured plastic. We can invest in the key features for which our venue partners are asking for.
Consistency
Streamlined Inventory and Adjacent Cost Savings
Standard tablet designs change every 18-24 months, which required us to redesign, reengineer, and retest the tablet case. Small changes like moving port locations or adjusting screen size resulted in complete tablet case rebuilds. Now, we can maintain our tablet form factor, which simplifies inventory and saves on repeat case redesign.
Custom OS
More Features, More Control, Longer Tablet Lifecycle
A major advantage of owning the tablet is our ability to control the operating system. We have access to every aspect of the OS: from displaying the Buzztime logo on start up to programming tablets to automatically turn on when charged. Additionally, future updates can be launched through the OS instead of requiring completely new tablets.
Innovative Experience
Enhancing the User Experience
We can now optimize tablets to provide Buzztime users with the best possible in-venue experience. For example, we built a display with an extremely wide viewing angle so all guests at the table can clearly see the screen. We engineered a backlight that's bright for outdoor use or appropriately dim in a dark bar. And crowded venues pose no connectivity issues thanks to the tablet's powerful Wi-Fi antenna. Finally, our next version will also include contact-less payment – only possible by owning the tablet form factor.
Superior Supply Chain
Powerhouse Partners
To build out the Buzztime tablet, we partnered with two industry leaders. Rockchip, a leading Android chipset developer, provided a fully customizable binary build of Android. Our other partner specializes in Android device assembly for Buzztime and other major retailers.
What's Next With Owning Our Tablet?
New Opportunities
Others Want What We've Got
Several companies have expressed interest in purchasing the Buzztime hardware for other commercial uses. By owning the tablet, we now have resale abilities and believe can capitalize on these opportunities, potentially opening additional revenue streams.
Rapid Market Response
Scalable Tablet Tech
When a tech trend takes off – like 3D cameras or pressure-sensitive touch – we believe Buzztime can be first to market by integrating tablet features faster than competitors. Our in-house tablet solution is scalable – future upgrades can be made quickly, with minimal development cost.