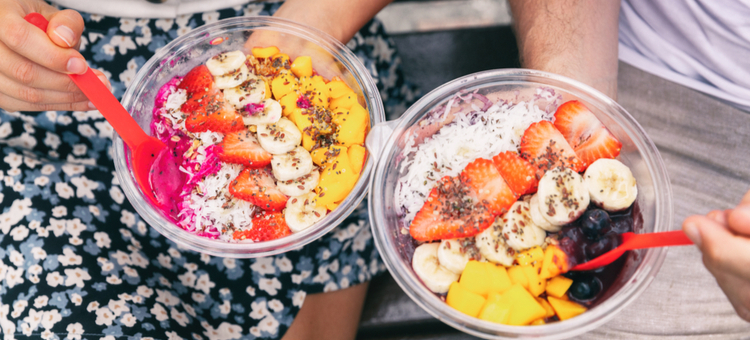 We've seen our fair share of weird culinary trends over the last decade. Freakshakes blew our minds with over-the-top toppings. We added avocado to toast and took wayyyy to many pictures of it. Kale ruled over our Instagram feeds. And meal kits made home cooks feel like Top Chef.
But as we usher in the new age of roaring '20s, it's time to move on from the weird culinary trends of yesteryear. And according to a recent video from Mash, these are the 2019 weird culinary trends that have consumers saying "Girl, bye!" in 2020.
1. The Rise (and Fall) of Celery Juice
The Hot Trend
Popping up in early 2019, celery juice was touted as a "miraculous cure-all" by famous "Medical Medium" Anthony William. And it became an Insta-hit for fitness influencers and celebrities on social media. The green juice flooded our newsfeeds as a staple morning selfie, securing its spot as one of the year's healthiest weird culinary trends.
The Cool Down
It turns out, celery juice hasn't been scientifically proven to resolve almost any of the ailments that William has claimed. Sure, it's still fine to drink it. But why bother with this weird culinary trend? Without the extra bells, whistles, and supposed cure-all-ailment magic…it's basically just green water.
Trendsetter Tip: Impress patrons with fermented drinks.
Kombucha, a beverage fermented from tea, busted onto the scene a couple years ago and paved the way for the popularity of fermented concoctions. And fermented beverages are one of the weird culinary trends that's still going strong. Unlike celery juice, kombucha actually does boast several (confirmed) health benefits. According to Cleveland Clinic, it promotes gut health as well provides B vitamins, essential minerals, and organic acids. Cheers!
2. Freakshake Freakout
The Hot Trend
As far as weird culinary trends go, this one was psychedelic meets 1950s ice cream shoppe. These over-the-top Instagrammable milkshakes featured vibrant colors, extravagant garnishes, and lots and lots of sugar.
The Cool Down
As consumers become more health-conscious, the grams of sugar in these next-level shakes became a big red flag to diners. On average, these shakes contain 95 grams of sugar…and even up to 156 grams, in some cases. The sugar rush caused freakshake fans to freak out, and health concerns led to several restaurants removing these weird culinary trends from their menus.
Trendsetter Tip: Elevate a breakfast staple.
Move over freakshakes! It's time for pancakes to shine. This popular breakfast is having a major moment, according the Yelp 2020 Trend Forecast Report. And it's not just syrup on plain pancakes that people want.
According to the review site, searches for "souffle pancakes" and "cinnamon swirl" pancakes have been on the rise. So dress up your brunch with some extra fancy pancakes – your guests will love it (no weird culinary trends necessary).
3. Avocado? More like Avoca-NO!
The Hot Trend
Avocados are one of the weird culinary trends that have shaped most of the 2010s. Simply put, the strange little fruit captured our hearts (and taste buds). And soon, we were seeing it everywhere. Toast. Salads. Sandwiches. Even ice cream. But 2020 may be the year that we say, "Enough!"
The Cool Down
Demand for avocados has been waning over the last year. In part, people are becoming more aware of the avocado's negative environmental impact. The article explains why in more detail – but long story short, avocado flowers have a short life, which isn't great for pollinators (as in, bees). And the world loves bees. The weird culinary trend of avocado obsession led to acres and acres of deforestation to make way for avocado crops. That was bad news for the bees. And since the target demographic of avocado everything (Gen Z, millennials) are very eco-aware, we expect to wave goodbye to the weird culinary trend of extreme avocado consumption.
Trendsetter Tip: Turn to locally-sourced produce.
Weird culinary trends aren't just about what you serve, but where the ingredients come from. And locally-sourced ingredients have been growing in demand. To a point where the term "Loca-vore" (a person who solely eats locally sourced food) is now a thing. So needless to say, this is one of the weird restaurant trends that isn't going anywhere. So consider replacing avocados on the menu with something grown in your own backyard (or at least a local farm).
4. #KaleYeah No More
The Hot Trend
Gwyneth Paltrow loves kale. And according to her iconic sweatshirt that read "Kale" in letters that looked like Yale, Beyonce does too. And if it's good enough for them, it's something the rest of the world wants. Hence the birth of one of the weird culinary trends that dominated the decade. We served it as chips. In salad. And in smoothies. We just couldn't get enough kale…until now.
The Cool Down
Like all weird culinary trends, kale is an Instagram darling, with over 3 million hits on just #kale. But if you look at the Google numbers, it appears this mighty green giant has fallen in searches. And it's not looking so hot inside restaurants either. As the video reports, kale has been "trending downward for customers of fast-casual salad chain Sweetgreen, according to a 2019 report from Grub Street."
Trendsetter Tip: Switch one super-veggie for more plant-based menu items.
According to Nielsen, nearly 40% of Americans are striving for a more plant-based diet…and they need options. We've seen the industry embrace plant-based over the last year as one of its weird culinary trends, with items like the Impossible Burger and other plant-based meat alternatives making headlines. So as innovations in the plant-based sector continue to grow, we see this trend staying steady through 2020.
5. Meal Kits Get the Boot
The Hot Trend
Perfectly portioned ingredients? Easy-to-follow directions? Delivery straight to your door? We get why meal kits became one of the biggest weird culinary trends for busy diners. They're convenient, delicious, and educational. But unfortunately, customers are starting to get burnt out.
The Cool Down
Although meal kits were one of the more popular weird culinary trends, there appears to be a shift in attitude. They're expensive and create a lot of waste and packaging. So, consumers started to wise up…in more ways than one. Those that used the meal kits began enjoying the process of meal planning and cooking, and no longer needed the kits for guidance. In a way, this one was one of the weird culinary trends that caused its own demise – by creating a batch of cooking monsters.
Trendsetter Tip: Accommodate alternative diets.
Vegan. Gluten-Free. Keto. Paleo. These weird culinary trends have been on the rise for years – some due to diet restrictions and others directly linked to allergies. And diners that follow one of these weird culinary trends may opt to eat at home due to lack of options at restaurants. So consider incorporating weird culinary trends that cater to alternative diets as a way to make life easier for the home chefs who need a night off from cooking. Not sure where to start? Here's some advice on how to accommodate alternative diets at your restaurant.
6. Good-bye Acai Bowls
The Hot Trend
Acai bowls are by far one of the prettiest weird culinary trends we've seen. The deep blueish-purple acai berry, native to Brazil and Peru, was the star of the bowl. Then, restaurants added colorful extras from granola to purees, more fruit to sugary yogurts. Filled with bright colors like electric blue and fuchsia, they were no-filter-needed stars of Instagram for the last few years. And it's not hard to see why. They're beautiful. They're delicious. They're healthy…or are they?
The Cool Down
Although they are beautiful, it appears the nutritional value of acai bowls go only skin-deep. While health experts admit that creating the dishes at home may be healthier, the restaurant versions of acai bowls contain upwards of 50 grams of sugar. So while these weird culinary trends may make an occasional sweet treat, they shouldn't be the healthy breakfast alternative we've been devouring them as.
Trendsetter Tip: Say hurray for Ube!
This bright purple yam from the Philippines (pronounced "ooh-beh") is taking weird culinary trends by storm. According the Yelp 2020 Trend Forecast Report, it's rising in searches as a popular ice cream flavor. And it's showing up everywhere, "from ice cream sandwiches to donuts to pie." So think about adding it to your dessert menu for a unique flavoring with color as striking as any acai bowl.
As we lay these weird culinary trends to rest, it's exciting to make way from some of the new oddities to appear on menus across the nation. What are some weird culinary trends that you think will pop up at your restaurant (and which ones do you think will go)?