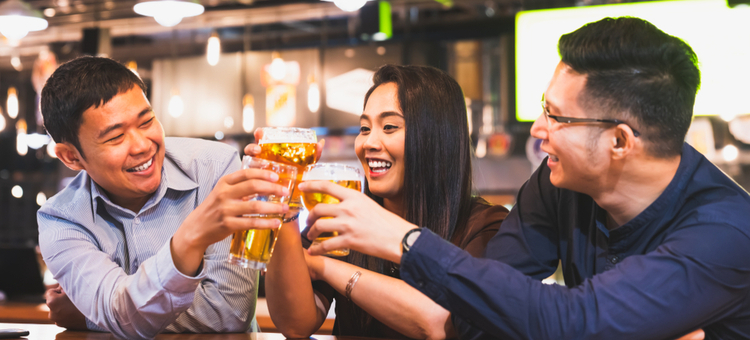 They come in for the beer, but what keeps them in your taproom? A lively social scene certainly helps. As do some classic bar games. Yet, more breweries are discovering that the secret to customer staying power resides in their TV sets and screens.
We went undercover to breweries from Rochester, New York to Oceanside, California for a little brewery TV sleuthing. What was on TV? Who was watching? How long did they stay? Were they eating and drink? See what we discovered…
Brewery TV 101: What NOT to Show
But first, a word – well a few words – of caution.
As you begin to ponder "What should you show on your brewery's TVs?" you likely pictured a very realistic dragon. You say to yourself, "I'll show Game of Thrones…maybe even The Wire…who doesn't love The Wire?"
Unfortunately, that's a no-go when it comes to brewery TV.
HBO, Showtime, Netflix, Hulu, and basically all the "cool" networks are off limits as brewery TV options. Each network specifically states that their content is for home use only. After all, HBO stands for home box office. Yes, bars and breweries have received cease and desist letters, and that's one legal battle not worth fighting.
So, we're back to square one with "What should you show on your brewery's TVs?"
It's Game On! Brewery TV for Sports Fans (But It's Not Who You Think)
On a June Thursday night in Ann Arbor, one brewery with two TVs had the following content displayed: an LPGA tournament and the NBA draft.
A big group in golf gear was watching the LPGA action on the brewery TV while enjoying shareable appetizers. It was clear that their league had just wrapped up, and (after a polite inquiry) it was revealed that the golfers gather at this particular brewery every Thursday.
Or go a step further like a brewery in Rochester, NY and put up a cheeky sign that says something like "Want to control the remote? Just ask. We (usually) listen."
No one was watching the NBA draft. What's the lesson here? Tune your brewery TV to the sports your patrons want to see. When in doubt, ask them.
Speaking of Rochester, NY. We also witnessed another packed brewery showing…a curling tournament on their TVs. Yes, a curling tournament. And it was a large group of millennials who were tuning in. Whatever your patrons want, right?
[fl_builder_insert_layout slug="whitepaper-signup-module-live-streaming"]
Let the Games Continue…
What's better than watching the game on a brewery TV? Playing the game.
At least that's what Half Moon Restaurant and Brewery in Kokomo, Indiana and Northern Pine Craft Brewery in Oceanside, California have discovered.
They're one of over 2,600 bars, restaurants, and breweries with interactive trivia on their TVs. Using handheld tablets (provided by the brewery) or their own smartphones, guests can compete in trivia against others across the brewery – and across the nation.
In a 2019 Nielsen study, it was found that over 60% of those who played this interactive trivia stayed at venues for at least 1.5 hours. It's proof that with the right content on a brewery TV, you can keep your guests at your place for longer durations.
Turn Your Brewery TV Into a Promotional Tool
It's becoming the norm for breweries to use large digital screens to display their tap list. We noticed a massive digital tap list at Cigar City Brewing in Tampa, Florida.
It makes sense. In a few clicks, you can swap in new brews without having to write in chalk and attempt to mimic someone's perfect handwriting.
Other software can turn your actual brewery TV into a customizable, digital billboard. You can use it to promote upcoming events, specials, or even show love to employees or customers of the month. It's up to you.
We observed that some breweries even had ads for other nearby businesses on their TVs. So digital signage on a brewery TV is a sweet way to add a little extra revenue – and help promote local businesses.
Live Streamed Content (It's the Wild West of Brewery TV)
On our brewery TV tour, we noticed that a few locations were streaming content off YouTube. That's far from legal.
However, you could still reach out to niche publishers who may allow – and even welcome – you to stream their content onto your TVs.
For example, there's Brewed TV and The Beer Diaries. Contact them to see if you could brew up a partnership.
The jury is out as to whether it's cool to stream Facebook Watch content into your brewery. Like we said, when it comes to brewery TV, it's the wild west.
Show Them Where the Magic Happens and Other Creative Twists on Brewery TV
If you're like a few breweries we visited, the brewing magic happens off site. Yet, many customers are drawn to craft breweries because they're curious about the process. So, show them!
Team up with a local producer to create a few videos that showcase your brewing process. Once you generate enough content, you can stream these videos on at least one brewery TV.
Or, take a cue from a brewery in the Detroit metro area. They had a rotating slideshow featuring customers at recent events, interspersed with photos of that behind-the-scenes brewing magic. You'd be surprised how many people were just staring that the photos as they scrolled on by…
Think Big. Think Beyond Brewery TV.
We forgot another few words of caution: you also can't show movies on your brewery TVs without a commercial license. But there's still hope.
There are companies that can hook you up with the equipment and the right licenses to show movies…on a big screen…outdoors. If you're thinking that would be an awesome brewery event, you'd be correct. Check out Fun Flicks for pricing and details.
It's true that customers are coming in for your (amazing) brews. But if your goal is to keep them with you a little longer – and coming back on a repeat basis – taproom entertainment is a must. On top of awesome brewery events, the right content on your brewery's TVs definitely results in longer, more frequent visits.
We hope these brewery TV ideas inspired you to change the channel on your regularly scheduled programming. Cheers to your success!