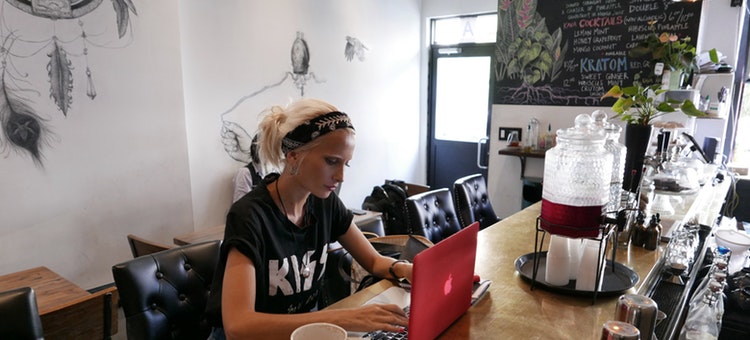 Having a website for your bar or restaurant is key to getting the most out of your establishment. Whether you offer the best menu items or the hippest atmosphere, a website can turn some foot traffic into the large crowds you deserve. However, let's be clear. To get the most out of your bar or restaurant, you're going to need more than just a basic website. In actuality, you're going to need a website with a low bounce rate and high conversion rate. So, how do you do this? We'll go over all the elements of a successful website next.
Characteristics of a Successful Bar or Restaurant Website
1. Exceptional user experience and navigation
Have you ever been so frustrated by a website's design that you left it almost immediately? It's actually more common than you think! That's why there's nothing more important than having a website that's easy and simple to use. On a whole, you want to ensure that scrolling, clicking, and finding content is uncomplicated. Proper formatting is another aspect to pay attention to. It's important to make sure that all content and text fits on the screen and isn't difficult to see or read.
2. Mobile-friendly design
According to Statista, over 52% of all website traffic worldwide comes from mobile devices. That's more than half of all internet users. As a result, ensuring that your bar or restaurant's website is also optimized for every mobile device is necessary for keeping prospective customers on your site. With a statistic as high as this, you can't solely rely on desktop and laptop users. To get the most out of your investment, you must verify that your website can be used easily on every device. From formatting issues to missing images, a website on a smartphone needs additional attention.
3. Fast page speed
It is estimated that 40% of users will leave a webpage if not fully loaded within 3 seconds. So, in order to retain prospective customers, you should keep your website running as fast as possible. When building your website, your developer should optimize all images, use browser caching, and keep redirects to a minimum.
4. High quality content
When writing any content for your website, style, grammar, and formatting are all essential to draw in potential customers. For the highest quality content, you want to keep all sentences and paragraphs short, easy to read, and grammatically correct. Even the slightest mistake or error, could turn off anyone from wanting to visit your bar or restaurant. On top of all these factors, you want to ensure your content is informative, engaging, and fun – as fun as your establishment's vibe. After all, boring content leads to a boring bar or restaurant.
5. An effective contact page
Once a user is interested in your establishment, the next thing that comes to mind is its location. Where is it? Is it close to me? How do I get there? With an effective contact page that's easy to read, users will be more likely to visit your business. Not having enough information can lead to confusion and missed opportunities.
Potential customers, especially those who've never been to your bar or restaurant, often have a lot of questions as well. The best thing to do in this case is to also include an email address, phone number, and contact form. On a whole, the more accessible you are to the public, the better it is for your bottom line.
Next, let's get back to the bigger picture. Why is having a website for your bar or restaurant so vital? We dive into the main reasons below.
Top 9 Reasons why Restaurants and Bars Need Websites
1) Search Visibility
Yes, word of mouth is great. Though, with no online presence at all, you're making it harder and harder for customers to find you. With an SEO-friendly website and high quality content, you could be receiving many more prospective customers than ever before. When you invest in search engine optimization strategies, you can show up for specific searches for your establishment. For instance, Google searches like "cocktail bar new york" or "martinis new york" could help customers find you quick and easy.
2) Menu Items
Picky eaters are everywhere! Not everyone can settle on general italian restaurants or taquerias without seeing a menu first. People are inclined to check out what an establishment offers before visiting it. For instance, those with strict diets, vegetarians, or vegans are likely to check out menus ahead of time just in case. With no online menu, you risk having people ignore your bar or restaurant due to lack of essential information.
In addition, make sure to always include pricing information. Customers need to know if they can afford to dine at your establishment before going there. Failing to include pricing information could cause users to navigate away from your website and most importantly, never visit your bar or restaurant.
3) Online Reservations
Not everyone loves talking on the phone or visiting a restaurant to make a simple reservation. With the ability to make online reservations, users can easily see if there's an available table on the day and time of their choice. On top of that, this capability also reduces the amount of time your employees spend on the phone with customers. Instead of them checking for available tables and taking the time to book everything by hand, you can have the user do everything themselves.
Furthermore, you can include extra information about guidelines on the same page. For example, if you have a maximum number of people for a reservation, you can make it clear. In addition, if you have more rules regarding large parties and corporate events, you can mention them. The more information you provide, the easier it is for everyone involved. There are several online reservation apps that will help you set this up.
4) Brand Awareness
Good branding is necessary for increasing credibility, appealing to your target audience, and most importantly, standing out from the competition. The best way to create a unique brand is to focus on your logo design, website colours, and your mission statement. With a logo and website that matches the image you have for your business, you can easily appeal to the kind of crowds you desire. Is your bar a hip hangout for young adults? Or is it an upscale lounge? With the right branding, you can make this clear. Also, you can include an "about" page which can further help you write about yourself and your bar or restaurant.
5) News Updates & Promotions
Whether your website has a blog or news section, you can use it to provide your customers with helpful information. Do you have an event to promote? Do you have new drink specials? Did you receive any awards recently? With a section or page for news, you can promote all of these and more. Customers will be more likely to come to your pub or restaurant if they know about special events, promotions, and more ahead of time.
6) Customer Testimonials
It's no secret that with positive customer reviews, you can become more attractive to prospective customers. And people are more inclined to visit a bar or restaurant after seeing what others have to say. Also, if you have any reviews written by critics, you can include those as well. All in all, these reviews add credibility to your establishment, menu, and drinks. Make sure to include these on your home page!
7) Photographs & Videos
What does your bar or restaurant look like? What is the vibe and decor like? Is it fancy, hip, historic, or modern-looking? With high quality photos and videos, you can really get more people in the door – those that appreciate what your atmosphere has to offer. Photos of your menu items and unique drinks can also drive more customers to your restaurant to try something that looks great.
8) Business & Holiday Hours
Whether it's the holidays or a normal day of the week, it's beneficial to include your hours or any changes to them on your website. That way, customers will have an easy time deciding if they can visit your bar or restaurant before closing or even on Christmas day. This will certainly decrease confusion and loss in potential visitors.
9) Contact Information
As mentioned earlier in this article, providing users with an address, map, email, and phone number can help customers get in touch with you for any questions or concerns. Not having something as simple as an address can make it impossible for online users to find your physical location. That being said, an entire website, without an address, would be a waste of resources.
On a final note, investing in a website for your bar or restaurant is essential for a number of reasons. From increasing your brand awareness and showing off your menu to online reservations, websites can help you significantly grow your customer base. Let's face it, word of mouth and foot traffic are just not enough to survive in today's technologically-dependent world.
Author – Arielle Azmon
Bio – Arielle is an SEO manager at WISK, a company that offers liquor inventory and ordering solutions for bars and restaurants. The liquor inventory app can be used to help owners and managers keep track of their stock, order bottles, forecast sales, and cost cocktails for their menus. She is passionate about restaurant technology and helping hospitality businesses operate more efficiently.