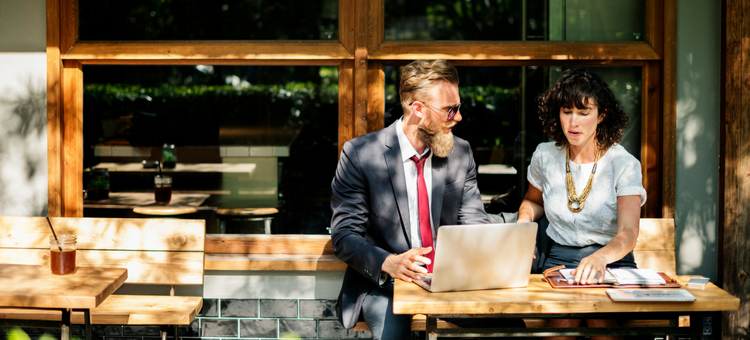 America has officially gone mobile: 77 percent of adults in the United States own a smartphone according to a 2017 Pew Research study. One of the best ways to attract the smartphone-carrying crowd is by treating them to complimentary wi-fi internet. Discover the benefits of offering free wi-fi and how to do it right – so you can become the local hotspot.
3 Benefits of Offering Free Wi-Fi
1) Increase Guest Satisfaction
One of the best benefits of offering free wi-fi is happier guests. You're giving them a "freebie" that rewards them for choosing your venue. For guests with limited mobile data on their smartphone plan, you're the hero. When they use your free wireless internet, they can watch endless videos, open large files in their email, and view photos – all without worrying about maxing out their data.
Be sure to promote the fact that you're offering free wi-fi with prominent signage. The easiest way to do this is to turn your TVs into eye-catching digital signage.
However, all of the benefits of offering free wi-fi can backfire – if it doesn't work. One of the leading wi-fi solutions providers in the hospitality industry, Ruckus Wireless, found that 83 percent of guests will take time to complain about bad wi-fi. An alarming 36 percent would not book with that hospitality business again.
2) Boost Slow Dayparts
Many restaurants miss out on the benefits of offering free wi-fi because they fear loitering guests. A sports bar doesn't want a guest buying a $5 beer and spending all day in the corner on their laptop. However, if your venue is slow on mid-afternoons, is that "loiterer" really hurting business? If you're always busy, limit free wi-fi usage to an hour – using third-party access control software (see Step 4 below on our list of Maximizing Benefits of Offering Free-Wi).
3) Attract Large Groups
One of the most important benefits of offering free wi-fi is attracting big "working" groups: From non-profits looking for a spot to plan after work, to office teams eager to go off site during the day. If these groups know your bar or restaurant has free wi-fi, they'll grab their laptops and tablets – and get to work (and to ordering your food!) at your venue. As an added bonus, they'll usually want to visit your venue during slower dayparts and week days.
[fl_builder_insert_layout slug="whitepaper-signup-module-live-streaming"]
Maximize the Benefits of Offering Free Wi-Fi: 5 Steps for Success
Step 1) IMPORTANT: Set Up a Dedicated Internet Connection
All of the benefits of offering free wi-fi could be lost – along with customer confidence – if you don't set up a separate internet connection for public use. Why? Your customers' credit card data could be stolen. Hackers often use public wi-fi to hack into networks, knowing that restaurants don't always follow this rule.
If you accept credit cards, you should have a separate internet connection for public use. PCI compliance requires that you have a separate network for processing credit cards. Setting up a dedicated internet connection is the easiest and most secure way to be PCI compliant.
One of the primary benefits of offering free wi-fi is that anyone who visits you can use it. Unfortunately, that may include hackers. But hackers cannot access credit card data from a wireless access point if the data is on a completely different network. So be smart. Keep your customers safe. And set up that separate internet connection!
Step 2) Go High Speed…Always
You deserve all the benefits of offering free wi-fi, so don't skimp on speed. There's nothing worse for a customer than slow internet. In fact, you'd be better not offering wi-fi at all if it's slow.
Ask your internet provider for the fastest possible internet speed. Unlike mobile service plans, there are not typically data limits when it comes to internet service – but be sure to ask your provider to be sure.
Step 3) Catch All Your Customers with a Wireless Mesh
Yes, the benefits of offering free wi-fi do come with a few initial investments. The most important one is to hire a local IT company to help you create a wireless "mesh." A wireless mesh for your bar or restaurant will ensure every guest gets a strong signal no matter where they are in your building. The alternative may cost you business…
Picture this: you buy a wireless router, purchase your separate internet connection, then promote all the benefits of offering free wi-fi to your customers on social media. A nearby company decides to hold their lunch meeting at your place since you've got that free wi-fi. They turn on their laptops, but can't get a wireless signal. Do you think they'll come back again?
Most wireless routers cannot provide a strong enough signal through a large room. If you have concrete or brick walls, partitions, and multiple floors – you need to create a wireless mesh by setting up WAPs (wireless access points).
The equipment itself is not pricey, a good WAP is between $100 and $200. The IT company may charge you anywhere from $500 to $2,500 to set up your custom wireless mesh. It depends on how big or complex your space is. The cost may seem like a lot, but it's a one-time fee and a worthwhile investment. If you want the benefits of offering free wi-fi to guests – ensure they can access wireless from anywhere in your building.
Sometimes restaurant and bar owners ignore the benefits of offering free wi-fi and focus on the concern that people will "steal" the internet service when they're not in the building. If you are worried about customers outside using your wi-fi, simply ask the IT company to set up a wi-fi perimeter. They can "tune" the wireless signal so it can only be accessed from within your building (or outdoor seating area).
Step 4) Giving Your Customers Access to Free Wi-Fi
Today, you have many options when it comes to giving your guests access to free wi-fi. Each option will provide you with the benefits of offering free wi-fi, but we recommend third party access control:
Third Party Access Control
There are many software companies that can help you manage guest access to your wi-fi. One example mentioned earlier is Ruckus Wireless, used by 70 percent of the hospitality market. Some will print a wi-fi password on the customer's receipt which would work well if you run a fast casual or quick service concept, a pub, coffee shop, or deli. The benefits of offering free wi-fi this way is a guarantee that your customer actually purchases food or drinks from you before using the wi-fi.
Other software options, like Gazella Wi-Fi, will ask for a guest's email address in exchange for free wi-fi. This is a great way to build your email list!
Set Up a Password
Because you've set up a separate internet connection dedicated to public wi-fi use, password protection is not as critical as it is for your internal network. To start enjoying the benefits of offering free wi-fi, some bars and restaurants will simply frame an attractive sign that says "Free Wi-Fi" along with the password. Others may choose to reset the wi-fi password daily or weekly. In that case, use a chalkboard or wipe-off board to write the password. The risk in doing this is that you may get "loiterers" using your network without actually purchasing anything.
Step 5) Create a Captive Portal
Airports and hotels understand the benefits of offering free wi-fi. Chances are, you've used their free wi-fi at some point. When you click on the wireless signal, and ask to join the network, a welcome screen will pop up in your browser. You're asked to first accept the terms of use before browsing. The official name for that welcome screen is the captive portal.
If you have opted to use 3rd party access control software like Ruckus or Gazella, you will be provided with templates you can customize. Either way, you need a captive portal to get all the benefits of offering free wi-fi!
You don't want to be responsible for a guest's irresponsible behavior online. A captive portal protects you by setting standards of use that a user must accept before using your free wi-fi.
Another one of the benefits of offering free wi-fi? Using the captive portal webpage to highlight menu items or special events. Guests won't mind viewing a brief promotion. After all, they're enjoying all the benefits of offering free wi-fi, too!
You deserve to be the local hotspot and enjoy all the benefits of offering free wi-fi. From happier guests to attracting big groups, free wi-fi is the way to go.