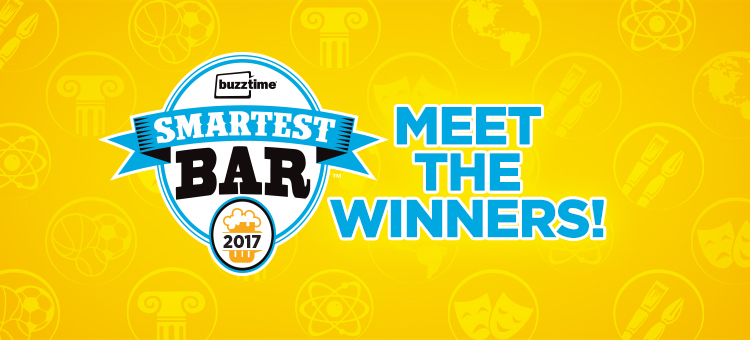 This year's Smartest Bar nationwide trivia competition will go down in Buzztime history as one of the fiercest bar vs. bar battles…ever.
Players representing thousands of bars across America competed for an hour every Wednesday night from November 1st through December 13th. Fun, festive categories like "Holiday Music" and "Holidays Around the World" brought in a record number of players.
After 6 weeks of seriously competitive rounds, just 10 bars advanced to the championship round on December 20th, where a victor was crowned…
Congratulations to Buzztime's Official Smartest Bar of 2017: West Park Station, Cleveland, OH
The players who represented West Park Station showed up with their game faces on each week, and put their trivia skills to work as they played Buzztime SIX Trivia. Their hard work paid off: every player received a medal and a Buzztime prize bag.
Plus, West Park Station took home the official Smartest Bar Trophy and the grand cash prize to hold a victory party. Most importantly, West Park Station can now brag that they are home to America's smartest trivia players!
Beef 'O' Brady's, Prattville, AL took second place – and Boomerz, Austin, TX came in third place. These two bars still scored winnings: smaller trophies, medals, prize bags, and even some extra cash for victory parties of their own.
Even if your bar or restaurant didn't make it to the final round, we hope you saw the benefits of Smartest Bar at your business: increased excitement and crowd size on Wednesdays, friendly competition and camaraderie, and fun for your guests.
Congratulations to every bar and restaurant who rallied players to compete in Smartest Bar 2017…see you in 2018 for another bar vs. bar battle!