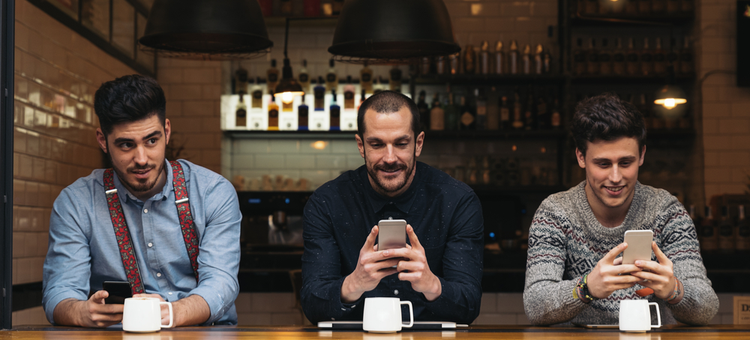 What's in a restaurant menu? It tells your story. It highlights your culinary strengths. It shows off your brand. It's the first thing handed to customers as they sit down for a meal. If your restaurant were a Broadway show, the menu would be the script.
Of course, how your menu looks on paper and what it offers to the diner are extremely important. But the truth is, your customers have probably already taken a look at your menu from the comfort of their own couch. According to OpenTable research, 93% of people look at online menus before choosing to dine out. Plus, 49% of them don't even know what they want to eat when they're searching!
Your menu matters. Having it online matters, too.
Knowing that 93% of the population is doing online research before choosing a place to dine, you want to do whatever it takes to get in front of as many of them as possible, right? But, how?
Having your menu online, on your website as a PDF or within a webpage, is great, but it's not enough. Loyal customers may type your web address into your browser, but people who don't know your restaurant exists most likely won't stumble upon your website by chance. They use search engines, like Google, Yelp, and TripAdvisor, to initially discover you. Plus, while they're on those websites, they're reading online reviews about different restaurants as well (92% of people read online reviews)! When these hungry diners are doing their research online, you need to be everywhere they're searching.
And just how influential are these search engine and review sites?
A survey shows that when at home, 78% use TripAdvisor for research, while 41% use Yelp and 28% turn to Google when researching restaurants to make dining decisions. There are also other influential platforms, like Bing, Yahoo, Foursquare, and Yellow Pages. Wouldn't it be nice if your menu was across all of these sites so people could access it easily from anywhere at any time? Posting your menu across these platforms helps you gain more visibility no matter where people are searching.
Another important element when posting your menu online? Accuracy.
If you have an old menu posted online and have forgotten to make updates, you could upset potential customers and lose loyal ones. Think about this scenario: A couple is referred to your restaurant by a friend, so they decide to try it out on a Friday night. They try to find your restaurant menu online before heading out and finally come across it on your website. The menu says that you have Chicken Scarpariello, which is the wife's favorite, so they decide to give your restaurant a shot. Upon receiving the hardcopy of your menu when arriving, she sees that Chicken Scarpariello isn't listed as an option anywhere. The server informs her that it was taken off the menu a few months ago.
The diner is forced to choose another menu item and is immediately disappointed since she was looking forward to eating her favorite meal. Because of the inaccuracy of your online menu, you may have just lost a customer for good. Avoiding discrepancies is a must when considering your online menu and online presence.
So, how do you get your menu online accurately in all these places people are searching?
The first step is getting your menu online as searchable content. A PDF of your menu isn't crawlable, which means it won't be picked up by search engines. Text-based menu content is the way to go. Having a text-based menu helps you appear in search queries for specific items, not just for your overall menu. For example, let's say someone is really craving authentic Italian pasta in New York City. If you have pasta on your menu, and your restaurant is in the area, you have the potential to get in front of this potential customer when they type in "pasta near me." Take a look at the example below:
Trattoria Trecolori has great reviews, is close by, and most importantly, has pasta on the menu! Your customer can see right from the search results that you offer what they're craving. From there, they can check out your full menu via the menu link.
Wondering how you go about getting your menu in all of these crucial places online?
You might be thinking "I can just do this myself!" But, as a business owner, you're busy. You're responsible for daily operations, from overseeing your staff to coordinating food deliveries and coming up with new menu items. You can try to DIY it, but this definitely isn't the most efficient or least complicated way to go about it. When trying to get your menu across this network of websites yourself, you'll have to memorize logins and passwords for each site and make updates on each platform every time your menu changes.
Think about it. How often do you update your menu? Do you change items seasonally? Do you have different menus for breakfast, lunch, and dinner? Just consider how much time you'd spend away from your business if you had to make each update yourself (on every website!) Not to mention, many major search engines now require restaurants to work with third parties when it comes to managing menus, which means you won't be able to post your menu yourself on those site at all.
So what's the solution?
This is where menu management companies come in. Menu management companies specialize in online menus and have partnerships with all of these important search sites. They'll disperse your menu as searchable content to the websites that matter most to your restaurant. Working with a company that specializes in online menu management means you avoid wasting time making online updates so you can focus on what matters most, your business.
Maybe you're still thinking "But, I want to be in control of my online presence." As a business owner, this is a viable concern. You've worked hard to build your business and maintain its success, so you want to be in control of every bit of information published everywhere online, including your restaurant menu and hours of operation. But, this doesn't necessarily mean you need to do all of the work yourself.
Menu management companies like SinglePlatform require content to be owner-verified, so you can rest assured that your information will be accurate. From there, some will do the heavy lifting, like making manual updates and pushing your content to a wide network of sites.
Still curious about how a searchable menu works? I'll show you another example. I recently moved to New York City, so there are tons of restaurant options around me (a bit overwhelming at times). I wanted to take friends out for a nice filet mignon dinner, but didn't know where to go. I typed in "filet mignon near me" in Google so I could start weighing my options. Delmonico's popped up, had rave reviews, was close by, and mentioned that filet mignon was on the menu, right from the Google search result. I was sold & booked a reservation minutes later.
If the restaurant didn't have searchable menu content, they may have not even shown up in the search results and I probably would have dined elsewhere.
Let's face it, we live in a world where information is expected at our fingertips, where people are spending countless hours scrolling through social media, and where entertainment can be easily found through online streaming of games, music, and video. Gone are the days when sidewalk sign and newspaper advertisements could bring new customers through your restaurant's door. Technology has changed the way people research and discover new places to shop, travel, and dine. In order to remain visible in a world of fierce competition and immediacy you need to be present and searchable where people are spending most of their time – online!
About Author:
SinglePlatform is just that – a single platform to publish your menu and business information everywhere it needs to be – search engine, social media, travel, & review sites. We help you save time, gain insights and increase your visibility everywhere that matters online. Curious about online menu management possibilities for your business? Contact SinglePlatform today.
[fl_builder_insert_layout slug="whitepaper-signup-module-create-menu"]