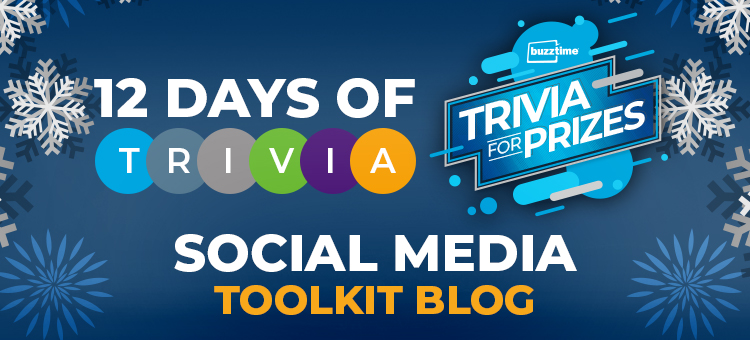 'Tis the season for trivia…Buzztime is going all out to help you bring in the crowds during the holiday season with Trivia for Prizes: 12 Days of Trivia. We're giving away $100 each day during 12 days of trivia!
Registered Buzztime players who play ANY Buzztime trivia game – at ANY time between December 12th and 23rd – are entered to win 1 of 12 $100 gift cards. Yes, players can enter to win anytime you're open.
We're already alerting the 11 million players in Buzztime Nation about the 12 days of awesomeness ahead. You'll see ads on your TVs promoting Trivia for Prizes. Now, join us in spreading the word using these 12 tips to make your place everyone's homebase for the holidays.
Tip #1) Grab a Graphic and Go
Use these snazzy graphics that promote 12 Days of Trivia anywhere and everywhere: your email campaigns, social media, posters, flyers, in your holiday cards. They're free to use and ready to download now!
Tip #2) Ramp Up Player Registrations
Trivia for Prizes: 12 Days of Trivia is only, well, 12 days. But it's a clutch opportunity to boost your Buzztime player registrations. And registered players are the gift that keeps on giving! Once registered, they can enter any sweepstake or competition we run – including the 12 Days of Trivia. Our marketing team can also send registered players alerts and emails, reminding them to get their game on at your place.
Tip #3) Reward Your Team
Get your crew involved in registering guests as Buzztime players. Reward the staff member who helps the most people sign up with a gift card.
This might seem obvious, but make sure your team knows how to help customers register. It's super easy. All guests need to do is download the free Buzztime Entertainment app. Or, they can register on a Buzztime tablet (if you provide them). By the way, registration is insanely quick. It takes minutes, and yes, it's also 100% free.
Tip #4) Tie in the 12 Days of Trivia with Other Holidays
December is packed with wild and weird holidays, just waiting for you to run a fun event. To celebrate Ugly Sweater Day on Friday, December 20th, host a party where attendees sport their most hideous holiday ensemble. Encourage everyone to partake in a little trivia for their chance to win 1 of the 12 gift cards.
Tip #5) Highlight Your Rock Star Players
Trivia for Prizes: 12 Days of Trivia is a sweepstakes, so skill isn't involved. But don't let that stop you from shining the spotlight on the highest scoring players in your location. Using the Buzztime local leaderboard, identity your top 5 best players for December and then honor them with a congratulatory Facebook post. Or, shout 'em out on your own TVs using Buzztime TV digital signage.
Tip #6) Get Social with Us!
The holiday season is all about getting social, so join the party on Facebook, Twitter, and Instagram. Post about the 12 Days of Trivia and the awesome cash prizes up for grabs. Use #Buzztime, #12DaysofTrivia, and #TriviaforPrizes so people know that Buzztime is running the sweepstakes.
Tag us on social media, too:
Facebook: @Buzztime
Twitter: @Buzztime
Instagram: @PlayBuzztime
We'll be posting up a storm on social media, so feel free to share our Trivia for Prizes posts. Here are the links to our social pages: Facebook, Twitter, and Instagram.
Tip #7) Say Cheers to 12 Days of Drinks
Get festive by featuring a different holiday cocktail every day of the Trivia for Prizes: 12 Days of Trivia event. Need a little inspo? We got you. Check out these 25 holiday cocktail recipes.
Tip #8) 'Tis the Season
Spark excitement on social media about the cash giveaway by asking followers holiday-related questions ('tis the season!). Try a post like this to boost engagement and awareness of 12 Days of Trivia:
What's your favorite holiday pastime? Tell us, then come play @Buzztime #TriviaforPrizes #12DaysofTrivia today. You could win 1 of 12 $100 gift cards.
Or, make people choose between beloved holiday favorites with a fun Facebook poll. For example, use the Facebook poll feature to force folks to decide which winter activity is the G.O.A.T.: building snowmen, baking cookies, ice skating, or caroling.
Tip #9) Go Live
Don't be intimidated. Take a sip of some spiked eggnog, and go live on Facebook or Instagram when people are playing Buzztime. Holler out at the bar area that you're about to go live so the camera-shy customers can stay outta your way. Ask players which Buzztime game is their favorite, and what they'll do with the cash prize (if they win).
Tip #10) Get Festive
Pass out candy canes at the bar, ask your bartenders and servers to wear Santa hats, and put up a kissing ball above the doorway…it's all about creating a festive atmosphere for Buzztime players and your patrons in general.
Tip #11) Promote with P.R.
Let the local media know that you're part of a nationwide trivia sweepstakes. Just for playing a round of Buzztime trivia, anyone in the area can win 1 of 12 $100 gift cards. Now that's definitely newsworthy, right? Contact local radio and TV stations, online newspapers, bloggers, and even Instagram and Facebook influencers.
Tip #12) If You Have a Winner…
Then you definitely need to whip up a press release to alert the media in your town. Include a quote from your winning customer about why they like playing Buzztime at your business. Don't forget to highlight the fact you'll have monthly competitions and sweepstakes going on throughout all of 2020, because that's just what Buzztime does for partner locations like yours.
Now you're ready to rock the holiday season with these 12 tips for promoting the 12 Days of Trivia. Cheers to a successful end to 2019 and an amazing start to 2020!