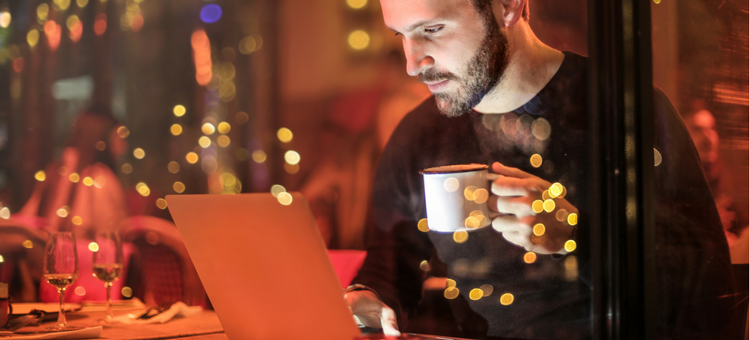 First of all, you're busy. But marketing is a must for increasing sales and bringing in guests. What can you do? Take 30 minutes to tackle one of these 15 restaurant marketing ideas. BONUS: Most are free, none cost more than $30, and each should deliver awesome ROI – fast. From happy hour to those slower nights, get ready for a boost in sales. Let's do this.
1) FREE: Respond to that Pesky Yelp Review
Surprised to see this first on our list of restaurant marketing ideas? Addressing every negative review on Yelp (and on social media sites) isn't just good customer service, you can boost sales, too.
Use our 5A approach to responding to negative reviews which involves inviting the customer back in with a special offer – do that now.
According to Social Media Today, 95% of customers will return if you quickly and efficiently address their complaint. Plus, studies show that most will delete their negative review if you resolve their issue. Now, see why this is #1 on our list of restaurant marketing ideas?
2) FREE: Just Listen. You Could Hear the Sounds of 40% Higher Drink Sales. Seriously.
One of the least underutilized restaurant marketing ideas involves background music. Did you know adjusting your playlist (and its volume) could result in up to a 40% boost in drink and dessert sales?
Check out these 8 restaurant background music tips – all backed by scientific studies and research.
3) FREE: Download Snapchat. Now.
Want to see more millennials at your business? Download Snapchat. 60% of Americans under 34 use this photo-sharing app. Plus, it's one of the easiest social media platforms to master. We've got you covered with the 10 best Snapchat restaurant marketing ideas.
4) COSTS $30: Boost a Facebook Post Using the "Proven Performer" Tactic
If you already boost Facebook posts, are you doing it right? Most will create a post – and then immediately boost it. But you don't know if it will perform well.
Here's one of the best insider restaurant Facebook marketing ideas…
Use the "publishing tools" on your Facebook page to identify your top 5 posts – ones that have been liked, shared, or commented on. Pick the most recent one, and boost it. People are more likely to engage with posts that are popular.
5) FREE: Contact Local Media Outlets
Great restaurant marketing ideas should always include public relations, too. You're an expert in the restaurant industry. Do media outlets know they can call you for a quote or insight when a food-related news story hits? The ROI could be free media exposure for your business – that's major.
Act on these media-related restaurant marketing ideas now:
Call your local TV, radio, and online newspaper.
Ask to be connected to both the "features" and "news" departments
Or, visit the websites for each media outlet – most reporters include their email with stories they cover
Let the reporters know you're always available to provide commentary on stories related to food and restaurants.
6) FREE: Sign Up for HARO
We've got more restaurant marketing ideas to get you free media coverage…sign up for HARO (Help a Reporter Out). For free, your contact info is added to a nationwide database. Reporters and bloggers can reach out when they need a quick quote or even a full-length article.
7) FREE: Be Charitable
Want to boost staff morale, increase guest loyalty, attract new customers, and support a good cause? Try one of these charitable restaurant marketing ideas:
Invite a charity to send a guest bartender in one night a month, donate the tips and 10% of the proceeds. The charity will promote their event to their customer base, maximizing your restaurant marketing ideas and actions
Sign up for a charity event like a walk-a-thon as a team building activity and a way to gain visibility for your restaurant
Host a charity's monthly meeting Have a private dining room? Is it booked up on weeknights? If not, invite local charities in to host their monthly meeting with you.
[fl_builder_insert_layout slug="whitepaper-signup-module-5-step-marketing-budget-planner"]
8) FREE: Create a Facebook Event
Restaurant marketing ideas don't get better than this. What event do you have coming up? A live band? Live trivia night? Use Facebook Events to set up a free event.
Facebook will automatically send free reminders about your event to anyone who RSVPs. Sweet! Plus, Facebook also alerts friends of those who have RSVPed about your event. Need quick, low-cost ideas for an event? See these 11 easy theme night ideas.
9) FREE: Schedule a Call
Next on our list of restaurant marketing ideas is to schedule a demo with a product you've been thinking about for your restaurant. You can read all you want, but experiencing the product is the best way to see if it's right for you.
Maybe it's upgrading your POS system or trying an email marketing tool. Or, it's bringing in trivia and games for guests…shown to increase the average table check by 21%. You can get a free, fast, no-pressure demo – just schedule it now.
10) FREE: Visit 3 Nearby Businesses
Get personal with your restaurant marketing ideas. Armed with your menu, head over to the businesses closest to you.
Don't send a staff member. Go yourself for the best ROI. If you have coupons on hand, that's great but not necessary. Even just grabbing 3 menus from the host stand would work.
The point is, you're personally inviting that business to your venue. Personalized restaurant marketing ideas are often the most effective. While you're at your neighboring business, ask for their brochures to place in your waiting area.
11) COSTS $30: Regular Restaurant Marketing Ideas
Sometimes, the best restaurant marketing ideas are the simplest. Look around. See any regulars? Find their server and tell them to surprise the table with a few desserts.
Don't take your regulars for granted! Restaurant marketing ideas that involve surprise rewards for regulars will build loyalty using the reciprocity principle (basically, the guest feels compelled to continue rewarding YOU with their business). Studies show that reducing customer churn by just 5% can boost profitability by at least 25% and as much as 125%.
12) COSTS $30: Set Up a Google AdWords Campaign
Restaurants are the most-searched industry by guests online: 81% search on their smartphones, 92% search on their desktop. When guests decide where to dine, these restaurant marketing ideas help your business show up. How? Set up a Google AdWords campaign.
EXAMPLE: If you're a sports bar in Milwaukee, set up an AdWords campaign so when guests search "sports bar Milwaukee" – they see your business name and a link to your website. To maximize these restaurant marketing ideas, invest more than $30.
13) FREE: Start Stalking Yourself
To maximize your restaurant marketing ideas, you need to know what's being said about your biz. Take 30 minutes to sign up for these free or low-cost services: www.rankur.com, www.socialmention.com and www.google.com/alerts.
Humble brag! If you get an alert that you've earned positive press, share the link on Facebook and in your emails.
If you're alerted of a negative review – now you can respond faster.
Plus, you can also (anonymously) monitor your competitors to see what they're up.
14) FREE: Mark Up Your Menu
Grab a red pen and channel your high school English teacher for these menu-based restaurant marketing ideas.
First, review these 11 menu pricing strategies for profit. Then start marking up your menu.
For example, here's a top tip proven by a study at Cornell University. Look for any dollar signs – remove them! In the study, guests spent "significantly more" when menu items didn't show dollar signs – just a numerical value.
While menu tips are one of our restaurant marketing ideas that won't provide instant ROI – once you make the changes, you'll like start seeing higher check averages.
15) COSTS LESS THAN $30: Visit a Local Brewery
Who knew enjoying a beer would make it on our list of restaurant marketing ideas? Here's why: Craft brews continue to trend upwards. Chances are, there's a local craft brewery in your area. Head over to enjoy a brew or two.
Chat with the brewer to explore carrying their craft brew – or ask to bring in a keg for a one-time event.
Then, launch a tap takeover party and other restaurant marketing ideas based on the fact you've got cool crafts on tap!
The Power of 30 Minutes
Imagine what could happen if you carved out just 30 extra minutes a day, or even once a week, to put these restaurant marketing ideas into action. Make it official by scheduling the time in your calendar now.
Share your best restaurant marketing ideas in the comments…we're all ears!