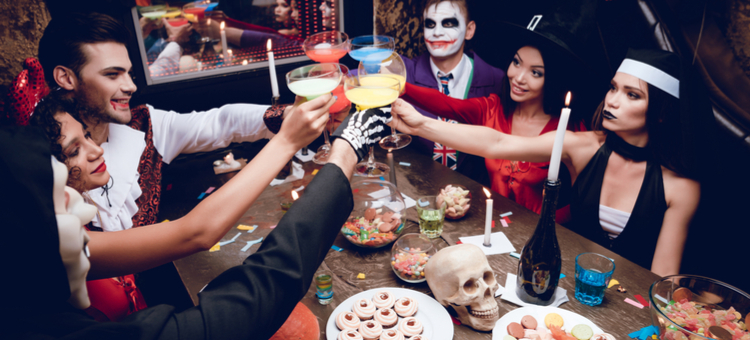 It's that time of year again…when black lights are acceptable and your patrons become unrecognizable. Yes, Halloween is upon us in the bar and restaurant business. BOO! GHOST! BEHIND YOU! Did that scare you into planning your Halloween promotions now? Because America is getting ready to spend $9 billion dollars on October 31st. Now that we made you jump, let's get scary…
Costume Contest Halloween Promotions: 3 Ways to Rock It
Just keeping it real…Every bar and restaurant is planning a costume contest. How can yours stand out? Try these variations:
1) Theme-o-Ween
Pick a theme…any theme! It could be characters from the 80s and 90s or TVs and movies. Or, amp up the adults-only vibe with a vampires and vixens night. How about a zombie prom as one of your costume-focused Halloween promotions? Participants with the best costume are crowned prom king and queen.
2) Categorical Contest
Raise the stakes with Halloween promotions for the best costumes in crazy categories like: most WTF, sexiest, scariest, least effort, likely to have spent an entire paycheck on their costume, most realistic…you get the picture. To determine the overall champion, winners in each category take the floor in a dance off. Crowd applause determines the winner.
3) Spooky Staff
Get your team in on your Halloween promotions. Tell them to come in costume and let guests vote on their favorite server or bartender costume. Reward the winning employee with a gift card.
Spirited Drink Specials
Great Halloween promotions on "boos" will draw the crowds on Halloween.
4) 18 Halloween Cocktails
Why Google when you can click on a list of the 18 best Halloween cocktail recipes…from Beetlejuice to a Blood Peach Bellini.
5) Witches Brew and Other Batches
Halloween is one of the busiest bar nights. Save time by preparing large quantities of your most popular house-made cocktails.
6) Glowing Tonic
Did you know that tonic water glows under black lights? Create a signature cocktail featuring tonic water as one of your Halloween promotions. In fact, you could create a glowing theme night: a ghost out party. Attendees wear all white. You turn on the black lights and everybody glows. Hand out glow-in-the-dark necklaces as guests arrive.
7) Pumpkin Beer Faceoff
Love it or hate it, pumpkin beer is a big deal in October. Serve small pours of popular pumpkin beers in a flight. Let patrons vote for their favorites.
Scary Good Décor for Halloween Promotions
Set a spooky scene that patrons won't want to leave. Try these easy ideas:
8) DIY Photobooth:
Pick up a few hay bales, add a few pumpkins and leaves, and boom: you've got a Halloween photo booth. Go the extra mile and invest in a $200-$300 "step and repeat" banner with your logo on it. You can use it for more than just Halloween promotions.
9) Simply Gourdish Lighting:
Cut out the tops on those little pumpkins, pop in a tea light. Now you have a seasonal centerpiece for tables.
10) Drunk Pumpkins:
Draw attention to your bottled and canned beers. Put them in the mouths of carved pumpkins behind the bar. Add black ice for extra flair. Expect your drunk pumpkins to show up in pics on social media, earning extra visibility for your Halloween promotions.
Bone Appetit! Halloween Promotions and Menu Ideas
Go ahead, play with your food. Try these creative menu-focused Halloween promotions…
11) Gross Out Gourmet
It may look "ew" but it's definitely "yum." These recipes will definitely earn a place in their Instagram story:
Bloody Beets: Beets may taste sweet, but their deep red color can turn any dish into a creepy delight. Here's proof.
Mummy Dearest: Pastry or crescent roll dough can turn anything into a mummy. Just add eyes (olives, peas, or corn). Start with this recipe for mummy brie. For the little monsters (see #12 on this list of Halloween promotions), the dough turns mini hotdogs into mummies.
12) Don't Forget the Little Monsters
Avoid going overboard with kid-focused Halloween promotions and menu items. You don't want little Johnny having nightmares over seriously scary recipes like this.
Jack-o-Lantern Quesadillas: Ok, your prep chefs might hate your Halloween promotions because you're going to ask them to cut triangles and a circle out of a tortilla to make a pumpkin face.
Candy Corn Ice Cream: Layer orange sherbet, lemon sherbet, and vanilla ice cream in a clear cup…it's like a giant candy corn. Perfect for October 30th, National Candy Corn Day.
13) Haunted Happy Hour
Small plates become "fright bites" when you use these recipes for frighteningly delicious appetizers. Try Devilish Pumpkin Eggs: Whip up a batch of standard deviled eggs but add extra paprika into the yolk so it turns pumpkin orange. Then, a sliced chive becomes the stem. Boom.
14) Devilish Desserts
Kinda sweet. Kinda scary. Just what your Halloween promotions and dessert menu needs
Dead Velvet Cake: That red velvet cake is now a dead velvet cake. Cover the standard cream cheese frosting with a splatter of bright red grenadine. Serve with a steak knife.
Poison Apple: This poison apple recipe makes an innocent Granny Smith apple look super sinister. It's coated in jet black (but totally edible) caramel.
[fl_builder_insert_layout slug="whitepaper-signup-module-66-promotions-to-drive-sales"]
Ghoulish Games
Whatever you do, don't let guests bob for apples (hello, germs). Opt for these gamified Halloween promotions instead.
15) Tricks and Trivia
Live trivia night is always a treat for patrons. But now you're going to throw in some tricks as one of your Halloween promotions and events. As teams are mulling over their answers, a few staff members will scare and surprise them. It could be suddenly turning off the lights, then turning on a creepy glowing pumpkin. Or, a waiter drops a few realistic-looking gummy worms on the table. A good old-fashioned "BOO!" as a player is concentrating also does the trick.
16) Broom Relay Race
Perfect for Harry Potter geeks and anyone who secretly wants to ride a broom. Divide up guests into teams. Competitors must put on a witch hat and "ride" the broom to their other teammates. Then the next person goes.
This is one of those Halloween promotions best for bars or venues with extra space. In fact, if you have room to spare, why not run a Halloween bar games tournament complete with cornhole, darts, and more.
17) Keep Your Eye on the Ball
Up the ick-factor of your Halloween promotions and games. Just add eyeballs! Run a game of beer pong but switch out the standard balls for eyeball ping pong balls.
18) Bartender Trick or Treat
Let guests call the shots on your Halloween promotions…literally. Would the guest like a treat? Great, they get a small discount on the drink. Or would they prefer a trick? The bartender performs a trick from this list of 16 flair tricks.
Halloween and Chill
Cater to a quieter crowd? Offer more lowkey Halloween promotions and events.
19) Night of Spirits
Invite a storyteller to share spooky ghost stories and offer tasting flights of whiskey, bourbon, or scotch.
20) Poetry Night
Ask a server or bartender to read some of these classic, dark poems. Create a subtly creepy vibe by dimming the lights lower than usual, and add lanterns at every table.
Walk This Way…If You Dare
Partner up for profitable Halloween promotions.
21) Costume Crawl
Consider a "costume crawl" where revelers roam from bar to bar (or restaurant to restaurant) for treats like appetizers and drink specials.
22) Haunted History
Check in with your area's local historical society. Would they like to team up on your Halloween promotions? Together, you can plan a haunted walk. The historian can point out spooky sites around town. Of course, the walk will begin and end at your local haunt…
Howlin' Halloween Promotions
23) Pet Costume Contest
Americans plan to spend over $31 million on Halloween costumes…for their critters. But Fido and fluffy are all dressed up with nowhere to go! At least let proud pet parents show off their costumes with online Halloween promotions. Just run a "Howl-a-ween" pet costume contest on Instagram or Facebook.
Participants upload a photo of their pet using a unique hashtag that you create. You can also use digital signage on your TVs to put their pet pics in the spotlight. Randomly select a few owners to win a gift card. Or, the prize could be a donation to the winner's favorite pet-related charity.
The best Halloween promotions remind guests that you offer more than good food and drinks. You can show them a great time. So, get ready to…Eat. Drink. And Be Scary!