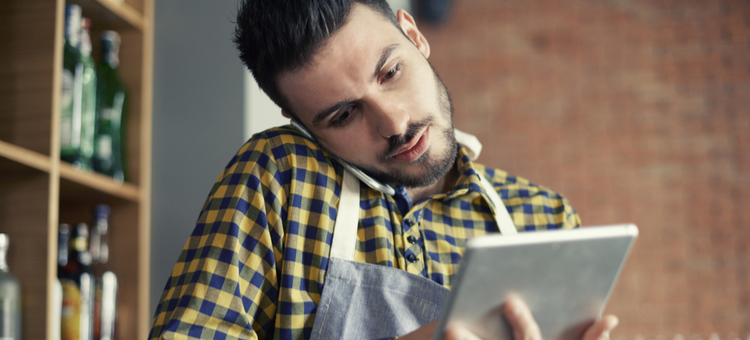 Noticed an increase in restaurant tablets and kiosks lately? From limited-service chains to full-service independents, more restaurants than ever before are discovering the benefits of these digital devices. Spoiler alert: this self-service dining technology can do much, much more than take guest orders. That's why we're breaking down the top 5 perks of giving restaurant tablets a try…
Benefit #1) Increase Sales with Restaurant Tablets
Let's talk numbers, shall we? When considering any new technology, you want to know if it will benefit your bottom line. Good news: tabletop tablet menus can totally rock your profitability. Here's how…
Tablet menus aren't just order takers, they're money makers (sorry, not sorry, for the rhyming). Like your top server, the best restaurant tablets will prompt guests to consider extras and add-ons as they place their orders. Would you like extra cheese on your burger? Sure. How about sweet potato fries? Yum, and yes please.
It's like upselling on autopilot and studies show this type of touchscreen ordering can boost check averages by 20-30%.
Benefit #2) Simplify, Speed Up, and Secure the Payment Process (and Boost Loyalty, Too)
Don't be surprised if you start hearing bargoers say "I'll put those drinks on my tab…let."
The best bar and restaurant tablets double as mobile payment devices. Think of them as guest-powered POS systems. When customers are finished dining (or drinking), they can close out their bill, view it, then pay and tip directly on the tablet.
In fact, 79% of today's guests want restaurants to offer tableside payment according to a recent study by TSYS. Most importantly, pay-at-the-table devices let diners wrap up their visit ASAP. No more waiting on the waiter. That's also a benefit to you, because your team can cover more tables since they don't have to run back and forth to the POS.
Another key reason that diners love paying on tablets? It's super secure and lets them pay their way. The top restaurant tablets come equipped with an EMV (aka "chip") card reader as well as a mobile device (or NFC) reader. If customers pay with a credit card, it never leaves the table. Because yes, unscrupulous employees do steal credit card numbers.
With NFC readers on restaurant tablets, guests use a payment app on their smartphone like ApplePay, SamsungPay, or Google Wallet. This is the most secure method of payment since the app has already encrypted the customer's financial data. Today, about 25% of smartphone users prefer to make mobile payments. By 2020? Experts predict that 1/3 of all smartphone users will opt to make payments using their devices.
But wait…there's more! Yet another benefit of using restaurant tablets for secure payment is a nice boost in loyalty. A recent Accenture study found that 85% of customers are more loyal to businesses that proactively protect their financial data.
[fl_builder_insert_layout slug="whitepaper-signup-module-run-a-promotion-max-roi"]
Benefit #3) Create a More Entertaining Experience with Restaurant Tablets
Today, offering restaurant entertainment is important than ever. You may have the best food in town – at a competitive price. Unfortunately, that's not enough because customers want even more. They're craving a memorable, fun experience. In fact, according to a recent Walker Study, customer experience will overtake product and price as the key brand value that guests seek.
That's where restaurant tablets come in. You can add fun to every guest's visit, which may be the most surprising reward yet of bringing in tablets.
When exploring tablet options, look for those that connect guests to entertainment like a 24/7 trivia network and digital arcade. That way, you can turn wait time into play time – and add value to the customer experience. Customers can use tablets to compete against others across the restaurant, or across the nation!
Restaurant tablets like those from Buzztime can even be used to run live events like trivia nights and poker tournaments. Customers can use tablets to play their (virtual) cards during a round of Texas Hold 'Em, with the action displayed on your TVs.
For trivia night, players submit answers with restaurant tablets instead of pen and paper. The process is so simple that thousands of bars and restaurants are able to host trivia night themselves – without paying for an outside host.
Benefit #4) Improve Your Marketing ROI
As guests play trivia and browse the menu on your restaurant tablets, you can also choose to showcase quick promotional messages. It could be highlighting your upcoming events or spotlighting a (high-margin) new menu item. Or, show your guests some love with a customer of the month feature.
The best thing about using restaurant tablets as marketing mediums? You can pre-program content to run on set days or dayparts. For example, when customers are with you at happy hour, entice them to stick around for dinner by spotlighting your entrée specials. Many foodservice businesses even create an incremental revenue source by selling ad space on their tablets. The possibilities are endless…
Another unexpected benefit of restaurant tablets is that the same ads shown on the small screen – can also be displayed on your TVs. With the right tablet platform, you can easily set up eye-catching digital ads that run throughout your venue: from tablets to TVs. You'll save money previously spent on printed posters and table tents, since you have your own in-venue digital marketing machine.
And by the way, digital signage works harder than printed signage. A study by Nielsen found that sales of items promoted on screens increased by 33%.
Benefit #5) Capture Customer Data…ASAP
The best time to take the pulse on customer satisfaction is when guests are with you. And restaurant tablets can help with that, too. After the guest pays for their meal, most tablets can be configured to display a short-and-sweet survey. It could be as simple as asking the guest to rate the food, service, and atmosphere on a scale of 1 to 5.
While you're at it, why not build up your email list? Again, restaurant tablets can be set up so that a prompt is shown – asking for the guest's email address – as soon as they begin browsing the menu. Yikes, you're thinking, that would be annoying. Not if you sweeten the deal with the promise of a free appetizer or dessert, redeemable during their visit. If you're worried that's too generous, consider that for every $1 spent on email marketing, the average ROI is $38 (no, that's not a typo).
Now that you know all that restaurant tablets can do, let's clear the air on what they won't do: replace the human touch. The best restaurant tech will only enhance what's already awesome about your business…the ability to treat everyone to good food – and a great time.