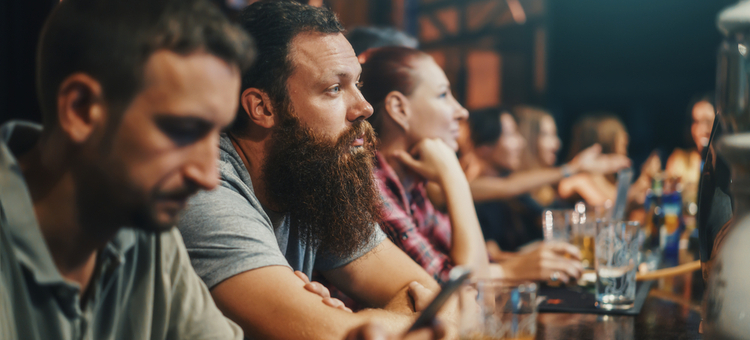 To a bar manager who has carefully amassed a loyal following of football fans that regularly keep business thriving throughout the season, the bleakest day of the year is the day after the Super Bowl. Football is America's most beloved pastime (sorry, baseball) and fans typically flock to established sports bars to regularly see their favorite teams battle it out.
That said, the NFL off-season shouldn't mean a business off-season for your sports bar. While live games are an easy and lucrative draw for sports bars, you can maneuver through the months to come and still utilize your brand, your niche, and your customer base's interest to generate ample business to get you well into the next football pre-season. Follow along for helpful tips on maximizing profits in unconventional ways.
This may seem obvious, but trust your customers' innate love of sport and competition to carry over to basketball, hockey, baseball, soccer and other key sports to keep your bar the destination for game day year-round. Depending on the local professional teams your bar caters to, establish a multi-team décor and don't pigeonhole your brand as simply football.
March Madness, with its high unpredictability and fast turnover rate, is an ideal environment for sports bars to run promotions that get fans into seats. Host your own bracket competition to get customers to visit repeatedly and a to build a community of patrons that will want to regularly watch the games with a familiar crowd of fans. In a fast-paced and packed March Madness environment, sports bar owners should discount group-targeting menu items like appetizer platters to keep customers satisfied and increase profits. It can also help to promote deals on your featured drinks, especially during evening games.
With social media marketing, you can turn any sporting event or pastime into a competition for your customer base to enjoy. Capitalize on any sport with a targeted promotion to see new demographics of customers every night. Offer 10% discounts to large parties if they can predict the winners of the current UFC matchups. During the Olympics, offer a free drink to a paying patron when the United States wins a gold medal. You can even implement a tiered-promotion system based on if the US wins a gold, silver, or bronze medal, and promote your deals on Facebook and Instagram.
Beyond targeted promotions, you can also encourage an atmosphere of gamely competition by offering to bring the fun to your customers. Bar trivia is a terrific way to get customers into your bar even when the big game isn't on. When customers play Buzztime Sports Trivia they can use their knowledge of sports to create their own competition among the regulars at your sports bar and among nationally ranked players. The Buzztime trivia system keeps customers in seats longer and produces larger tabs, as customers are more likely to spend more if they're having a great time.
Sponsoring a local little league or charity that ties into the sports community nearby is also a terrific way to foster loyalty to your brand and encourage patrons to spend more. When part of your proceeds help out a local baseball team or Special Olympics event your patrons are directly giving to the community, so they can spend more knowing the funds are benefitting a worthy cause. In addition, the family and friends of the teams and charities sponsored are likely to visit your sports bar to generate revenue, which exposes your bar to even more potential customers.
With this variety of promotions, marketing strategies, and event ideas, sports bars can safely stay in the green throughout the year, even if it's been months since an NFL game.
[fl_builder_insert_layout slug="whitepaper-signup-module-50-best"]