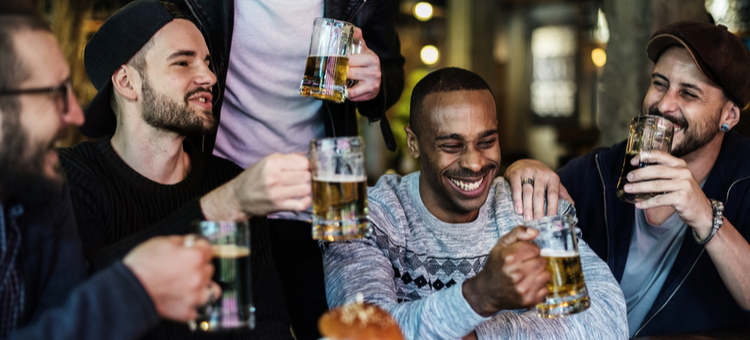 Go beyond basic. Aim to set the gold standard in guest satisfaction. By exceeding expectations, you'll be rewarded with increased guest loyalty – and spending. We've got the studies to prove it. From partnering with charities to bringing in restaurant tablets, see 6 simple ways to wow guests. Then, find out what happens when you treat guests like gold…
The Ultimate Question: How Can You Build a Better Customer Experience?
"Customer experience is the new marketing." –Steve Cannon, CEO of Mercedes Benz USA
These are words to live by in the bar and restaurant biz, too. By delighting guests at every visit, the customer experience becomes your best marketing tool. Here's how to raise your "wow" factor…
Step 1) Upgrade Your Loyalty Program
Guests expect most restaurants to have a loyalty program. Maybe a plastic card, or a paper card that gets punched with each visit. But they really want a mobile loyalty app.
Bond Brand Loyalty and VISA teamed up in 2017 to launch the largest-ever loyalty study. They found that 57% of the 28,000 people surveyed want access your loyalty program…on their smartphone. Don't be intimidated. It's easier than ever to design the best loyalty app.
Step 2) Boost Guest Safety and Security
Another way to boost guest loyalty – and exceed expectations? Prioritize guest security and safety.
Research by Rare Consulting revealed that "trust" is a top loyalty factor for 83% of today's guests. Whether it's secure payment on restaurant tablets or secure wireless access, go the extra mile with these tips.
Safeguard Financial Information with Restaurant Tablets
Show guests you're taking steps to keep their financial data secure and 85% will be more loyal to you, according to a 2017 Accenture study.
One of the best ways to protect guests from credit card fraud is with tabletop restaurant tablets. Equipped with an on-tablet EMV (aka "chip") card reader, the guest's card never leaves the table. Or, guests can securely pay using their smartphone on restaurant tablets that accept NFC payments like Samsung or ApplePay.
It's not just about security, restaurant tablets impress guests with a new level of convenience. Some restaurant tablets even let guests order from a digital menu. (More on that in Step #4.)
Offer Free Wi-Fi…Responsibly
Secure payment on restaurant tablets isn't enough. Hackers could still steal credit card data. How? If you haven't set up free wi-fi the right way. You should have a separate, dedicated internet connection just for free wi-fi.
Be an "Angel" to Patrons
With the rise in popularity of dating apps like Tinder and Bumble, many guests are coming in for first dates. If a date is getting uncomfortable, or even dangerous, many bars and restaurants are offering help.
Discreet signage in the restrooms lets patrons know they can ask a bartender for an "Angel Shot": neat, on the rocks, or straight up. The shot is actually a code word that alerts the bartender to escort the guest to their car, call an Uber or taxi, or even call the police. You could go a step further and put the Angel Shot right on your restaurant tablets.
Step 3) Be Charitable: Show You've Got Heart
It pays to pay it forward: 72% of bar and restaurant patrons recommend restaurants that support a good cause.
Partner with Charities
While participating in a local charity in a walk or run is a good start, go a step further to exceed guest expectations…
Let guests select the charities you support! Each month or quarter, guests can vote on which charity you'll donate to. Create a guest bartender night, where the charity sends in members to collect tips.
Name a menu item or drink for a charity. Proceeds from a "spiked pink lemonade punch" can go to a breast cancer research fund. Use digital signage and restaurant tablets to highlight the special.
Dedicate a beer tap handle to particular charity with a portion of the proceeds going to that cause.
Create a brand around your charitable efforts. For example, in 2017, national chain Bar Louie created "Louie Loves" to help guests contribute to natural disasters.
Buy Local
It's time to go local. 41% of U.S. customers are influenced to choose a bar or restaurant if they source local ingredients.
Send your chef to the farmers market or buy direct from a local farm.
Build a "Local Love" happy hour menu featuring local beers and ingredients. BONUS: the farms and breweries will be promoting that you carry their products, too.
If you use restaurant tablets, feature photos of farms you purchase from.
Create a "local" logo to spotlight menu items on your paper menu or digital menu on restaurant tablets.
Step 4) Embrace Customization
Make it convenient for guests to customize their experience, here's how:
BYO
Today, it's all about "build your own." Guests are choosier than ever, and want the freedom to build out their perfect meal.
Help them do it with restaurant tablets that show all possible options for menu items. Guests can build their dream burger from a list of cheeses, sauces, and more – all at their fingertips on restaurant tablets. Some restaurant tablets even automate upselling, by suggesting add-ons and extras.
When it comes to restaurant tablets, customization goes hand in hand with convenience: 73% of today's guests believe the latest tech improves their experience.
Cater to Dietary Preferences
From gluten-free to vegan, the paleo diet to the Atkins diets, guests are eager to see their dietary preferences reflected on your menu. Show you take their lifestyle and health seriously, by offering variations of dishes. Could you include a gluten-free crust as an option for your flatbread pizzas? Can you add a house-made bean burger to your list of sandwiches? Restaurant tablets can make it easy to highlight these variations.
Step 5) Entertain Guests
Guests want meals served with a side of fun: 70% view dining out as an entertainment opportunity according to a study by AT&T and Technomic.
Think Beyond the Band: Exciting Events
Yes, live bands can liven up your atmosphere. But fun, creative events will exceed guest expectations every time. In fact, 47% of millennials are more loyal to businesses that provide unique experiences, like:
Theme: Try a Party Like It's 1999 event with throwback music and prices.
Game: Guests love getting competitive in events like adult spelling bees or bar game tournaments (darts, board games, or beer bong).
Learn: Host a Paint n' Sip party where an instructor guides guests in creating their own masterpiece.
Taste: Launch a pairing event – wine and cheese, or beers and burgers – with your chef or bartender providing tasting notes at every course.
Perform: Upgrade open mic by turning into a competition, judged by local musicians.
On-Demand Entertainment
Put fun on tap at all times…using the same restaurant tablets that let guests order and pay. While guests wait for their food or hang out at the bar, they can access a digital arcade right on the restaurant tablets. Plus, patrons can compete across the bar – or across the country – in trivia games scheduled 15 hours a day, 7 days a week.
Step 6) Be Transparent
Let guests know you care about giving them an awesome guest experience. Put these 3 steps into play now:
Make an Appearance
This is an easy one. Make guests feel like a VIP with a visit…from you!
While the latest tech – like restaurant tablets – can seriously impress guests, one of the most powerful things you do is an old-fashioned greeting.
As a manager or owner, you're a big shot to guests. Take 10 minutes to drop by every table during every daypart you're on premises. Not only will you get to know your patrons, you'll be first to know if expectations aren't being met.
Survey the Crowd
It's so simple, you might have missed it. Just ask guests if you're exceeding their expectations!
Use a customer feedback tool to gather comments, in real-time, from guests.
Set up a short survey to automatically appear on restaurant tablets after guests pay their bill.
Instruct servers to ask every guest if they enjoyed their experience with you.
Respond to Negative Reviews
Want to shock guests…in a good way? Respond to negative feedback. Nearly 9 in 10 guests surveyed by Martiz Research said they would like – or even love – a response to their complaint whether it's on Facebook, Google, or Yelp. Yet, a quick look on Yelp reveals that most reviews go unanswered.
Instead, make it a habit to write back. Studies show if you answer the right way (use this 7A formula for responding to negative reviews), 34% may delete their initial review and 33% often leave a new, more complimentary review. Talk about turning a negative into a positive…
It's easier than you think to delight your guests. Start by implementing at least one of these 6 crowd pleasers today. Whether it's offering restaurant tablets or buying from a local farm, small changes can make a big impact on your bottom line – and have guests feeling the love.
[fl_builder_insert_layout slug="whitepaper-signup-module-rewards-program"]