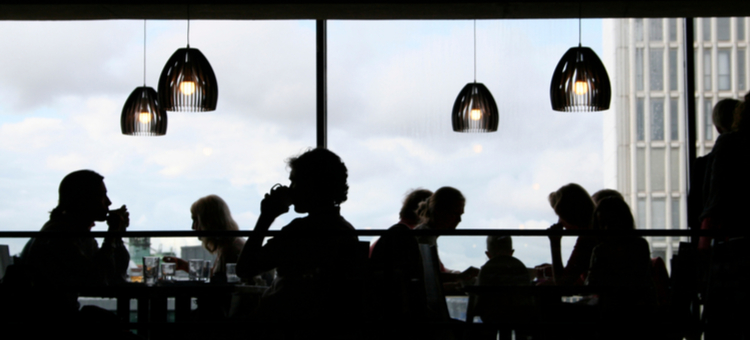 Setting up a successful restaurant promotion can be tricky. There's a lot to juggle — finding the right profit margin, navigating federal and state laws, and launching something that your patrons will respond to. That's why we put together this list of the 8 most common restaurant promotion mistakes: including how to avoid them, and what to do instead.
Finding the Sweet Spot for Restaurant Promotions
Mistake #1: Being cheap.
Restaurant goers love a good deal. In fact, over a third of diners will look for good restaurant promotions before choosing their next restaurant. So, don't waste your time with a 5% coupon — that's not going to get anyone excited. Instead, offer something that's worth their while.
Solution: Get your customers' attention with high-value restaurant promotions.
Entice your customers with deals they want to see…for the items they want to eat or drink! As the saying goes, go big or go home when it comes to restaurant promotions. Not convinced? Worried you'll give too much away? Check out restaurant guru Nick Fosberg's signature VOP promotion that involves giving patrons half off their bar tab (seriously). Then, check out these ideas:
Meal Deals: Offer a combo that includes appetizer, entree, and dessert for a set price.
Extended Happy Hour: Extend your happy hour pricing for an extra couple of hours one day of the week — or keep it going all night!
Special Menu: Offer a limited menu featuring some of your top sellers for a discounted price on one of your slower nights of the week.
Mistake #2: Offering boring specials.
The regular 2-for-1 restaurant promotions are played out. Nearly every restaurant offers them, so you'll hardly stand out from the crowd if you do too. Don't risk losing your carefully chosen promotions (and business) in a sea of same.
Solution: Get creative with your restaurant promotions.
Shake things up with your restaurant promotions. Once you figure out what kind of promotion you want to offer, add a twist that keeps things interesting. Here are some ideas to get you started:
Pair your Promotion with a Holiday: We're not just talking about federal holidays. Think of all the crazy, random holidays there are each month and build a promotion around them. Check out some weird holidays for inspiration.
Participate in a Pub Crawl or Restaurant Tour: Crawls are a great way to raise awareness for your restaurant and bring in added business. Join one in your area and offer a sampler menu at a discounted price for participants.
Gamify Your Restaurant Promotions:Rather than putting the same tired coupons in your weekly circulars, do something a little different — like turning your restaurant promotions into a game. Have customers answer a really difficult trivia question or solve a riddle to unlock special pricing on a menu item or earn a gift card for a future visit.
Tracking Your Restaurant Promotions
Mistake #3: Winging it.
ROI is a big deal for restaurant promotions — you don't want to just give things away without a plan. You need a way to determine how much business your promotions are bringing in — and if they're worth continuing.
Solution: Create a unique code for your coupons and offers…
…and put that code in your POS system so you can track it. That'll help your staff out so they can easily scan the promo code. And you can see which promotions are bringing in the business. Another way to measure the ROI of your promotions is the use these 5 simple calculations for measuring the value of every customer you bring in with your offer.
Mistake #4: Forgetting to track your Facebook Ad Performance.
You need a way to market your restaurant promotions — and social media is a great way to do it. But how do you know if your Facebook ads are gaining attention?
[fl_builder_insert_layout slug="whitepaper-signup-module-26-bar-promotions-that-work"]
Solution: Use Pixel to track your Facebook Ad performance.
Fortunately, Facebook introduced Pixel, which allows you to add a code on your restaurant promotions' landing page, so you can track your responses. Simply sign up to get your code and add it to your website. Check back regularly to see how your ads are doing and determine if you need to make any adjustments to your marketing strategy.
Mistake #5: Overlooking your events as restaurant promotions.
Many owners and operators make the mistake of only focusing on food and drink pricing for restaurant promotions. But the point of promotions is to get people in the door to sell more food and drinks — which doesn't necessarily mean a discount needs to be involved.
Solution: Run weekly events.
Events like live trivia are a great way to get people in the door — and they're a lot of fun! That means your patrons will stay longer and order more rounds throughout the night as they finish their game. So, get started with a weekly line up of fun events…and you won't even need to offer any discounts.
Focusing on the Fine Print of Your Restaurant Promotions
Mistake #6: Forgetting to include expiration dates and disclaimers.
Like we said before, it's important to set limits for your restaurant promotions in order to see a profit. So remember to add your disclaimers and restrictions on coupons and marketing materials so your customers are aware of what the promotion includes.
Solution: Create urgency and scarcity.
Terms and conditions sound like a buzzkill, but they actually can be good for restaurant promotions. Limiting your offers to a specific time frame urges customers to act fast if they want to benefit from your promotions.
Mistake #7: Breaking the law.
We can't emphasize this enough — restaurant promotions are only fun if they are legal. Otherwise, you're putting your business and reputation (and even customers) at risk.
Solution: Buff up on your local and state laws.
Before launching your restaurant promotions, take time to familiarize yourself with your state laws for restaurant promotions — especially ones that include alcohol. States have different laws regarding discounts or giveaways for alcohol. For example, some don't allow happy hours and others have rules for how you market your promotions. Make sure you understand what's legal and what could be crossing the line.
Mistake #8: Running a lottery.
Private lotteries are super illegal in every state, and it's best to avoid them completely in your restaurant promotions. Take a few minutes to learn the difference between contests and lotteries.
Lotteries are when participants are required to make a purchase for a chance at winning a prize. All three elements of purchase, chance, and prize need to be included for a promotion to be considered a lottery (and let us repeat, you don't want to run a lottery).
Solution: Research. Research. Research.
If you're planning to hold a contest as one of your restaurant promotions, take proper steps to ensure that you aren't violating any laws or putting your business at risk:
Use the correct disclaimers and verbiage (like "No purchase necessary") so the details are clear to participants.
Lawyer up and have your attorney review the terms and conditions of your restaurant promotions ensuring that everything is up to code.
Restaurant promotions are great for business. And they're fun! Now that you know what mistakes to avoid, you can plan your next promo with confidence. Cheers to that!