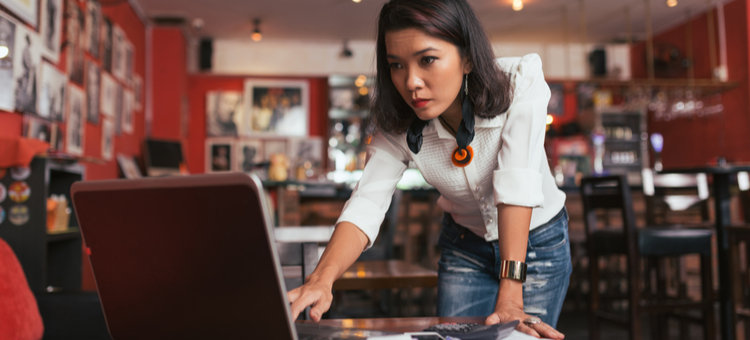 Feel like your bar could use a revamp? But don't have the funds or time for a complete overhaul? Fortunately, most bar upgrades don't have to cost an arm and a leg – or require a total remodel. You'd be surprised how just a few small tweaks can make a big impact.
In most cases, you can even do the bar upgrades yourself…they're that easy. From entertainment to marketing, here are 9 easy and low-cost bar upgrades to make your bar (and brand) feel fresh.
1. Glow up your light fixtures.
For simple bar upgrades with a big impact, start with your lighting and fixtures. The lighting in a bar can really set the tone, so see what your space could use to fit your intended vibe. Encourage mingling by adding lights to brighten up dark corners, or replace your lights with dimmer bulbs if you want things to feel more intimate.
As for the actual fixtures, switching things up could make the place feel like new without the high price of multiple bar upgrades. Go for a trendy industrial, minimal look with these 20 DIY lighting fixtures. Add small lamps or candles to your bar area and tables. Update your entrance lighting with a statement chandelier. Or, if new light fixtures seem too costly for your bar upgrades, just replacing the style of bulbs or lampshades can make an old light fixture look like new for a fraction of the cost.
2. Liven up your atmosphere with digital trivia.
Want the energy of a high-stakes trivia night at your bar…all the time? Get your TVs to do the work for you! Digital trivia streams non-stop, 24/7, so your guests can compete in real-time trivia, anytime. Patrons just use their phones to answer questions, and the system tracks the scores and the standings. It's one of the best bar upgrades if you're trying to build a more social atmosphere.
3. Freshen up your dining area.
If it's been a while since you last decorated, try sprucing up your space with these bar upgrades:
Go with a new layout: Alter your floor plan to make your bar feel more open. Or arrange tables in a way that can improve the flow of the restaurant for guests and servers.
Add a coat of paint: A paint job is one of the bar upgrades that immediately changes the look and feel of your bar. Change up the colors or stick with the same shade – either way, a fresh coat will make your bar look like new.
Try out your green thumb: Plants liven up any space with subtle bursts of color. And you have plenty of options to choose from: flowers, greenery, or succulents. You could even consider a "living" wall (also known as a vertical garden) which would be an awesome backdrop for your Instagram and Snapchat loving customers.
4. Give your patio a facelift.
Outdoor seating is in high demand. So, take it outside and you could increase revenue up to 30%, according to Fast Casual. It pays to give your patio some TLC. A few small outdoor bar upgrades can easily transform your space:
Start with a deep clean: A deep clean can do wonders for an outdoor space. And it's one of the bar upgrades that costs nothing but a little elbow grease. Take a few hours and some soapy buckets to wash away the months of dirt and dust buildup and have your space looking like new.
String up some twinkle lights: Twinkle lights are the perfect way to add a bit of romance and whimsy to any space. And they're eye-catching to people passing by, which may entice new customers to pop in for a quick bite or a drink.
Warm up with a fire pit: Fire pits are a great way to keep your patio busy in the colder months (meaning more money for you). Add one large pit in the center of your patio, or have a few smaller ones strewn about. Just make sure to follow best fire safety practices and double check with your local fire marshall before getting started.
5. Makeover your uniforms.
What your staff members wear should reflect the environment of your bar or restaurant. So, if you're looking for inexpensive bar upgrades to accentuate your atmosphere, a uniform re-style could do the trick.
Order new bistro aprons in a fresh color or style…it's an instant bar upgrade. Update the staff name tags into a sleeker, more modern pin. Or come up with a new style of t-shirt or polos for your staff to wear. Get some input from your staff as well for an idea of what they would like in a uniform (like, more pockets).
6. Beautify your space with an Instagram-worthy mural.
Have a blank wall you're not sure what to do with? Commission a local artist to paint a mural that reflects your restaurant and brand. You can even have a competition among guests or staff on what should be included in the mural as you get started on your bar upgrades.
Once the painting is completed, have a party for the unveiling. Invite your regulars and encourage them to take tons of selfies in front of the new mural and tag your bar whenever they post. Bar upgrades and free advertising? Yes, please.
7. Elevate your promos with digital signage.
Ever thought about turning your own TVs into billboards? It's possible with digital signage. You can customize beautifully designed ad templates to promote your own food and drink specials, upcoming weekly events, or do shout outs for your customers on their birthdays or anniversaries.
Digital signage can really pay off as one of your bar upgrades. According to a Nielsen study, digital signage was able to increase sales by 33% for certain brands. And you can even "rent out" space to other local business to generate some extra income. Cha-ching!
8. Put your social media on auto-pilot.
Bar upgrades aren't just for inside the bar. They can be used to make your life easier, too. Especially when it comes to social media. And investing in a social media automation platform like Hootsuite can really streamline your social media marketing process.
Schedule posts ahead of time so you're not constantly scrambling for content. Track engagement and conversations to see what people are really saying about your business. And easily collect content you find across the web in a library of pre-approved posts that your team can share. It's one of the bar upgrades that's all about efficiency – and making sure you're always posting top-notch content to drive business.
9. Reboot your website with a refresh. 
Websites are like digital door fronts for businesses. And with 77% of diners checking out bar websites before a visit, the first impression is important. If you haven't updated in a while (or if you don't have a website at all), add your website to your list of bar upgrades.
Reach out to a programmer to build a website from scratch. Or create a DIY site with an easy-to-use platform like WordPress, Wix, or SquareSpace. But no matter which you decide for your bar upgrades, make sure you're following website best practices:
Stay on brand: Use your current logo and color scheme on your website to ensure a cohesive look across all of your platforms.
Include essential information: Make sure important details (like contact information, address, and menu) are easy to find.
Optimize for mobile: Most people view websites on their phone screens. So ensure a flawless user experience by setting your site up to be clearly viewed on all devices.
From your digital space to your dining area, bar upgrades can make a big difference in how patrons view your business. So take this inspiration and get started on ways to make your bar upgrades shine!