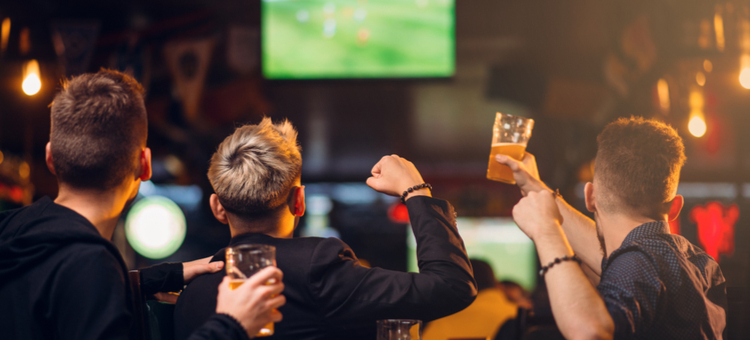 Got TVs in your venue? Awesome. You're *this close* to unlocking a secret marketing weapon: digital signage. Simple software can turn your screens into eye-catching ads you can use however you want. Shout out a customer of the month, promote events, humble brag about your latest and greatest menu item. It's up to you. Some businesses even resell advertising space to other brands and companies to create a nice stream of extra revenue. Here's how to tap into the power of digital signage…
Digital Signage Basics: How it Works
When shopping digital signage software, look for options that will work with TVs and screens you already have. Watch out for companies that attempt to sell you their own "special" monitors and screens (spoiler alert: they're not special). Instead, digital signage software from companies like Buzztime integrates with most existing TVs.
The best digital signage platforms will also include complimentary templates that are easy to customize. You just add your own text and images and boom, you're done. Also seek out systems that allow you to schedule different adds to run at set times and days of the week. A restaurant can run drink specials during happy hour, then program digital signage to spotlight mouth-watering desserts at the dinner hour.
9 Ways to Use Digital Signage to Your Advantage
1) Point of Sale for the Win  
Drive sales…right here, right now: That's what digital signage does best. A Nielson study revealed that when digital signage is used at the point of sale (so when guests are in your venue), sales of items on screen increase by up to 33%.
Let's say you have a high-margin menu item you're trying to promote. Digital signage brings it to life on the big screen. No customer can resist a closeup beauty shot of a refreshing margarita on a hot day, or juicy chicken wings when they're starving.
2) "Hyper" Limited Time Offers
Another way to use digital signage is to showcase a super limited time offer, like $2 sliders during happy hour only. The ad would only run from 5pm-7pm. Some restaurants and bars even turn digital signage into a big game. Customers have to come in and see what's on special by looking at your TVs.
3) Show Love to Your Most Loyal Customers  
Everyone secretly wants to be a star, and digital signage can make it happen. Boost loyalty with your customers using these 3 ideas.
Customer of the Month or Week: Make customer-of-the-month programs cool again. Give your most loyal customers some love and put their name (and photo) in lights using digital signage.
Social Media Rock Star: All foodies think they take the best food photos. Every week, choose a customer from Instagram or Facebook, and put their food or drink photo on your TVs.
Photo Contest: This is similar to the concept above, but now you're sweetening the deal with a prize. Create a designated hashtag like #YourBizNameContest. Ask customers to post pics to their social media feeds using that hashtag. Each week, randomly select a photo (just search the hashtag). Then, give the winner a gift card and feature their pics on your digital signage.
Want more loyalty ideas for your business beyond digital signage? Check out these 7 proven ways to increase customer loyalty.
4) Treat Your Staff Like Allstars
Customer loyalty is important, but don't forget about your staff! Again, digital signage can help by shining the spotlight on your best employees. Why not run an employee-of-the-month program? You could select the winners, or better yet, let your customers nominate them. Some businesses even have employees anonymously nominate each other using a ballot box.
[fl_builder_insert_layout slug="whitepaper-signup-module-5-step-marketing-budget-planner"]
5) Promote Your Events
Make your customers feel like insiders by announcing upcoming events at your venue on digital signage, before making a public announcement. Digital signage is also useful for driving ticket sales. Encourage customers to buy tickets on the spot with a special discount.
6) Digital Signage as Entertainment
Some companies that offer digital signage, also include access to interactive trivia games. Between running ads for your events and menu items, you can entertain your patrons with a little friendly competition. Using their smartphone or handheld tablets, players can submit answers to trivia questions that appear on your TVs. If you select a nationwide trivia network, players are able to compete against others in your venue – and even across the country. It's exciting, social, and seriously fun.
7) Grow Your Email List  
Let's be honest. No one signs up to receive emails anymore unless there is an incentive – like the promise of a free appetizer or dessert. So, put a photo of that incentive on your digital signage and watch those email signups roll on in. If you go this route, use email management software like MailChimp or ConstantContact to automatically "trigger" an email that includes that free reward for signing up. It's instant gratification and it definitely works to capture email addresses.
8) Pad Your Bottom Line
One of the best ways to use digital signage? Sell ads on your TVs to local businesses and brands. After all, thousands of people come into your venue on a monthly basis – and they stick around for an hour or so. There's value to that, and digital signage helps you make the most if it. Here's how you can resell your ad space.
Chat with your distributor: They represent hundreds of brands, many would love to be featured on your TV screens.
Do you carry alcohol from a local brewery, winery, or distillery? Maybe they'd give you a discount on your next order if you promote their business on digital signage.
Create a list of potential businesses you could contact. Think car dealerships, furniture and jewelry stores, theaters, retailers, and more.
If you're going to resell ads on your TVs, go the professional route. Create a "rate card" that lists ad packages and prices. If you offer free ad design, that's a big perk as well.
Also, hype up your audience! It's your biggest selling point. Use your customer relationship management (CRM) system or POS system to retrieve data on approximately how many customers you serve – and who they are. This will help potential advertisers decide if digital signage is a good investment for them.
9) Support Non-Profit Causes
Use digital signage to help out local non-profits. You're doing a good thing for the community – and your business. An Edelman Good Purpose study revealed that 72% of consumers recommend businesses that support charitable causes.
Ultimately, digital signage can the ultimate marketing goldmine: it doesn't cost much but delivers a high return on investment. You don't need to turn your venue into Times Square. But changing the TV channel to focus on your own promotions and events will pay off through added revenue.