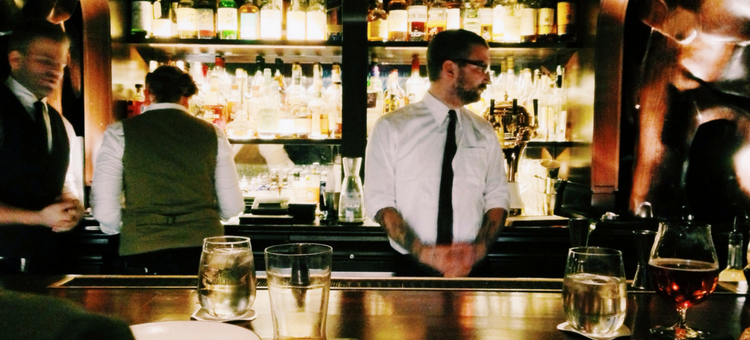 A great bartender can be your business's best friend: boosting sales and bonding with guests. So how can you hire the best bartender? Ask the right questions. We talked with bar and restaurant managers to uncover their top bartender interview questions…
How to Come Up with the Best Bartender Interview Questions
You may already have a set of bartender interview questions in place, but unless you do 100% of the hiring, you need to get your entire management team on board. Your goal: to hire a bartender who has the skills and traits to improve your bottom line.
Train your management team on your chosen bartender interview questions, and explain the purpose behind each one. They'll catch on pretty quickly. After all, a bad hire reflects their poor judgement – and they're the ones who will have to manage a sub-par hire!
If you're unsure where to start, begin with focusing on what makes a great bartender. Then, come up with bartender interview questions around those qualities. Use these tips to get started:
1. Bartender Interview Questions: Work Experience
"Where have you worked?"
"What was the volume like?"
A skilled bartender has completed at least a couple years behind the bar. You can count on them to know the basics like pour counts or classic drinks.
However, where they've worked can tell you more about their experience than how many years they've been bartending. Add some bartender interview questions that paint a picture of the last establishment they worked at – whether it was fine dining or fast casual, or another format.
This is a strategy that most hiring managers employ, like Brittany, who worked her way from server to bartender to assistant general manager. When asking bartender interview questions, she focused on details like where the interviewee has worked and what the volume was like.
"There's a big difference between having every seat of your bar filled, slinging burgers and beers, running a busy service bar, even making milkshakes while remembering to smile…or operating in a slower paced, fine dining atmosphere, talking to guests about the wine list and hand-stirring the perfect martini."
The interviewee's past experience should match up with your bar or restaurant's current concept.
2. Bartender Interview Questions: Availability
"What is your availability?"
"What type of hours are you comfortable with?"
If you're hiring a bartender, that probably means you're trying to fill a specific spot in certain shifts. The interviewee's availability plays a huge role in whether they will be an asset – or a burden – to your staff schedule.
While almost every bartender will be glad to work weekend nights (that's usually where the money is), what is their attitude towards weeknights? Ask bartender interview questions that gauge their availability and openness to picking up slower shifts throughout the week.
Brittany notes that checking availability can reveal the interviewee's reliability and willingness to be a team player. You want a hard worker, not just someone who wants quick cash – then requests every other weekend off.
3. Bartender Interview Questions: Charisma and Personality
"Tell me a good joke."
"What emotions do you experience when the bar is crowded?"
A confident, charismatic personality makes the difference between a basic bartender and one that brings in customers.
Ask bartender interview questions that reveal how the interviewee reacts to crowds, like, "how do you feel in front of big crowds?" You want answers like "I enjoy it, it's exciting, I live for it."
You could even ask if the bartender has ever done other activities like theater, comedy, or music in front of crowds. In fact, these bartender interview questions could reveal if the hire would be great for hosting a live trivia event – one of the best ways to build a steady weeknight crowd!
Unfortunately, during a stressful interview, a bartender's personality can be hidden under a bit of nervousness! To put jittery interviewees at ease and uncover their real personality, Brittany makes the interview…a laughing matter.
"I had a GM who always asked the interviewee to tell him a joke. This exercise shows if the bartender is quick and can handle customers who may view you as entertainment for the night rather than just service."
Brittany notes that patrons don't want to feel like they are bothering their server every time they have a question or request.
You want the interviewee to keep a positive attitude, smile, and be friendly during stressful situations – like keeping up high volume bar orders or answering bartender interview questions.
4. Bartender Interview Questions: References
"Can you provide me with 3 previous employer references?"
Always request a list of references when asking bartender interview questions, and make sure to actually use them.
Mike, who worked as an assistant general manager, shares his advice for finding great bartenders. "Your gut reaction to a candidate can be wrong. Always, I repeat, always do your homework. Do background checks and call references."
Double check to be sure the interview isn't just providing you with cell phone numbers for his or her friends. Sadly, this does happen. Always Google the bar or restaurant, call the main number, and ask for the reference.
While a bartender may interview well, a simple phone call to their previous employer could paint a different picture. On the flip side, someone who seemed timid while answering bartender interview questions may receive glowing reviews.
Checking references could also help you dodge a bullet. Bad bartenders can have a worse impact on your business than being short staffed, so keep an eye out for red flags.
References are just as important as the bartender interview questions you ask. They provide a bigger picture and more in-depth view of your potential hire.
5. Bartender Interview Questions: Keep it Light
Don't forget to have fun while you are asking bartender interview questions. In a way, you should aim for your interviews to have the same feel as your bar – fun, relaxed, and enjoyable.
Brittany suggests lightening the mood by asking fun questions like, "What type of music do you like?" or "What's your favorite drink?" It doesn't have to be all professional while asking bartender interview questions.
But you'll still uncover valuable information with casual questions: can the interviewee carry the conversation? If they're surprised by a light-hearted question, do they roll with it or make YOU feel uncomfortable for asking it?
The Importance of a Great Bartender
Your ultimate goal in hiring a bartender is to find one who can enhance the customer experience. That's why asking the right bartender interview questions is so important.
Mike has hired his fair share of bartenders during his years as an assistant general manager in a casual dining restaurant. While asking bartender interview questions, he always kept in mind the role that the bartenders played:
"For me, bartenders and servers are very different than other positions because they are your business," says Mike. "Anyone can make a drink (not to discount any of the amazing mixologists out there), but a good bartender has the ability to make a following."
Mike notes that great bartenders are like local celebrities. Chances are, if you're in the restaurant industry, you're familiar with at least a handful of stellar bartenders in your area. Of course they can pour a great drink, but it's their personality that brings in crowds. They've probably stayed at the same establishment for years, curating their following and mastering their skills.
As Mike points out, great bartenders build business: "They will have a full bar when the restaurant is completely dead. They will bring you business and take it when they move on – so pay attention to reducing turnover by putting a plan in place. Basically, a top-notch bartender can add to your bottom line."
Fortunately, you can get the same results for your business by hiring great bartenders. Asking the right bartender interview questions can quickly determine if your potential new hire will be the real deal and bring in business.
[fl_builder_insert_layout slug="whitepaper-signup-module-37-trending-happy-hour-menu-ideas"]